A new DeFi-specific version of the familiar "redouble your Bitcoin" scam gains traction. Now malefactors are luring gullible investors into stablecoin staking offering enormous yields on crvUSD, a new hotly-anticipated decentralized stablecoin by Curve Finance (CRV).
No, Curve will not increase your crvUSD deposits by 60%
In the last days of June 2023, scammers launched a massive campaign on Twitter that targets the community of decentralized stablecoin holders. Malefactors announced a "fixed APR promotion" on behalf of blue-chip DeFi protocol Curve Finance (CRV). They offer 60% in annualized percentage rate on every crvUSD deposit made through their copy of Curve Finance (CRV) interface.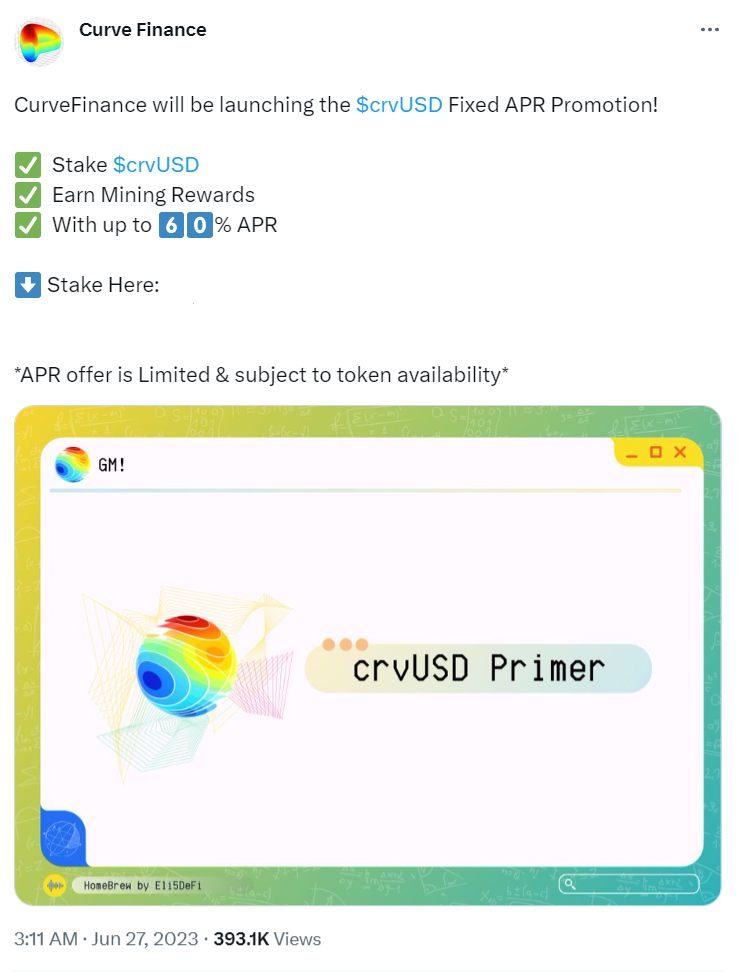 An exact copy of the real minimalist Curve Finance (CRV) interface is available through the link attached by the scammers. However, only the swap module is available on it. The module requires immediate authorization via MetaMask.
As such, it is highly likely that this is a phishing link or a personal data attack. Cryptocurrency users should avoid interacting with these websites even when a 60% APY is in question.
Despite the scam looking really primitive in design, the attackers managed to make it look "realistic": Besides copying Curve Finance's (CRV) interface, they refer to the legitimate Telegram channel of the DeFi and its authentic documentation kit.
Here's how much you can earn on stablecoins
The scam is being aggressively promoted by Twitter bots; the vast majority of them have blue verification labels. As displayed in these Twitter bios, some of them were used in the U.S. election campaigns in the last years. However, public whois-services reveal that the website was only launched four days ago.
Earning yield on stablecoins remains the most attractive passive income opportunity for newcomers as it allows traders to not depend on crypto price fluctuations.
However, "legit" stablecoin yield opportunities typically offer APYs compared to those with bank deposit interest rates. As per the Staking Rewards tracker, 8 out of 10 stablecoin yield programs work with 7% and lower APYs.