While major cryptocurrencies like Bitcoin, Litecoin, and Ethereum wallow at their long-term lows XRP is quietly moving higher. The native token of the Ripple blockchain network advanced 30% in the first week of November and has XRP predictions in readjustment. At last look, the XRP/USD was affecting what could become a major reversal and the beginning of a long and drawn-out rally.
Ripple Predictions Turn Bullish
The XRP/USD made an inconspicuous double bottom over the last summer with lows in August and September resulting in a push higher over October. Now, the double bottom is confirming support at the crucial baseline that has Ripple price forecasts on the rise. The November rally is confirming support at the short-term moving 30-day exponential moving average and the indications are strong the move will continue higher.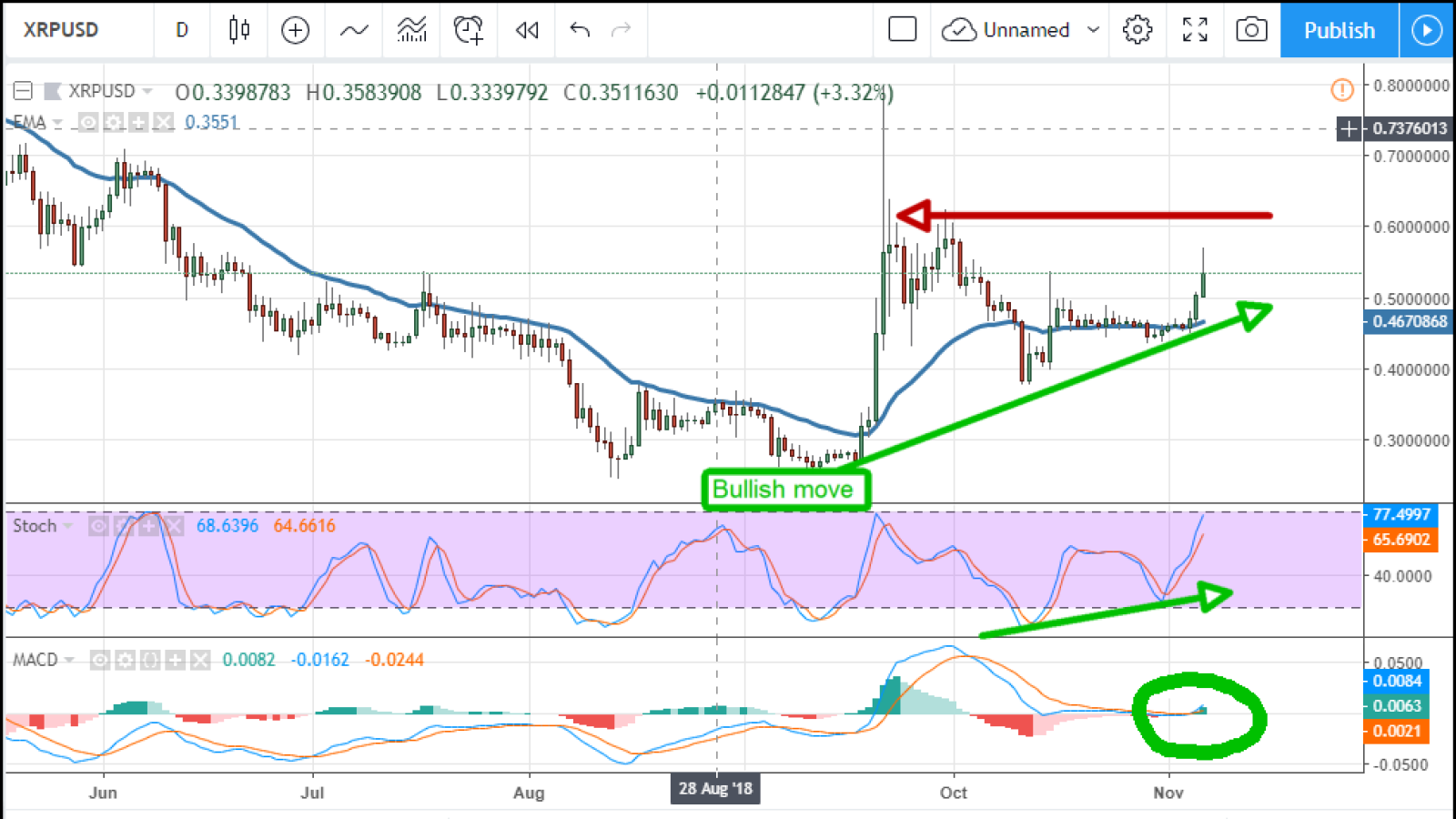 Both stochastic and MACD are showing strong bullish crossovers that support the Ripple forecast. The first target for resistance is at the 0.5720 level and already tested once. A move up to and above that level would be very bullish for this token and pave the way for a move up to the $1.00 level and eventually a retest of the all-time high.
Ripple forecast 2018: Adoption is going to drive this token higher
Most Ripple prediction did not come true in 2018, largely because of the overhanging shadow of bearishness within the cryptocurrency market, this is a Ripple forecast you can bank on: adoption of the Ripple network by global financial leaders is going to drive this token higher in the near, short, and long-term.
Most recently, Ripple Labs, the development team for the Ripple network, announced the integration of Ripple Net into OnePay FX. OnePay FX is a cross-border payments mobile application designed by Banco Santander. Banco Santander is one of the EU's leading banks, valued at over $80 billion, and a sign of Ripple's value to mainstream financial institutions.
Bank Santander's reason for choosing Ripple is simple. The bank says that after experimenting with Ripple Net and a few other blockchain based products it saw new levels of transparency, certainty, and speed that is unparalleled in the traditional banking sector. Santander's Head of Innovation, Ed Metzger, said the bank plans on using the blockchain to improve the lives of its customers.
"We believe that financial services is moving to a world of open platforms where companies collaborate to deliver excellent customer service for their customers, and that's at the core of what we're doing with OnePay FX."
The primary purpose of RippleNet within the OnePay FX ecosystem is to ensure cross-border transactions. The bank wants its international customers to be able to seamlessly send and receive money, a benefit more than necessary for the bank's future growth in today's global world. As an example, customers will be able to send instant payments directly to merchants and other payment processors with only a few clicks on their mobile devices and without the need for bank cards.
OnePay FX is currently available to Banco Santander clients in the United Kingdom, Spain, Poland, and Brazil but there are plans for rapid expansion. The system is expected to cover the European Union, South American, and Asia in the not-too-distant future.
Ripple Price Prediction 2018: The flippening
A flippening has been in the Ripple XRP price prediction 2018 since before the end of the year and it is on the verge of happening. The flippening, when XRP's #3 ranked total market cap exceeds that of #2 Ethereum, will be an important catalyst for new investment in XRP as it will indicate a shift of dominance between the two tokens.
Bitcoin is the #1 cryptocurrency by market cap at $112 billion and commands 52% of the market.

Ethereum is the long-standing #2 cryptocurrency by market cap at just over $22 billion. It commands about 10% of the total market.

Ripple is the number #3 cryptocurrency by market cap and may surpass Ethereum at any time. It is currently valued at just under $22 billion and commands about 9.5% of the total market.
Ripple is currently valued around $21 billion, about $1 billion less than Ethereum, and would not need a very big boost in token prices to take over the #2 spot. With more than 42 billion XRP's in circulation, it would take less than a nickel rise in prices for the flippening to happening, assuming, of course, Ethereum prices remain stable (and there is little reason to expect ETH to make a significant move higher until it overcomes scalability and security issues).
The bottom line is simple; Ethereum suffers from peanut butter syndrome and that will drive the flippening, if not this year then next. The world's "most advanced" cryptocurrency (ETH) is spread very thin trying to be everything to everyone while Ripple is focused on solving the singular and age-old problem of speeding up and securing financial transactions.
Ripple Prediction 2018: Regulation is the real catalyst
Like most cryptocurrency forecasts, the Ripple Price Predictions, in almost all cases, fail to account for regulation as a catalyst for price movement. RippleNet has gotten a vote of confidence from Banco Santander but the question of regulation still overshadows the entire cryptocurrency market and will likely do so until regulators in the EU and US make their final decisions.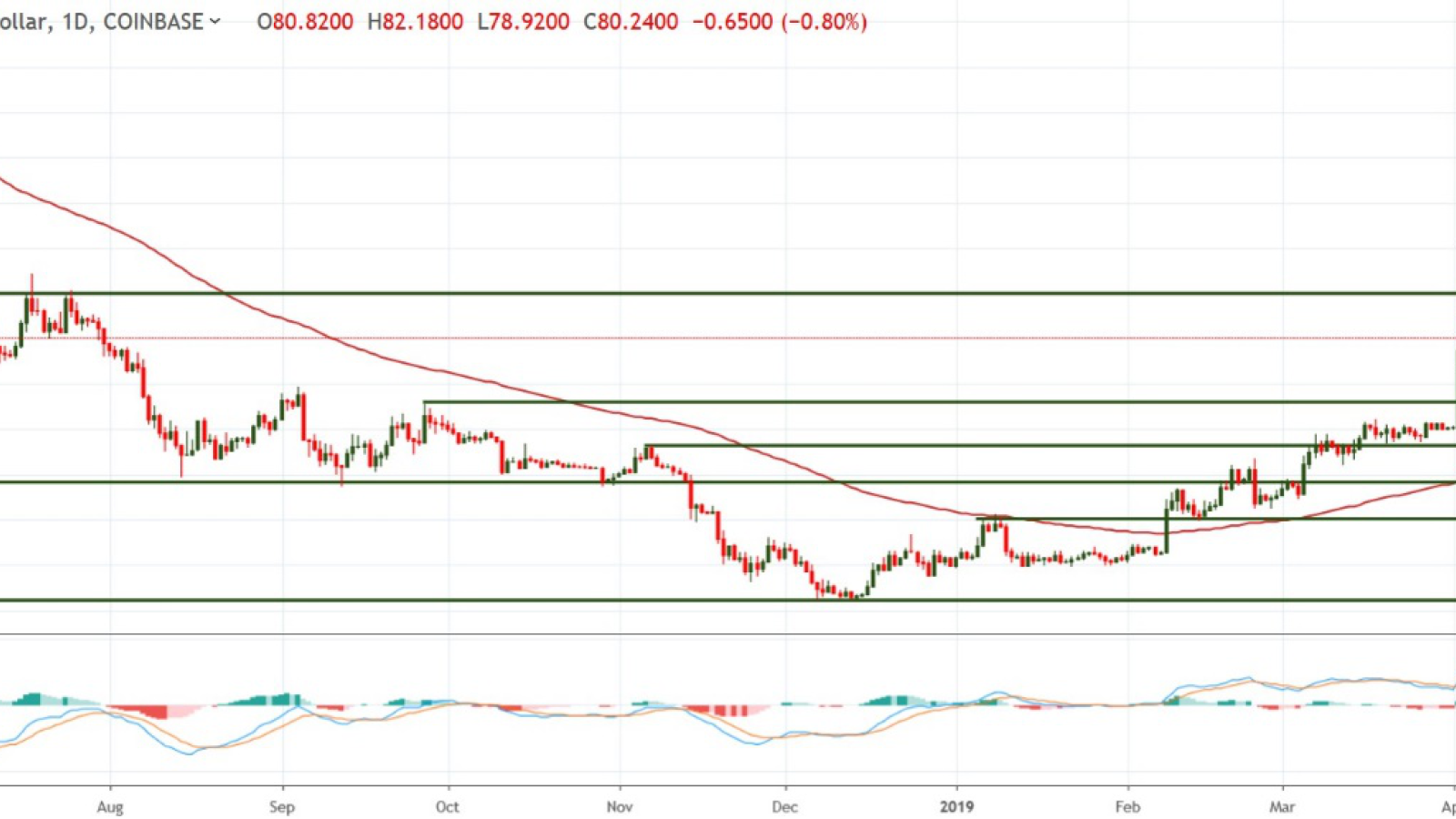 In the US, the SEC and CFTC have allowed for only limited access to the multi-billion dollar cryptocurrency market and are under increasing pressure to formalize their stance. While the implementation of a BTC ETF is forefront on the minds of traders, regulation, retail access to trading products, and mass adoption of cryptocurrency will be a boost to all digital tokens including XRP.
The Bakkt platform, a joint venture between the Intercontinental Exchange and its partners, is building up the infrastructure many in the industry say is needed for the SEC to approve retail trading of cryptocurrencies and cryptocurrency-based trading products. Bakkt is expected to go live with its first product in early December, a BTC future, with more slated for launch over the next few months (as they get regulatory approval).
The risk to Ripple predictions 2018
One of the biggest risks to Ripple 2018 is in how the US regulators classify the token. Unlike Bitcoin and Ethereum, which are clearly commodities, Ripple may qualify as a security. This conundrum has been at the heart of the US regulatory saga as no two regulators can agree on how to classify digital currencies. If Ripple is left out of the US regulatory scheme because it too closely resembles a security such as stock or bonds it could see its price plummet.
The good news is that US regulation will likely be two-pronged. On the one side, the CFTC will oversee tokens like BTC, ETH, and LTC as well as products like futures and futures options based on Ripple XRP future value 2018. On the other hand, the SEC will oversee those tokens that more closely resemble securities of publicly traded companies. Regardless, regulation will be a driving factor for this and all digital tokens in 2018.