Web3 game company Iskra unveils the release of its own launchpad for games, the Iskra Launchpad, with World of Win set to be the first project to conduct its initial game offering (IGO) on the platform.

The release of the Iskra Launchpad comes right after Iskra dominated the number one spot on DappRadar's blockchain games dapp rankings for all periods - 24 hours, 7 days, and 30 days - with 669.27k UAW as of writing and cited as one of the best-performing games dapp for March 2023.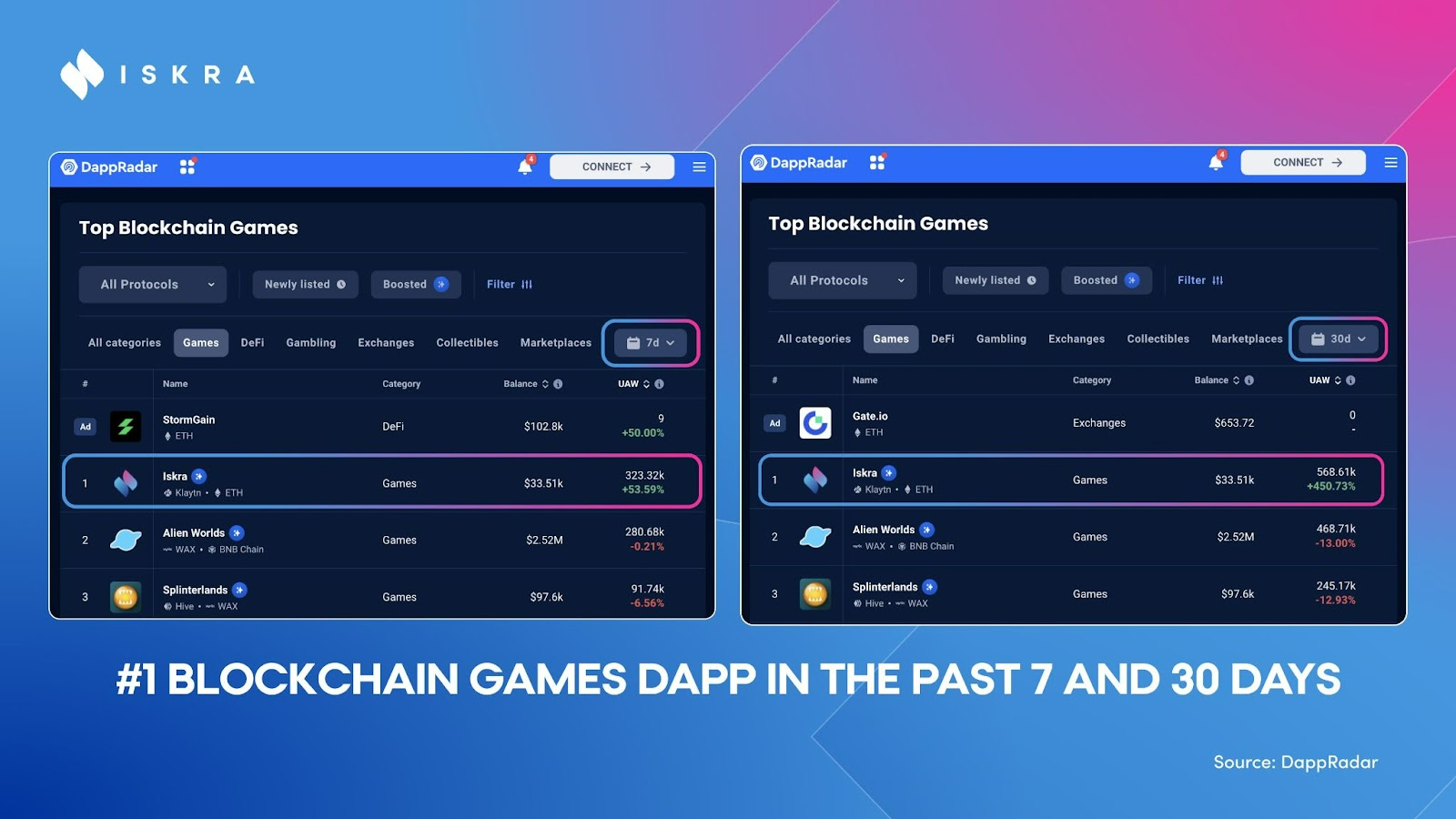 Iskra ranked as the the #1 blockchain games dapp on DappRadar both for the 7-day and 30-day ranking as of April 14, 2023.
The Iskra Launchpad is a platform that allows game companies working with Iskra to promote their tokens to the Iskra community via IGO before its official listing on an exchange. Through the Iskra Launchpad, the Iskra community will have the opportunity to discover visionary games at an early stage and purchase tokens at its offering price.
While tokens purchased on the Iskra Launchpad during an IGO are locked and subject to a vesting and distribution schedule, every IGO token has a corresponding "Express Token" that can be immediately used for other utilities. This unique feature allows IGO participants to concurrently enjoy exclusive uses such as purchasing NFTs on the Iskra Market, accessing exclusive invites to events like CBTs, and enjoying other in-game benefits.
World of Win, the first project that will hold its IGO on the Iskra Launchpad, is the platform's first social casino and arcade offering, which showcases the best in slots and hyper casual skill-based games.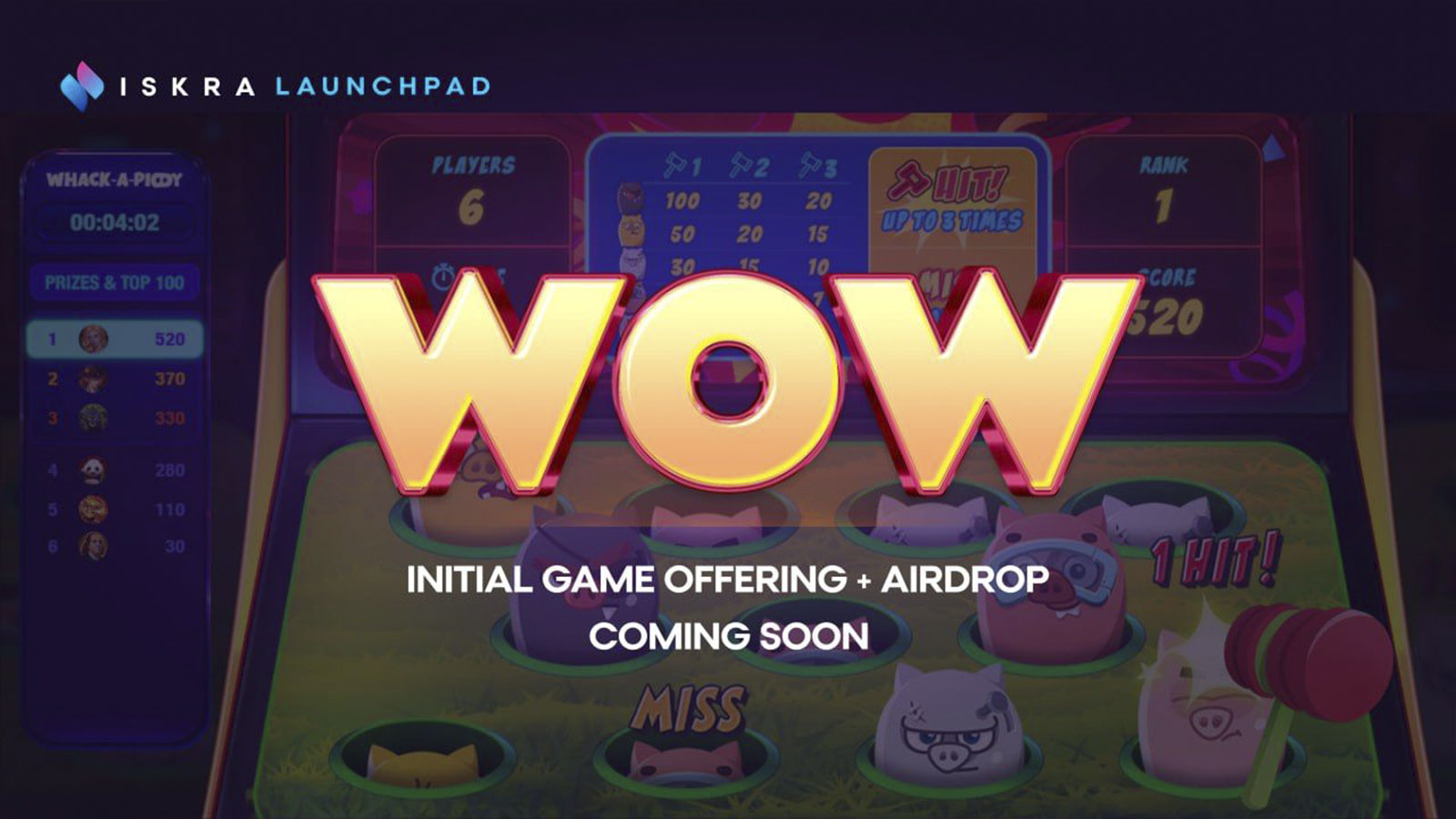 By playing World of Win, users can enjoy the thrill of playing in a casino without the gambling aspect of gaming as there is no cash-out feature involved.
WoW Labs, the company behind World of Win, will be offering its WoW token for the first time during the IGO, which builds up to the public launch of the game that is expected to happen soon afterwards.
"We are excited to kick off our service with the Iskra community and be an addition to the premier gaming catalog of the platform," Sam [Family Name], founder and CEO of WoW Labs, explained. "Social casino is a unique and widely popular genre. The thrill that comes with games of chance is something that I've seen as a missed opportunity in crypto gaming, as a Web3 gaming and crypto enthusiast myself. WOW Labs is filling that gap by introducing the full blown social casino experience to the Web3 gamers."
By launching World of Win, WOW Labs aims to introduce the first social casino gaming experience to Web3 gamers. The hyper casual and skill-based tournament games run on an hourly basis, which gives users speedy and dynamic play-and-earn experience, while WoW's DeFi-inspired Piggy Bank NFTs allow more coins for continuous play.
The release of the Iskra Launchpad, as well as the launch of World of Win, adds another milestone to the several available services and games that Iskra offers to its growing community. According to Spike Ryu, Chief Operating Officer of Iskra, "the company is focused on steadily rolling out games and services, so that it can demonstrate the full potential of community engagement in Web3 gaming."
ABOUT ISKRA
Iskra is a single-destination Web3 game platform for developers and players that rewards them for their contribution and participation through a unique community system on the blockchain. This allows stakeholders to take a major part in building the platform for future growth.
Current services include a wallet, DEX, marketplace, NFT Mission Card (daily reward), governance staking and voting, and soon-to-launch Launchpad, Web3 casual and hyper-casual games.
Backed by some of the biggest technology and video game companies in South Korea, Iskra ranks in the top categories for gaming in DappRadar for unique active wallets per day and engagement.
Explore the future of play!
ABOUT WoW LABS
WOW Labs is a Web3 casual games developer, teamed up from social casino and puzzle games studios that serviced on mobile and Facebook platforms. WOW Labs team formerly developed and advised multiple titles that grossed top of the charts in major app stores.
WOW Labs creates an immersive and addictive casual gaming experience that tightly integrates Play-and-Earn mechanisms. WOW Labs' goal is to create a casual gaming focused metaverse that is approachable and fun to any skill level of gamers in the era of blockchain. WOW Labs is launching its first title "World of Win: Social Casino and Play-and-Earn Arcade" with Iskra, and will branch out its WOW franchise via more titles and over multiple blockchains to further reach casual game enthusiasts.