What's CryptoSteam?
CyptoSteam (https://www.cryptosteam.com) is a decentralized game platform based on Avalanche, consisting of Game Incubator, Launchpad, Distribution Platform, Trading Platform, IM and DAO, and aims to be the bridge to connect all players and meta-universes.
Cryptosteam applies the (3, 3) economic model and optimizes it to be more resistant to a bear market and sustainable: in addition to the financial support from early financing and bonds & LP fees, 80% of the platform revenue will also be used to support the value of $PLAYER (platform currency); meanwhile, the game NFTs are also closely connected to the overall economic model and can be used to accelerate $PLAYER Staking.
Predicaments of Game Platforms
Most game platforms sell nodes that cannot be traded in the secondary market as the source of platform revenue, and early node holders can get airdrops of NFTs and platform tokens from the games on the platform while the platform needs to continuously provide benefits for them to obtain their loyalty. It is very profitable for the early participants, but in the long run, it is not conducive to the growth of a platform as not all investors are game consumers and the cost of later entrants is huge (For most platforms, the number of nodes is fixed, and the price will increase every time when it is sold).
Platforms should think more about how to balance the benefits of investors and users, establish a better ecological economic system, and realize an increasing business cycle.
Why bullish on Cryptosteam?
1. Economic Model
1) The perfect combination of game consumption and (3, 3)
In the OHM model, stakers seem to be able to make a profit regardless of the OHM price if the increase in token balance outpaces the potential drop in price, which may not work in a bear market. Therefore, how to provide more support for the value of the token to increase the possibility of price rise in a bear market, has become the main direction of optimizing the economic model.
The combination of the game platform and the (3, 3) model is just perfect. The game's natural consumption characteristics (users need to buy NFT cards to enter the game and other regular in-game consumption) bring substantial revenue to the platform, and more games mean more revenue so that the price of platform currency will have more room to rise.
For CryptoSteam, 30% of in-game sales revenue will be used as platform revenue. In addition to the financial support from early financing and bonds & LP fees, 80% of the platform's income goes directly to the Treasury, which means $PLAYER is backed by more funds and stakers can get more benefits. 20% of the platform's income goes into the DAO, and the funds can also be deposited into the maker, compound and other lending pools to yield stable income and provide more support for the CryptoSteam ecosystem.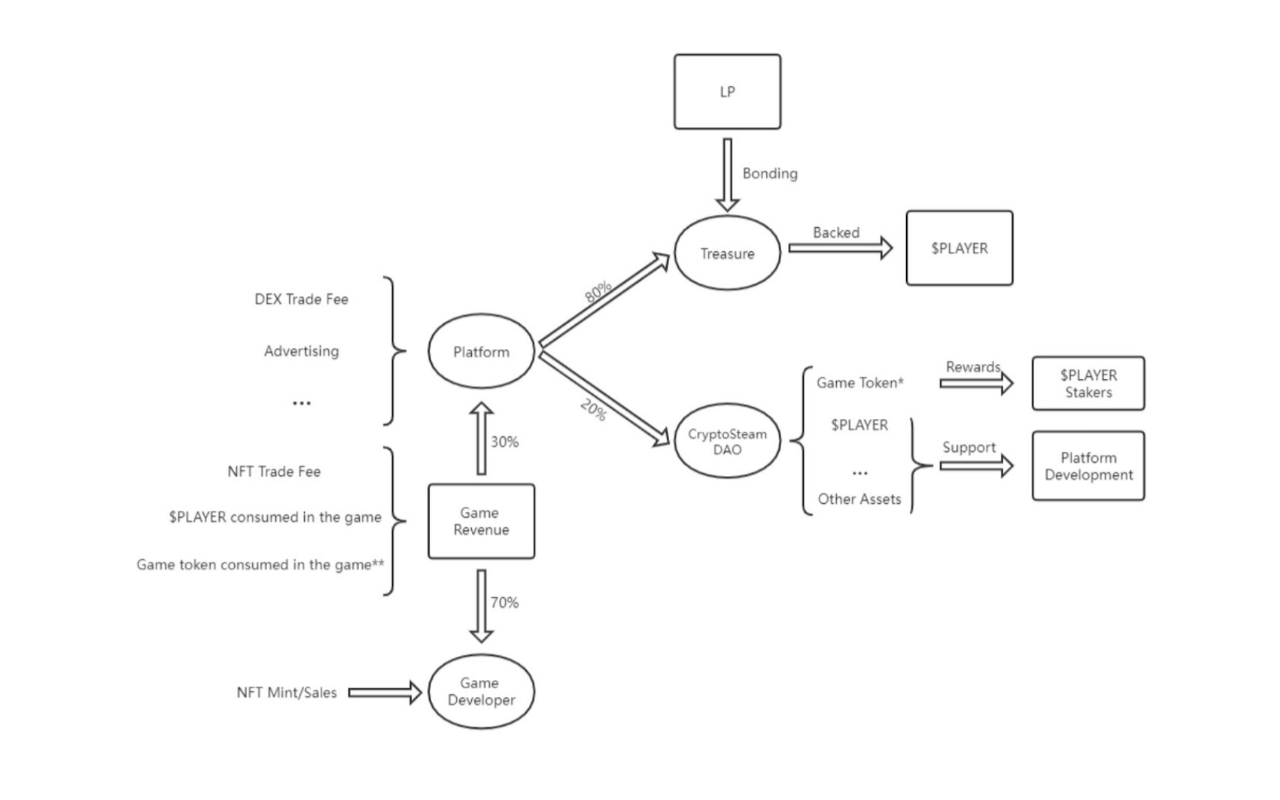 2) Balance between the platform of game developers
The game platform is the bridge that connects users and game developers. How to balance the interests of platforms and game developers?
Besides self-developed games such as DeDragon by the CryptoSteam game team, CryptoSteam will also introduce other excellent games and provide plenty of incubation services for game developers including funds, tech, marketing, operations, etc.
In terms of revenue, 70% of the in-game revenue will be given to game developers and 30% to the platform. Thus, the game and the platform will support and empower each other, creating a virtuous circle.
2. Complete Ecosystem
CryptoSteam has a complete ecosystem. While building infrastructure for metaverse, it creates more possibilities in as many dimensions as possible.
Game distribution platform
Crypto games and information distribution platform.
CryptoSteam will be dedicated to the incubation of games, provide more application scenarios for developers and crypto foundations, and accelerate the development of blockchain technology and metaverse.
Trading platform for game assets
A decentralized trading platform for all game assets including NFTs and game tokens.
Focus on crypto games and provide the best projects for investors.
Based on UID, CryptoSteam aims to create the largest crypto game IM and connect players all over the world.
$PLAYER holders will receive the governance and voting rights of the platform through CryptoSteam DAO and help the project grow together.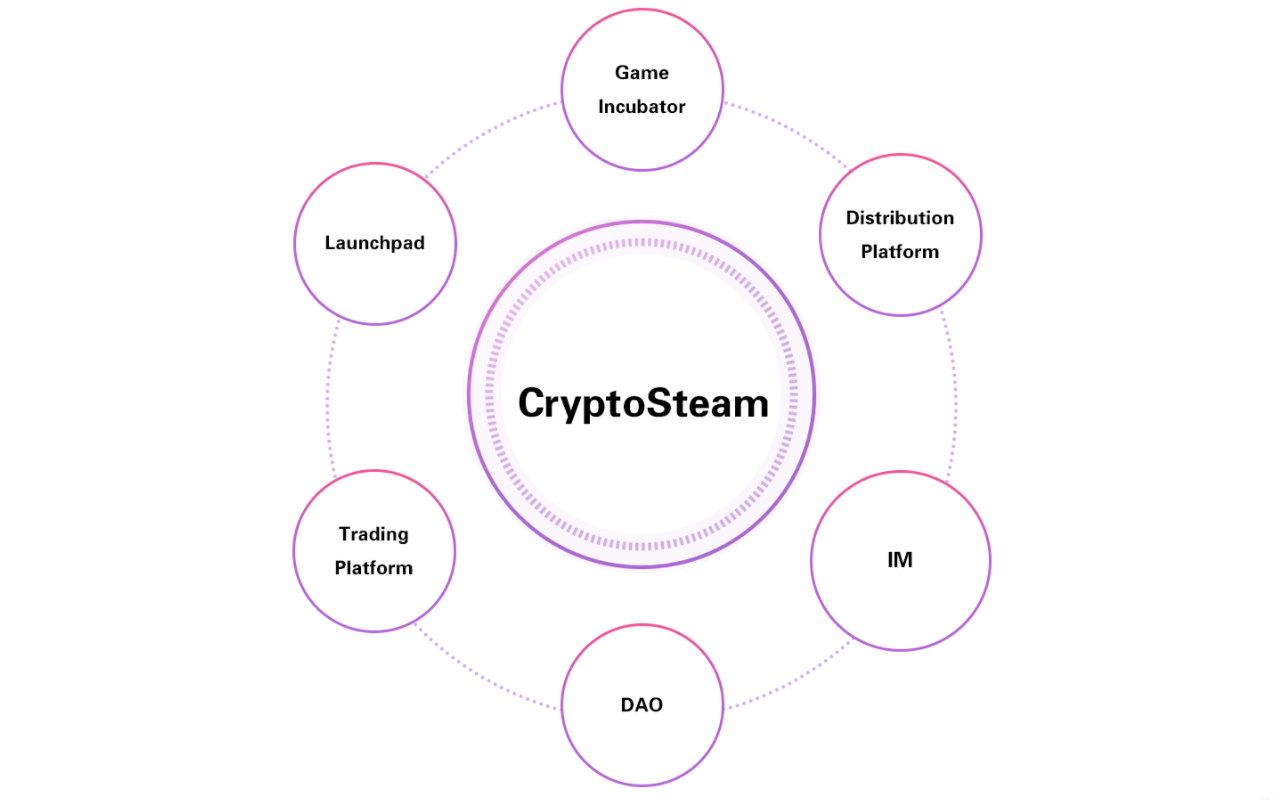 3. Team
The team has a solid background and rich experience in games.
Aaron Pulkka
Interactive entertainment design and production leader with 25+ years of experience with emerging tech & games, including roles at Walt Disney Imagineering, Sony, Activision Blizzard, Two Bit Circus, and Madison Square Garden Entertainment.
Linkedin: https://www.linkedin.com/in/aaronpulkka
Cliff Chiu
Game Designer with 10+ years of experience in video games at Ubisoft, Crytek, and Virtuos.
Linkedin: https://www.linkedin.com/in/cliffchiu
Cyrus Lum
Art Director of Midway Studios-Austin, 30+ years of experience in game production, development, and management.
Linkedin: https://www.linkedin.com/in/cyruslum
Summary
CryptoSteam is a very imaginative and potential gaming platform. We can continue to pay more attention to its external scalability and look forward to the difference it will make for GameFi in the near future.
In addition, DeDragon, the first game of CryptoSteam, will be launched soon, and Cryptosteam will also conduct IDOs on different platforms in a couple of weeks. Stay tuned!