An outstanding new version of B2BinPay's technology, as well as updates to the company's service fees, website, and improved Enterprise Model together with Merchant Model have been introduced. Fees and pricing for B2BinPay's services have been adjusted to simplify the overall process for companies to begin while also reducing the cost of overall usage.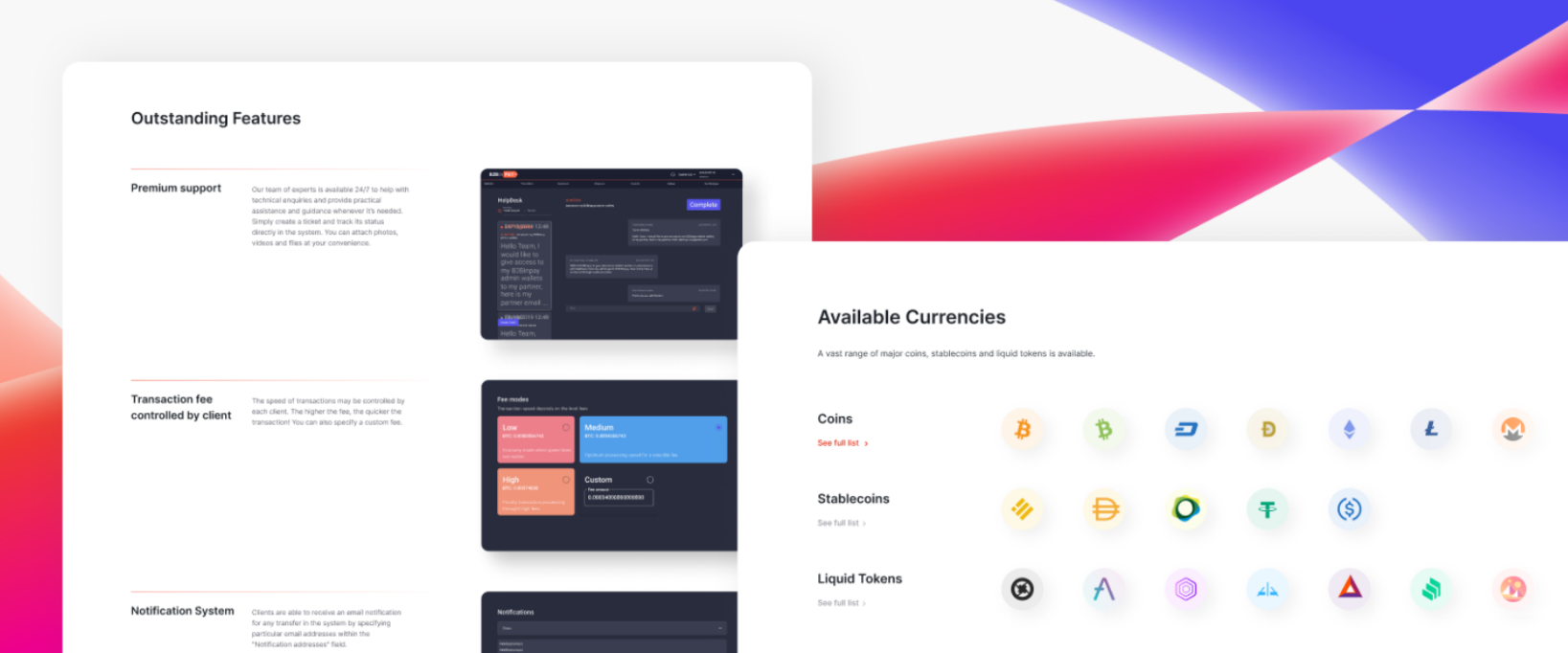 The site is now upgraded from the ground up to make it easier to navigate for all users. Many enhancements have been made to the B2BinPay system, making it the most user-friendly and reliable technology out there.
Adjusted Fee Structures
Firstly, and perhaps most importantly, the pricing plans have been updated by the B2BinPay team to provide a considerably better business climate to all clients. As a result of these reductions, the following changes have been made to the Merchant Models' percentage tiers and volume limits:
With this new pricing structure, B2BinPay's activation charge for Enterprise clients has been reduced and now accounts for just 1,000 USD. There have been substantial cost reductions as a consequence of lowering the percentage tier barrier for Enterprise users.
Every outbound transfer is free of charge! The costs offered by B2BinPay are among the lowest in the business and represent excellent value.
Updated Website, Smooth User Interface, and Enhanced Functionality
The main site form has been thoroughly rebranded to present users with useful content in an intuitive layout. This new layout of the site includes several revised sections that describe each service and product that B2BinPay provides in more depth.
A new layout makes it easier to find what you need quickly, and the navigation is significantly optimized.
B2BinPay has also offered a detailed guide of how On-Chain and Off-Chain deals work. So when a transaction is happening "on-chain," it takes place on the blockchain and must be validated by users on the network. Users are responsible for paying the blockchain commission even though B2BinPay does not impose a fee for an On-chain transaction.
B2BinPay uses its proprietary system to conduct Off-Chain transactions. Such transactions are settled off-chain, between B2BinPay customers. This way, you may avoid spending money on blockchain processing time and fees because they are free and practically immediate. Every instance of an On-Chain or Off-Chain transaction that can take place between users is now described in detail, which can be found on the official website.
Also, all customers now have an easier time "surfing" the ever-expanding list of currencies thanks to the "Available Currencies" tab, which now lists more than 80 most demanded coins used globally.
The team also included a frequently asked questions (FAQ) feature to ensure all inquiries are answered efficiently and adequately. Questions about services, features, and safety precautions, as well as many others, are answered in the page's Frequently Asked Questions section.
Another unique addition is the Application Programming Interface, better known as API, which is also provided by B2BinPay. Utilizing API, all businesses can integrate blockchain technology into their own payment systems in a simpler way, bringing about unprecedented ease and safety for customers. The B2BinPay platform has undergone a number of updates aimed at improving the user experience. These include the addition of new features like Merchant Invoice Limits, Delta Amount, and support for Cardano (ADA).
Expansion of Issued Tokens
Due to increasing demand, B2BinPay's currency and token options in its Merchant and Enterprise models have been extended. Almost a hundred tokens have been added, including WBTC, ANKR, GALA, IMX, and dozens of others.
Better Merchant Models
B2BinPay has taken a significant step in the direction of customer assistance by reorganizing its models. Instead of only two, the firm now provides Enterprise, Merchant (Fiat Settlement), and Merchant models (Crypto Settlement). Customers that choose the Merchant with crypto settlement option could build interactive wallets for stablecoins, such as USDT, and USDC, or cryptocurrencies, such as Bitcoin.
Bottom Line
Over the past year, the B2BinPay team has made significant improvements that have met the standards and made the solution more accessible and cost-effective for businesses of all sizes. Companies wishing to accept cryptocurrency payments will undoubtedly find B2BinPay as a one-of-a-kind option because of its updated platform and user-friendly interface.
Most importantly, all involved customers may discover the perfect plan for their requirements among the several options available due to the flexible payment structures and reasonable prices.