While the community discusses low demand for PayPal's novel stablecoin and its potential regulatory risks, its trading volume on CEXes has witnessed a surprising upsurge. One exchange is responsible for almost 90% of PYUSD swaps registered in the last 34 hours, CoinMarketCap's data says.
PYUSD sees rocketing trading volume, faces price de-peg, data says
In the last 24 hours, trading volume in pairs with PayPal's stablecoin PYUSD unexpectedly jumped by almost 225%. This indicator set a new all-time high above $4.8 million. Out of this sum, more than $4 million in equivalent was processed by Australia-based exchange Hotcoin Global. The exchange has a "medium" 5.8/10 spot exchange score on CoinMarketCap.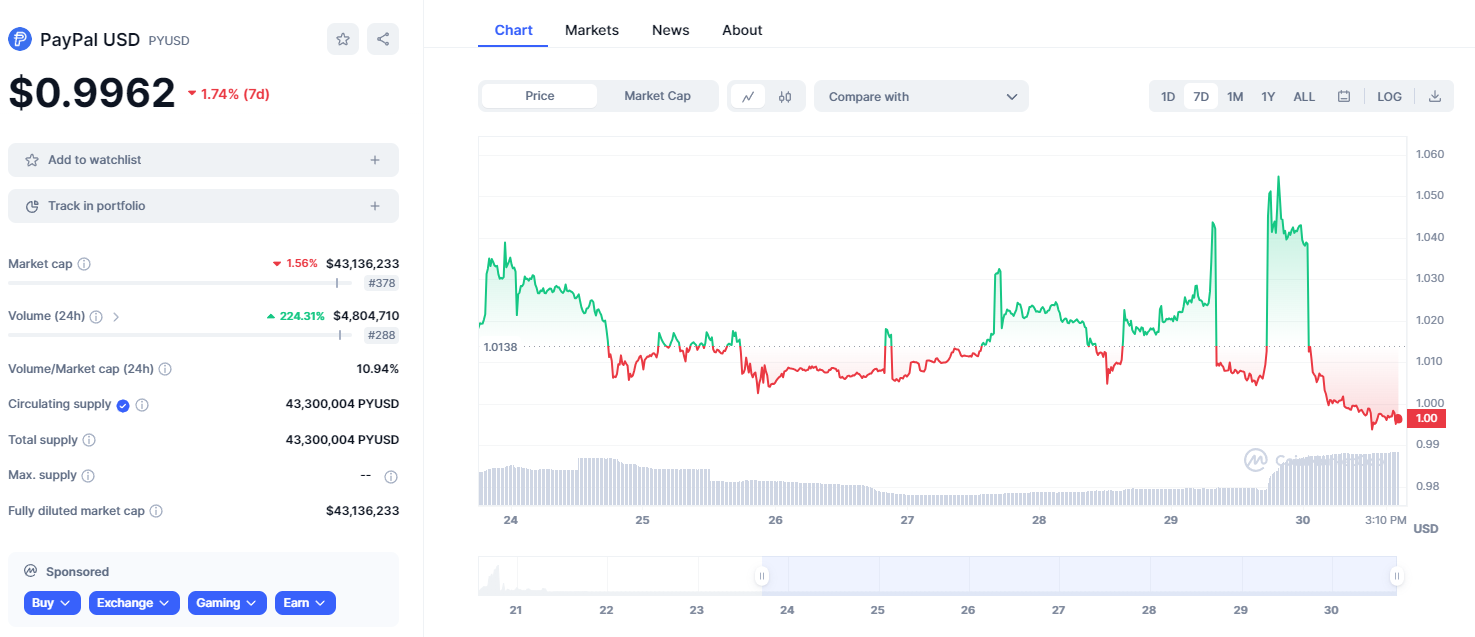 The exchange added the PYUSD/USDT pair one week ago. Now, its trading activity is almost 10x higher than that of its closest competitor, BitMart. Together with Seyshelles-based heavyweight Huobi, BitMart was among the first exchanges to add support for PayPal's stablecoin.
As such a spike in trading activity is very sensitive for a low-liquidity asset — PYUSD stablecoin's market capitalization barely exceeds $43 million — PYUSD briefly lost its peg to the U.S. dollar.
On Aug. 29, 2023, the price pf PYUSD jumped to $1.05, creating dangerous arbitrage opportunities. By press time, the PYUSD/USD peg almost recovered; the price stabilized at $1.00.
As covered by U.Today previously, PYUSD is a stablecoin issued by major fintech PayPal and financial company Paxos Trust in the U.S. The release of PYUSD was announced on Aug. 7, 2023.
PayPal USD (PYUSD) listing campaign gains traction
The stablecoin is fully centralized and, therefore, its usage requires KYC checks. Also, PayPal might freeze PYUSD accounts on the Ethereum (ETH) network, researchers warned.
On Aug. 21, 2023, the PYUSD made it to the first major exchange, U.S-regulated platform Kraken. Also, it is available on decentralized exchange Uniswap v3 in pairs with Ethereum (ETH) and Wrapped Ethereum (ETH).
However, the community is awaiting more listing announcements. The largest U.S. exchange Coinbase has already started considering PYUSD listing.
The asset was added to the roadmap of the exchange on Aug. 25, 2023, which was the first statement of Coinbase's plan to launch trading of PYUSD pairs.