On Dec. 24, 2018, top-rated crypto exchange Binance announced that Ripple (XRP) will become the quote currency in two new pairs: TRX/XRP and XZC/XRP.
This is a major victory for Ripple and XRP fans, and the market was quick to react as XRP/USD jumped to a high of 0.46 a few hours after the announcement. As for the other two cryptocurrencies in the new pairs, Binance CEO and Founder Changpeng Zhao said they were added in order "to thank TRX and XZC for supporting #Binance charity efforts."
As a side note, there seems to be quite a bit of confusion around the Internet regarding the whole base/quote thing, so let's clear it up: the first currency in a currency pair is called the base and the second is called the quote.
Also, Binance's announcement reads "Binance will add TRX/XRP and XZC/XRP trading pairs with XRP as the quote-base asset into the new Combined ALTS Trading Market (ALTS) at 2018/12/24 11:00 AM (UTC)", thus supporting what I've just said. So next time you read that XRP was added as a "base", they actually meant "quote".
Chart Analysis – XRP/USD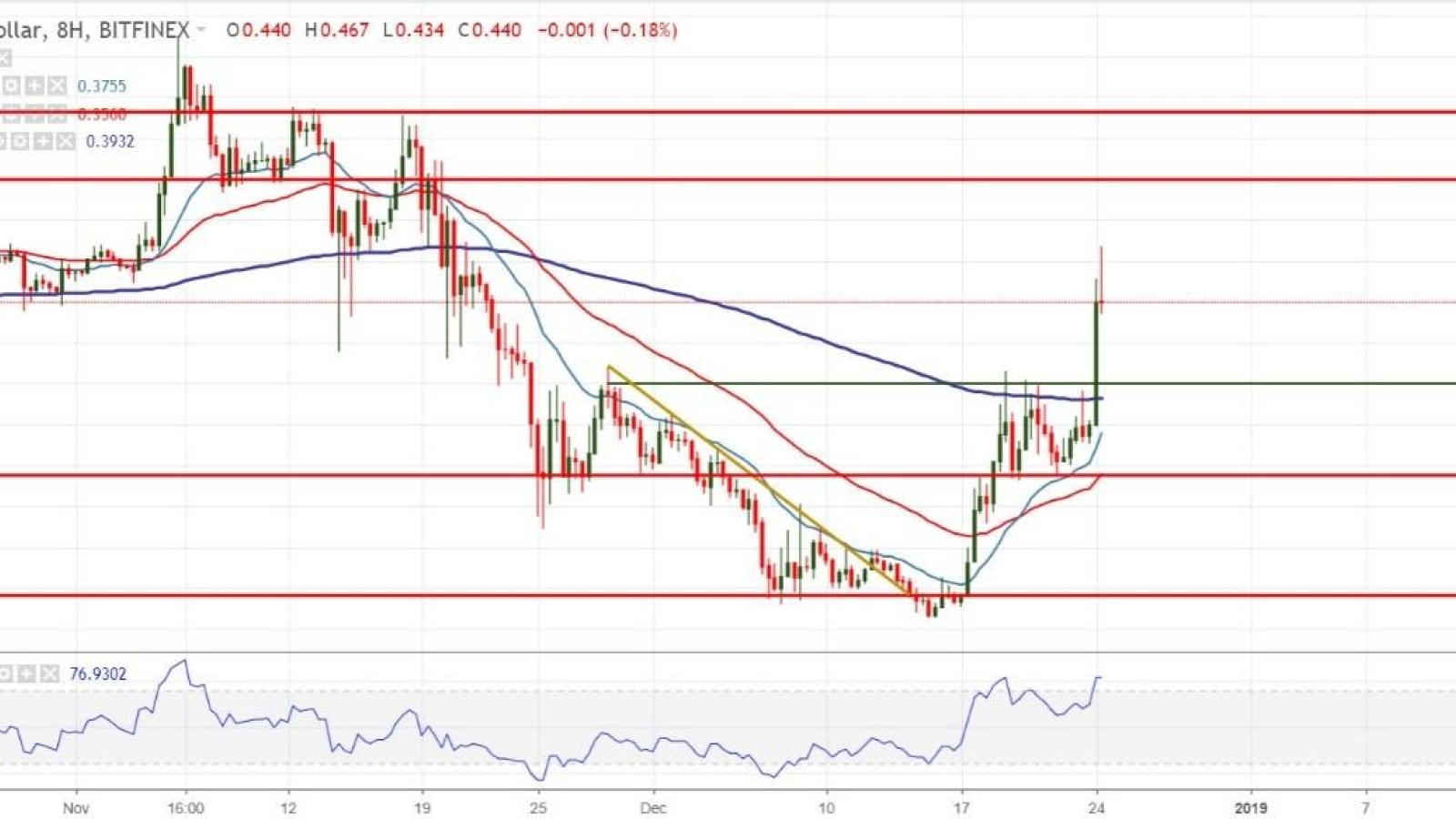 Ripple added almost 14% against the US dollar in the last 24 hours, with many gains triggered by the Binance announcement. Currently, XRP/USD is trading at 0.43, retracing a bit from the high at 0.46 but very bullish as of late.
The recent price surge broke the resistance zone at 0.40 and the 200-period Exponential Moving Average on the 8-hour chart, but it is still below the same moving average on the Daily chart. If we get a daily close above the 200 EMA (which is viewed as one of the most important for overall trend direction), we will probably get an afflux of new buyers, which in turn will take the price even higher.
The Relative Strength Index is entering overbought for the second time on the 8-hour chart, but it is still not above its 70-level (overbought) on the Daily chart. All of this paints a blurry picture with somewhat mixed signals, but considering the positive sentiment which is now surrounding XRP, we favour an extended climb, without excluding minor retracements.
Support zone: 0.40 and the 200 EMA (on an 8-hour chart)
Resistance zone: 0.45 and 0.50
Most likely scenario: move into 0.50
Alternative scenario: minor retracements