As the cryptocurrency segment is in a bullish phase again, the capitalization of major cryptocurrencies is back to surging. Here's why interest in reliable and in-time data on crypto prices, liquidity, social sentiment and crypto news is very high today.
LiveCoinWatch, a highly reputable digital portal on crypto, addresses these challenges with its mobile apps and web interface.
LiveCoinWatch adds U.Today as crypto news source: What to know
According to the official announcement shared by the team of LiveCoinWatch, a top-tier cryptocurrency data portal, it starts indexing and broadcasting content from U.Today, an industry-leading blockchain media outlet.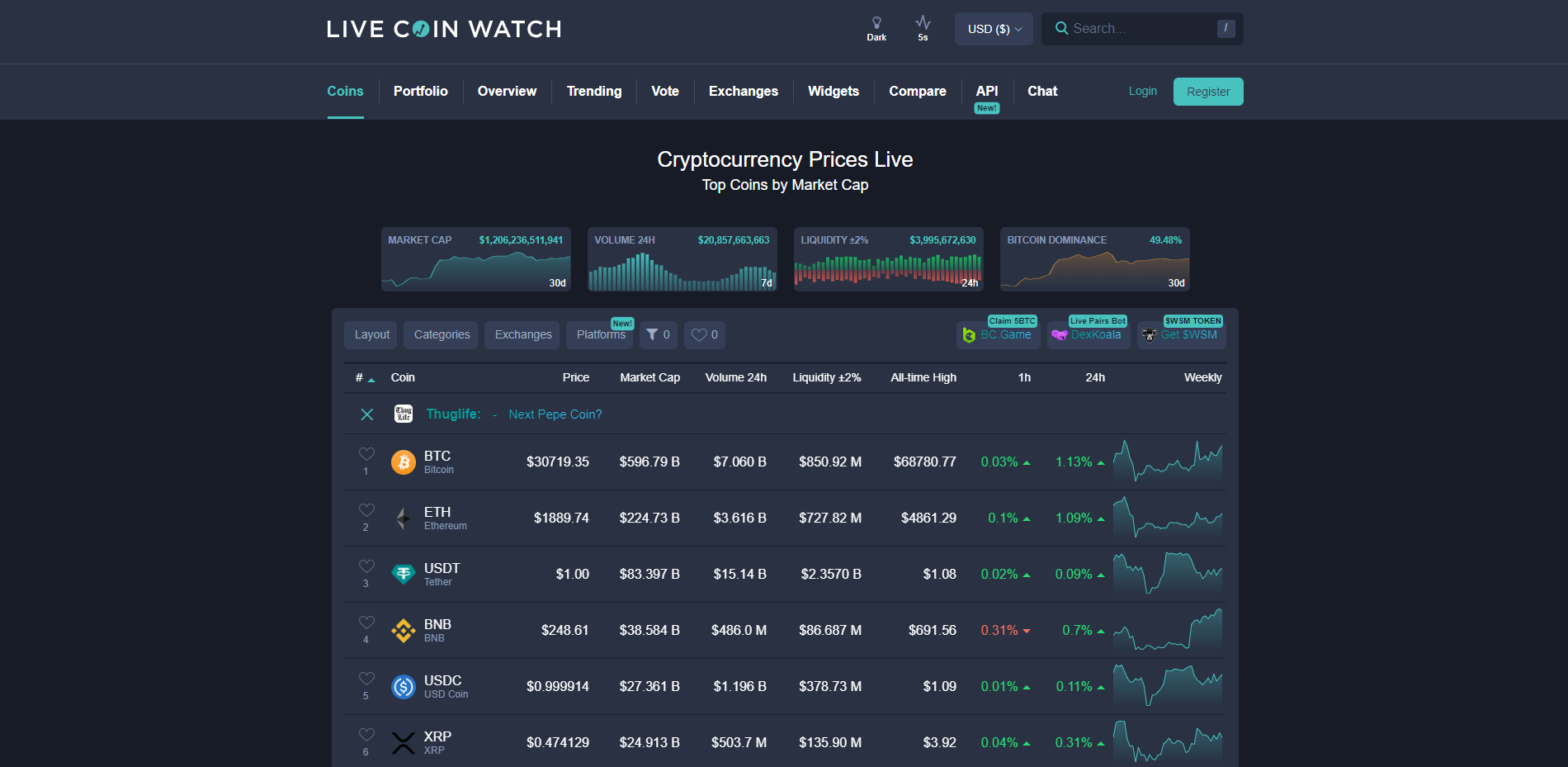 U.Today will supply users of LiveCoinWatch with all types of content on crypto, including news articles, product manuals, reviews, how-tos, price forecasts, press releases and so on.
Every day, experienced editors publish the digests of the hottest news in the crypto segment. With U.Today's content, newbies and pros can always stay up to date on the most crucial trends in crypto and blockchain, impressive personalities and popular new coins.
Starting from June 2023, U.Today's newsfeed is available to all visitors of the LiveCoinWatch website and users of its mobile applications for iOS- and Android-based devices.
Here's how LiveCoinWatch advances crypto trading data
LiveCoinWatch is a textbook example of a holistic approach to cryptocurrency data. Its users can track the prices of Bitcoin (BTC) and altcoins, liquidity status, capitalization, orderbook data and dozens of parameters with no need to leave the application of the web interface.
In mobile apps, customers can also access a toolkit of powerful filtering options to discover "hidden gems" — promising low- and mid-cap altcoins — within the turbulent cryptocurrency market. With an advanced system of filters, eccentric investment opportunities aligned with specific criteria and preferences can be discovered even by users with only basic internet skills.
In "Troll Box" — a user-friendly chat section — visitors of LiveCoinWatch can always engage in lively discussions and share insights with fellow users. In a couple of clicks, users can start conversations with a vibrant community of investors and stay updated on the latest market announcements and tendencies.
Via a seamless integration toolkit, users can add content with LiveCoinWatch as widgets (price widgets, Bitcoin chart widget, top 10 coins widget and so on) by simply copying and pasting HTML-code into their websites. Unlike major competitors, LiveCoinWatch made this option totally free of charge.
Customization first: Mobile apps by LiveCoinWatch
For a tailored and customer-centric experience, LiveCoinWatch allows users to create and track custom-made portfolios of preferred assets. Unlimited portfolios can be created and updated in mobile apps. With LiveCoinWatch portfolios, users can make their investments more streamlined than ever before.
In addition, the portal's mobile apps allow users to customize their news feed, ensuring that they receive relevant and timely updates only on the most interesting segments of cryptocurrency markets to them. Users can track meme coins or DeFi coins or PoS coins only, if they wish, in this section.
Last but not least, LiveCoinWatch equipped its interface with a user-friendly calculator designed for monitoring cryptocurrency investments. Users with various levels of expertise can make informed decisions easily by quickly assessing the potential gains or losses of various digital assets based on real-time market data.
To sum up, LiveCoinWatch is a go-to solution for newbie and pro traders interested in making their market decisions more data driven.