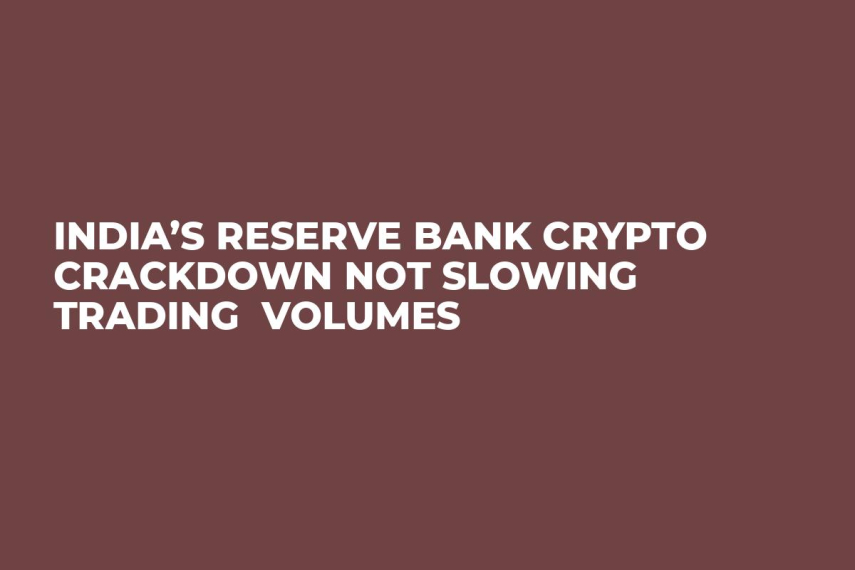 Cover image via U.Today
It has been near on a month since the Indian Reserve Bank (RBI) announced that it would be cracking down on cryptocurrencies and that any entity that operated and worked with them would not be accepted into the regulatory protection of the government bank.
The ban, however, does not seem to have had the desired effect for the regulators as there has been evidence of increased trading volumes alongside the sharp price rises that have been witnessed over the past few weeks.
More rather than less
Of course, the sole intention of the crackdown by the RBI was to try and lessen the interest and growth of cryptocurrencies in the emerging nation of India, but it appears that with the cryptocurrency market being in the green, there is little stopping the buying, trading and operating of cryptocurrency.
Exchange operators, analysts and investors believe that the reason behind the increased interest is that people are trying to take advantage of the three-month window that has been offered by the RBI to sever their ties with cryptic business.
By getting involved now, in this window, investors can convert their rupees into crypto which they can then later trade and swap on private platforms even after the rules take hold.
"There is a positive sentiment in the industry that the government will not ban trading in cryptocurrencies, and even if formal banking channels cannot be used, people can move to crypto-crypto trading platforms," Shivam Thakral, chief executive of BuyUcoin, a cryptocurrency exchange, said.
"New investors are coming to our exchanges while existing ones are regaining interest after the drop because they're getting good value and are making money as the prices of cryptocurrencies move higher," he said.
Indian crypto battle
The Indian government's decision for this crackdown is stated as an attempt to try and stop illegal activities. However, this has been widely criticised by those in India, as well as abroad, such as legendary VC Tim Draper.
Many investors hope the government will soften the central bank's blow by regulating cryptocurrencies rather than banning them outright.
A panel with members from the central bank, the finance ministry and market regulator Securities and Exchange Board of India is expected to soon formulate a recommendation on what to do next.