Bitcoin (BTC) cloud mining may be a particularly amazing alternative to ordinary Bitcoin (BTC) mining. The most important step here is to choose a proper cloud mining service platform. Here's what ScryptCube has to offer.
What is cloud mining?
Cloud mining (also "remote mining") refers to a process of "borrowing" mining computational power from a professional miner. In a nutshell, an influential Bitcoin (BTC) mining entity offers you a share in their rewards for Bitcoin (BTC) mining for periodic USD-settled payouts.
Thus, the client of a cloud mining firm obtains access to the share in the hashrate - the aggregated number of hashes - disclosed by the services vendor. When signing an agreement, the user is asked to customize the terms of the contract and the amount of the hashrate he/she borrows (in Gh/s or Th/s).
Why is cloud Bitcoin (BTC) mining a "smart bet" for newbies?
Bitcoin (BTC) cloud mining may be as profitable as ordinary proof of work (PoW) mining. However, the user just needs to pay for a contract. He/she does not need to purchase expensive mining rigs (with classic mining, an "entry ticket" costs about $20,000) to care about uptime, electricity, security, incorporation and so on.
All of these risks are borne by the platform that delivers Bitcoin (BTC) cloud mining service. Purchasing a small share of the hashrate will not be so risky but will definitely allow the crypto newcomer to understand the segment of crypto mining better, and to establish another source of passive income.
What makes Bitcoin (BTC) cloud mining with ScryptCube special?
Launched in 2016, ScryptCube is one of the veterans of the cloud mining segment. A U.K.-incorporated firm, it is fully compliant with all legal requirements.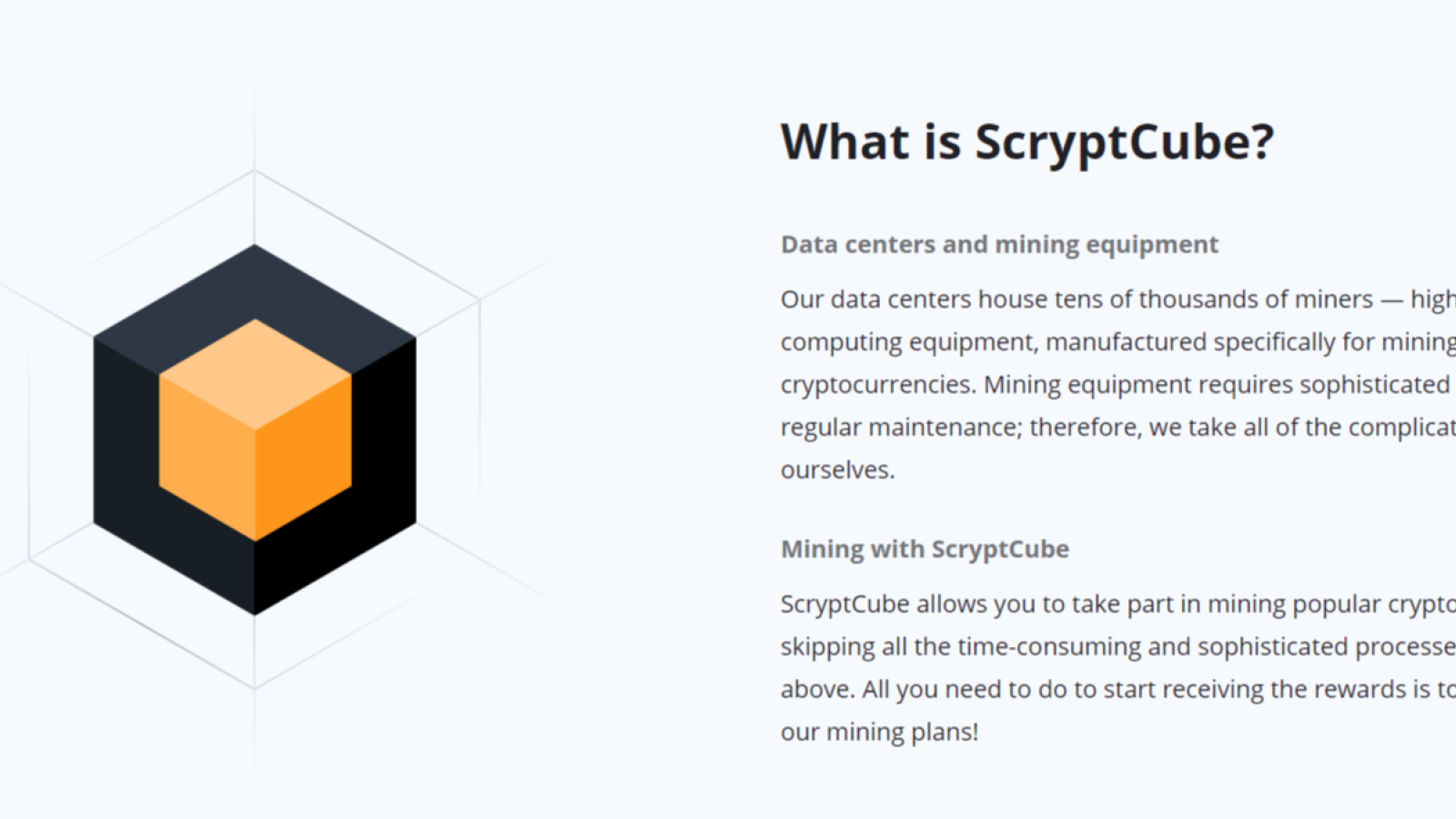 ScryptCube operates tens of thousands of Bitcoin (BTC) mining rigs of different types. Therefore, its share of the Bitcoin (BTC) hashrate is stable and surges year-by-year.
ScryptCube offers its clients the opportunity to earn from Bitcoin (BTC) mining avoiding cumbersome and costly procedures. Users just need to choose a contract, pay by Visa, Mastercard or Bitcoin (BTC) and start to receive daily payouts.
To calculate approximate profits, the company released a one-click calculator on its site. Once a user inputs the term of contract and the share of the hashrate he/she plans to purchase, the system automatically calculates his/her estimated yearly profits.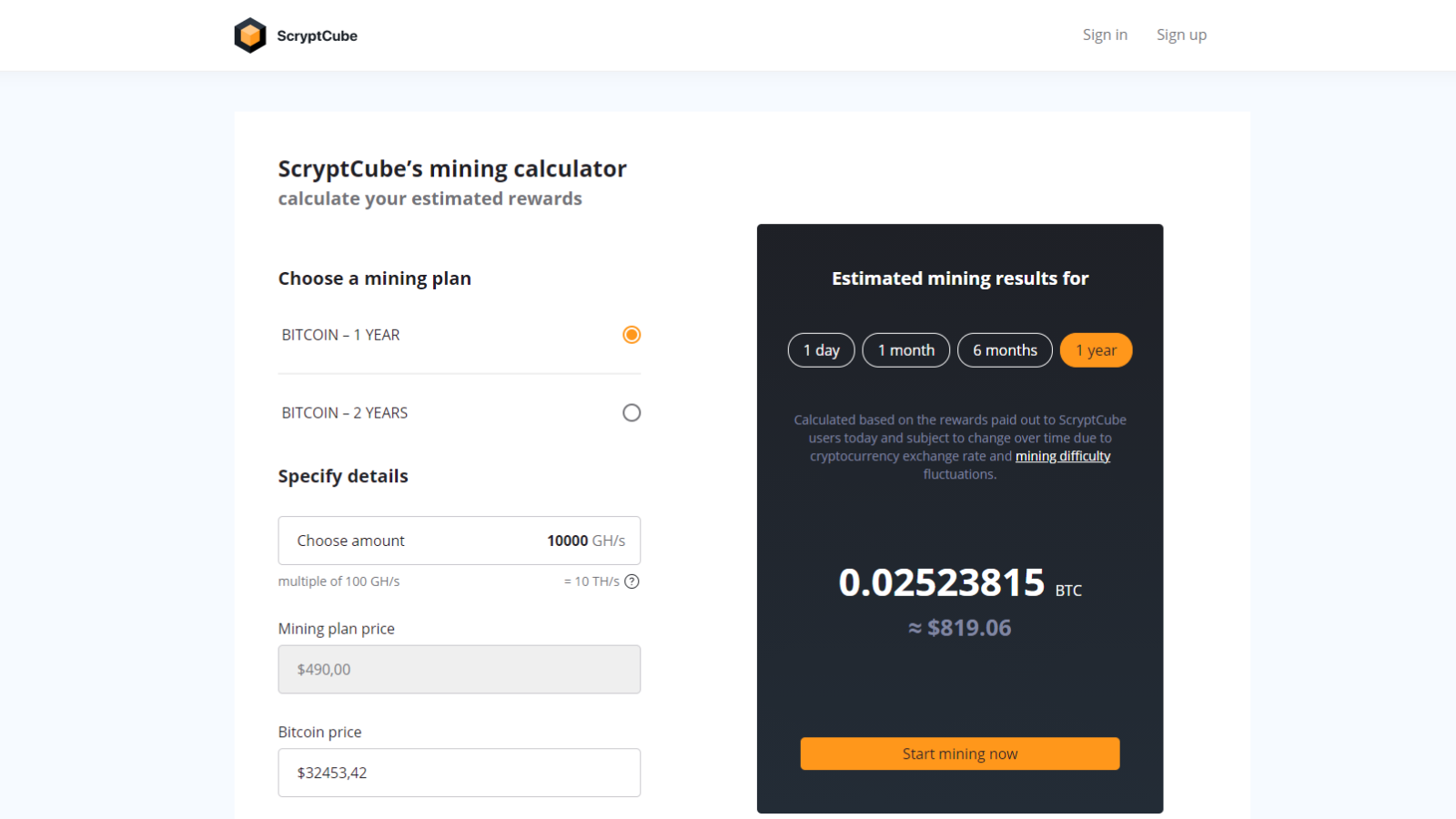 Meanwhile, accurate payouts depend on the dynamics of Bitcoin (BTC) network difficulty and the price of the flagship cryptocurrency.
As displayed above, a 10 TH/s contract may bring its owner $820 per year, should the price of Bitcoin (BTC) hold its actual level. The minimum share available is 100 Gh/s (0.1 TH/s).
Usage of high-efficiency Bitcoin (BTC) mining hardware by top producers allows ScryptCube's prices to remain that low even during the Bitcoin (BTC) rally and constant upsurge of mining difficulty.
Which options are available with ScryptCube?
At press time, ScryptCube offers two types of cloud mining contracts. The first one allows you to buy 100 GH/s of hashrate for one year at $4.90, while the second tariff allocates the same hashrate for two years at $7.90.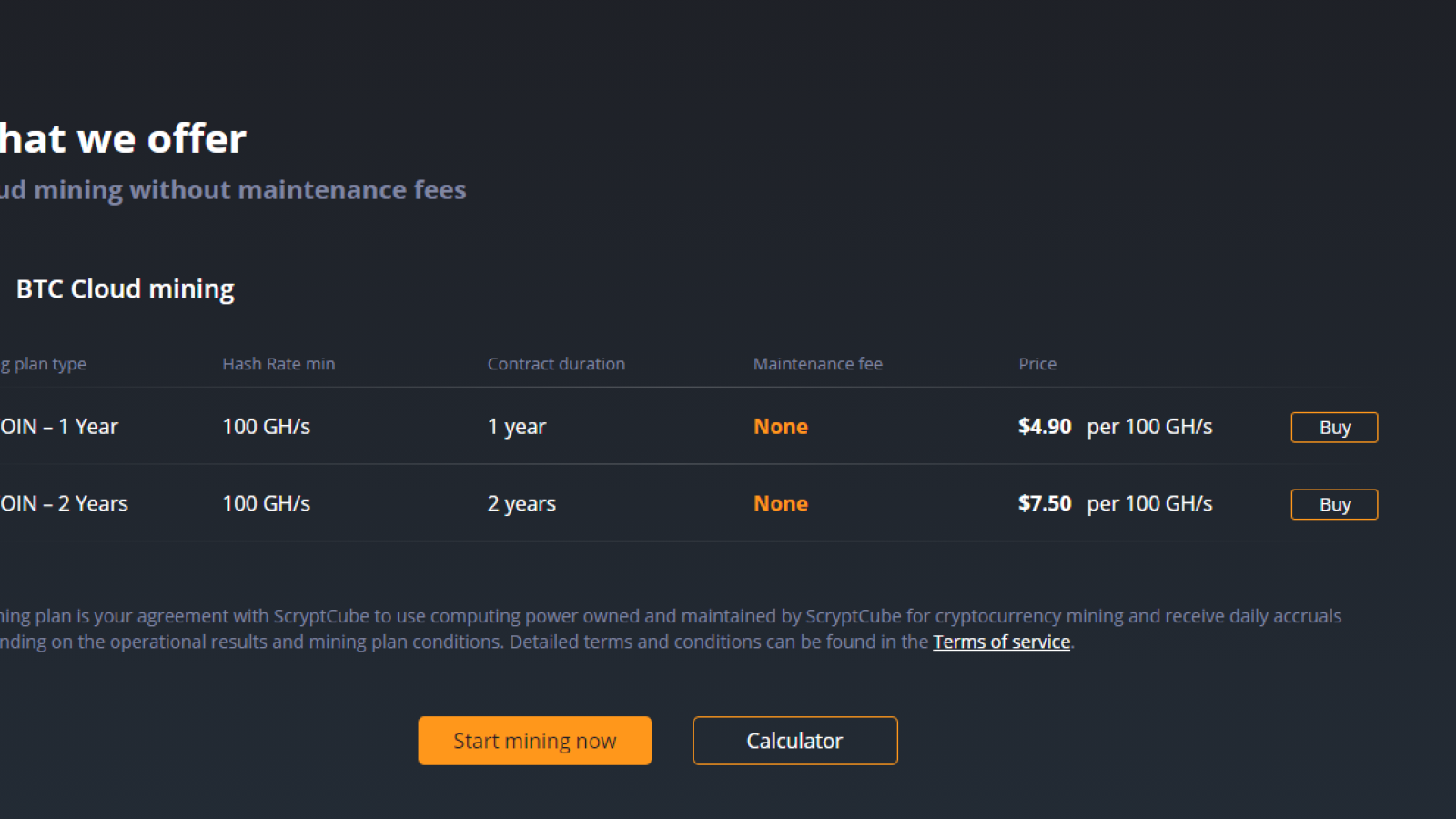 According to announcements by the product team, cloud mining programs for Ethereum (ETH) and privacy-focused cryptocurrency Beam (BEAM) will launch very soon.
It is important that the company does not charge its clients with extra fees ("registration fee," "maintenance fee," "electricity fee," etc.). All fees are already included in the price of contracts, so there are no surprises for cloud mining clients.
ScryptCube proudly implemented intuitive statistical dashboards to allow all of its customers to track the process of cloud mining in accordance with signed contracts.
Bottom line
ScryptCube is a next-gen platform for Bitcoin (BTC) cloud mining. It allows for trying the instruments of Bitcoin (BTC) mining without the necessity of putting significant sums of money at risk.
Two contracts (for one year and two years) are available, while Ethereum (ETH) and Beam (BEAM) contracts are coming.