Gate.io Startup is a next-gen platform for initial cryptocurrency exchange offering (IEO) campaigns developed by the Gate.io crypto ecosystem. To ensure an unparalleled experience for all participants of fundraising in terms of security and profitability, it implemented a splendid number of novel features.
Introducing flexible and high-yield IEO launchpad: What is Gate.io Startup?
As an amazing combination of security, high performance, feature-rich and inspiring ROI, Gate.io Startup allows every crypto enthusiast to invest in the "next big thing" at the very early stage of its development and massive adoption.
What makes it special amid the IEO launchpad boom?
Unmatched liquidity ecosystem: every token supported can access Gate.io with its 1,300 tokens;
Highest average ROI, generous airdrop for all accounts registered;
Seamless integration into Gate.io's ecosystem with world-leading CEX, NFT Magic Box, GateChain, quantitative trading module and so on;
Detailed research into every project listed;
What is IEO?
Initial cryptocurrency exchange offering (IEO) is a method of fundraising for cryptocurrency projects. IEOs are organized on centralized platforms and are fully controlled by its teams and community. Through IEOs, projects raise funds from investors to achieve these goals and distribute tokens between them.
Technically, IEO works not unlike other types of token sales: initial coin offering (ICO), initial gaming offering (IGO), initial decentralized exchange offering (IDO), initial staking pool offering (ISPO) and so on.
With the IEO model, people can buy tokens of new projects through this or that centralized crypto platform.
Why is IEO better than ICO?
For the crypto segment, the year of 2017 will be remembered for its "ICO boom." However, this mainstream model of fundraising - when a product collects money through its own website and crypto wallet - had too many dangerous flaws.
First, it was about the security of the fundraising. With ICO, its team is the only actor responsible for the visibility and transparency of the funding procedure. As such, it is too easy for scammers to run with investors' money.
With IEOs, analysis of the team that raises the funds is performed by the centralized platform behind the IEO. Its security department bears responsibility for due diligence checks so, typically, only legit teams raise money through IEOs.
| | | | | |
| --- | --- | --- | --- | --- |
| Type of tokensale | Short name | Description | Pros | Cons |
| Initial exchange offering | IEO | Investors send money to platform, it transfers the funds to projects | Secure and resource-efficient method | Lack of reliable platforms |
| Initial decentralized exchange offering | IDO | Investors send money to a smart contract | 100% noncustodial method | High risk of rug pulls |
| Initial gaming offering | IGO | GameFi-specific form of IDO | 100% noncustodial method | High risk of rug pulls |
| Initial coin offering | ICO | Investors send money directly to the team's wallet | The oldest and most popular retail fundraising method | High risk of exit scams |
| Initial staking pool offering | ISPO | Investors lock the liquidity in favor of the staking pool associated with the project | 100% noncustodial method | Available only on Cardano (ADA) |
Table 1. Crypto fundraising for retail investors: methods and opportunities
Gate.io Startup: New-gen platform by top-tier exchange
Gate.io Startup is a unique fundraising platform with a feature-rich toolkit and cutting-edge level of privacy for all actors.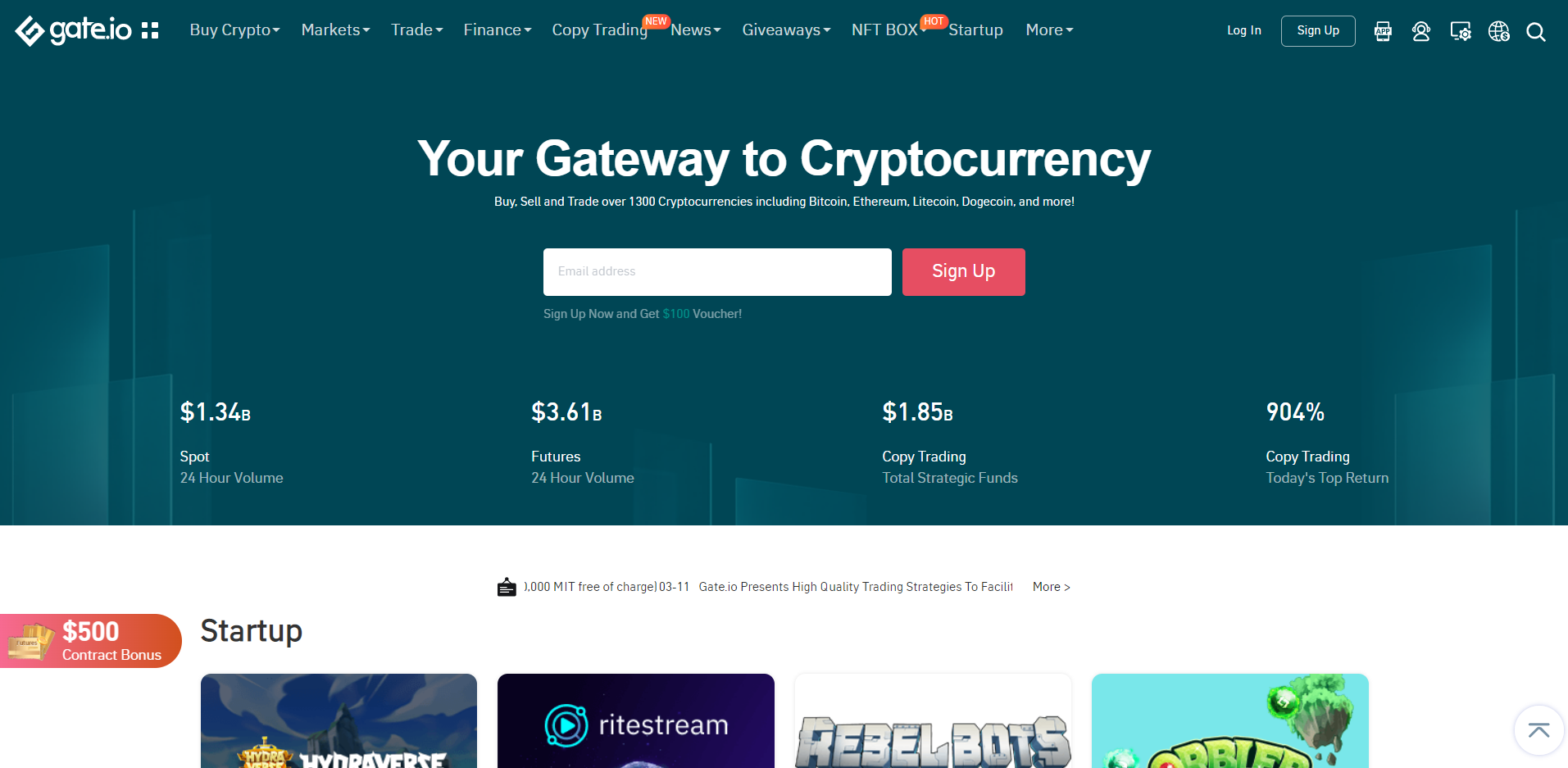 It is thoroughly curated by Gate Ventures, the VC arm of Tier-1 crypto exchange Gate.io, which is among the largest trading platforms globally by traffic and trading volume.
Gate.io Startup for products: Unmatched decentralization, secure fundraising
Despite huge interest in crypto and early-stage investments in Web3 products in particular, a secure and resource-efficient token sale organization remains inaccessible for the majority of nascent products. As such, Gate.io Startup is designed to offset the gap between the mentioned products and retail investors.
As Gate.io Startup implemented strict due diligence policies, all investors on the platform are required to pass advanced "know your customer" (KYC) and "anti-money-laundering" (AML) checks. Retail investors from VIP1 tier who passed KYC checks can purchase 1,000 shares maximum. Thanks to these procedures, startups are protected from "toxic" investments and from too whale-dominated distribution of their tokens.
This combination of control and concentration prevention measures allow early-stage products to protect themselves from hyper-concentration and security issues.
Gate.io Startup for investors: Where user-friendly interface meets credibility
At the same time, participating in IEO procedures with Gate.io Startup seems increasingly attractive for retail investors with various levels of expertise as well.
Prior to the listing of projects on Gate.io Startup, the leading experts of Gate Ventures evaluate the project's legitimacy, credibility and the opportunities of its team. The full scope of goals, milestone and previous career tracks of team members and director are analyzed under a microscope. Gate.io Startup team only lists products with achievable goals, viable tokenomic models and splendid founders' reputations. These procedures guarantee an unmatched level of protection from exit scams and all other versions of investors fraud.
Then, with the aforementioned limit of 1,000 shares for eligible participants, investors should not worry anymore about the prospects of massive whale-driven dumps. This creates a totally new benchmark for decentralization and inclusive participation for all types of investors, both OGs and newbies to the crypto world.
Investing in IEOs with Gate.io Startup is among the most profitable options of the entire segment. As of January 2022, its monthly-average profit for one listing (IEO price / ATH price) spiked to 80x. Data shows that Gate.io Startup currently has an average ROI of 125.09% and an ATH ROI of 2,181.86% as of Mar. 10, 2022.
Gate.io Startup's approach to token listing and post-listing support is a holistic one. High-quality and promising projects of any track can participate in Gate.io Startup as long as they pass the platform's review.
Gate.io Startup: Element of Gate.io ecosystem of cutting-edge products for Web3 era
Since day one, Gate.io Startup has been integrated into a multi-product ecosystem of Gate.io's products. It includes Gate.io, a leading centralized crypto trading ecosystem, GateChain, a native EVM-compatible smart contracts platform, and Gate Ventures incubator and GT, the core native utility asset of this ecosystem.
Launched in early Q2, 2013, in China, Gate.io opened its services for a global crypto audience in 2017. It has amassed more than 10 million users from 190 countries as its daily trading volume surpasses $10 billion (February 2022). The protocol supports more than 1,300 cryptocurrencies; USDT-based pairs with Bitcoin (BTC), Ethereum (ETH), Terra (LUNA), Shiba Inu (SHIB) and XRP are the most popular on the exchange.
GateChain is a DeFi-focused smart contracts platform based on a unique type of consensus. It leverages Vault Account, a one-of-a-kind element needed for handling abnormal transactions. GateChain also utilizes an extraordinary clearing mechanism to prevent asset theft and private key loss. GateChain hosts HipoDeFi, a one-stop platform with a swap module, token bridges, yield farming instruments and so on.
Gate Ventures is a VC arm of the ecosystem focused on blockchain infrastructure, decentralized applications and infrastructural projects. By March, 2022, it backed a number of unicorns, including 1Inch Network, Perion, Woo Network, Blockfills, SEBA and so on.
GateToken, or GT token, is a backbone element of the product's tokenomic design. It was launched as a core element of Gate.io's ecosystem tokenomics to bridge all of its services between each other. Currently, it inches closer to the top 100 by market capitalization of all crypto assets with $1 billion in market cap. GT is available in 17 trading pairs across 12 centralized exchanges in pairs with Bitcoin (BTC), Ethereum (ETH), U.S. Dollar Tether (USDT), Terra USD (UST) and fiat USDs.
Gate.io Startup: How to Participate
In order to be eligible for participation in IEO rounds, crypto enthusiasts should first register their accounts on Gate.io. The level of participation for all IEOs depends on the VIP tier of the user and his/her GT holdings.
To be eligible for VIP1 tier, users should hold GT tokens, achieve predetermined numbers in 30-day trading volume, and hold spot assets. All details are explained in the 'Fees' manual.
Limit of participation is capped at 1,000 shares of listed projects for all participants. In order to participate in Gate.io Startup offering, crypto holders should log into their accounts and click on "Startup" on the top navigation bar.
All available products can be checked in the 'In Progress' section. Crypto holders can find the information and choose the project to invest in.
Then, the participants should click 'Place order', pass KYC and sign a Purchase Agreement.
Once the order is placed, user can check its status in "Order" - "Startup" page
The process of participation through mobile phone looks similarly: 'Startup' bar can be found in the second line of main page.
Also, as Gate.io Startup is committed to the policy of due diligence, every investor should pass KYC/AML checks to take part in public fundraising rounds.
Marie Tatibouet, Chief Marketing Officer at Gate.io, highlights that the opportunities unleashed by Gate.io Startup are amazing and push the barriers of Web3 adoption for professionals and newcomers:
Over the last year, the crypto market has reached new highs as the amount of both traditional and institutional investors in the industry grew rapidly. As interest in the market continues to grow, we remain committed to supporting new projects in the space, allowing investors to get in early on some potential gems through Startup.
Closing thoughts
Gate.io Startup is an IEO launchpad created by Gate.io, veterans of the cryptocurrencies segment. It is an integral part of Gate.io's ecosystem with its CEX, VC incubator, own blockchain and native token.
Gate.io Startup pioneers a novel approach to IEO security and decentralization. It combines inclusive participation for all investors, a thorough review of all projects listed and strict KYC/AML checks.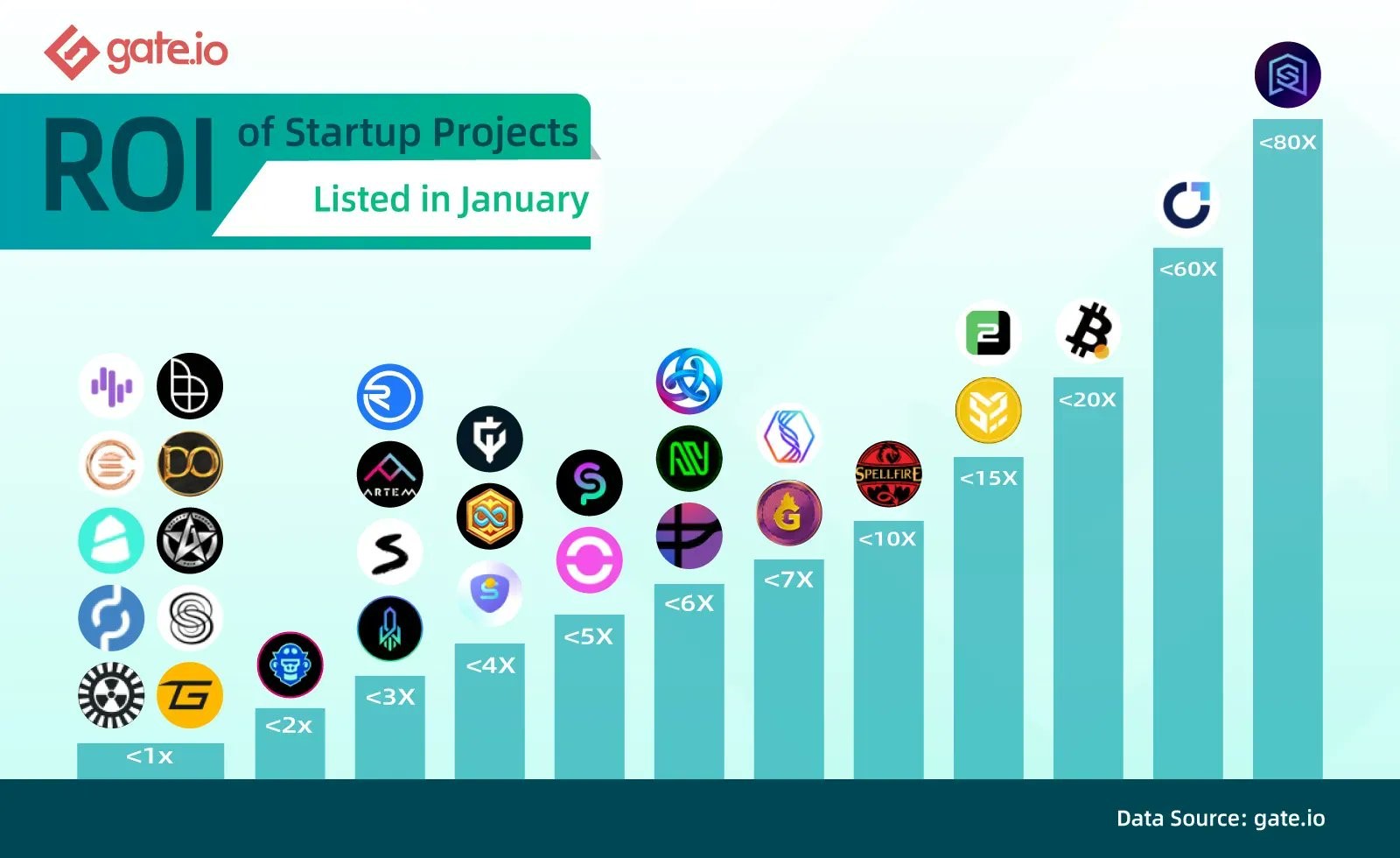 Disclaimer:
Please be noted that Gate.io may not be able to provide full scale service in certain markets and jurisdictions, and Gate.io may restrict or prohibit the use of all or a portion of the Services from Restricted Locations, such as the United States of America, Canada, Iran, Cuba. For the latest list of all the restricted locations, please read the User Agreement "Section II Eligibility" via https://www.gate.io/docs/agreement.pdf.