Freedom Business Summit 2023 | Dubai, December 7, 2023
Event details
Location:

Event place

Dubai Knowledge Park Conference Centre

Dates:

Thu, 12/07/2023 -

Website

https://uae.fsummit.net/

Price: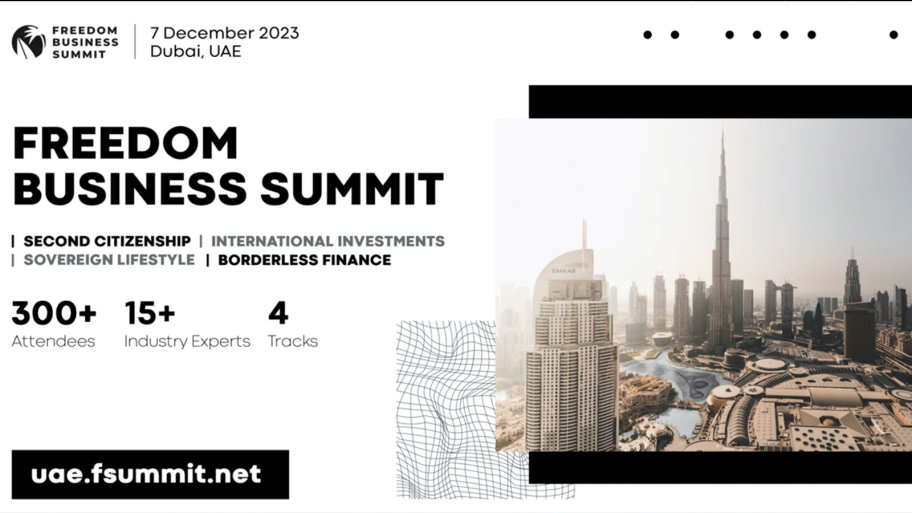 Cover image via U.Today
The Freedom Business Summit 2023 is a premier must attend one day event for those looking how mitigate geopolitical risks and connect with a diverse network of citizenship industry experts, global expats, international investors, government representatives, real estate investors, and high-net-worth individuals: including executives (C-Level) and crypto investors.
Date: December 7, 2023
Location: Dubai Knowledge Park Conference Centre
Audience: 300+ participants | 30+ Countries
Speakers: 15+ experts
Freedom Summit will feature keynote talks and panel discussions bringing together topics that aren't covered in big media:
Global Mobility For Millionaires: The Golden Passport
Global Citizenship & Residency Options. Trends For 2024
High ROI Bali Real Estate Investment Opportunities
Unlocking Global Investment Potential: The Power of Real Estate
Investors Paradise: Opportunities in Indonesia and Golden Visa
Offshore & Tax Strategies for International Investors
Personal Sovereignty, Plan B & Location Independence
We are bringing together the world's experts to learn what works in 2023 to mitigate geopolitical risks and explore opportunities for connecting with Global Citizens, Future Thinkers, Industry Leaders and Government Officials to share about:
International Investments: Discover offshore investment strategies, high ROI portfolios, overseas investment opportunities, and real estate prospects in Bali and Indonesia.
Global Citizenship: Explore the best options for obtaining a second passport, citizenship by investment programs, and residency opportunities in desirable locations.
Sovereign Lifestyle: Learn how to build your Plan B, protect your assets through offshore banking, choose the best jurisdictions for incorporation, optimise tax planning, and implement geoarbitrage strategies.

Registration and more details: ​​https://bit.ly/46szd4R
Special 30% off code: fsummit30
Advertisement
Top
Crypto
News
in
Your
Mailbox
Top
Crypto
News
in
Your
Mailbox