A short while ago, a post appeared on Reddit saying that Facebook is making not a digital coin but yet another 'data grab'. The post contains a link to a Cryptovest article.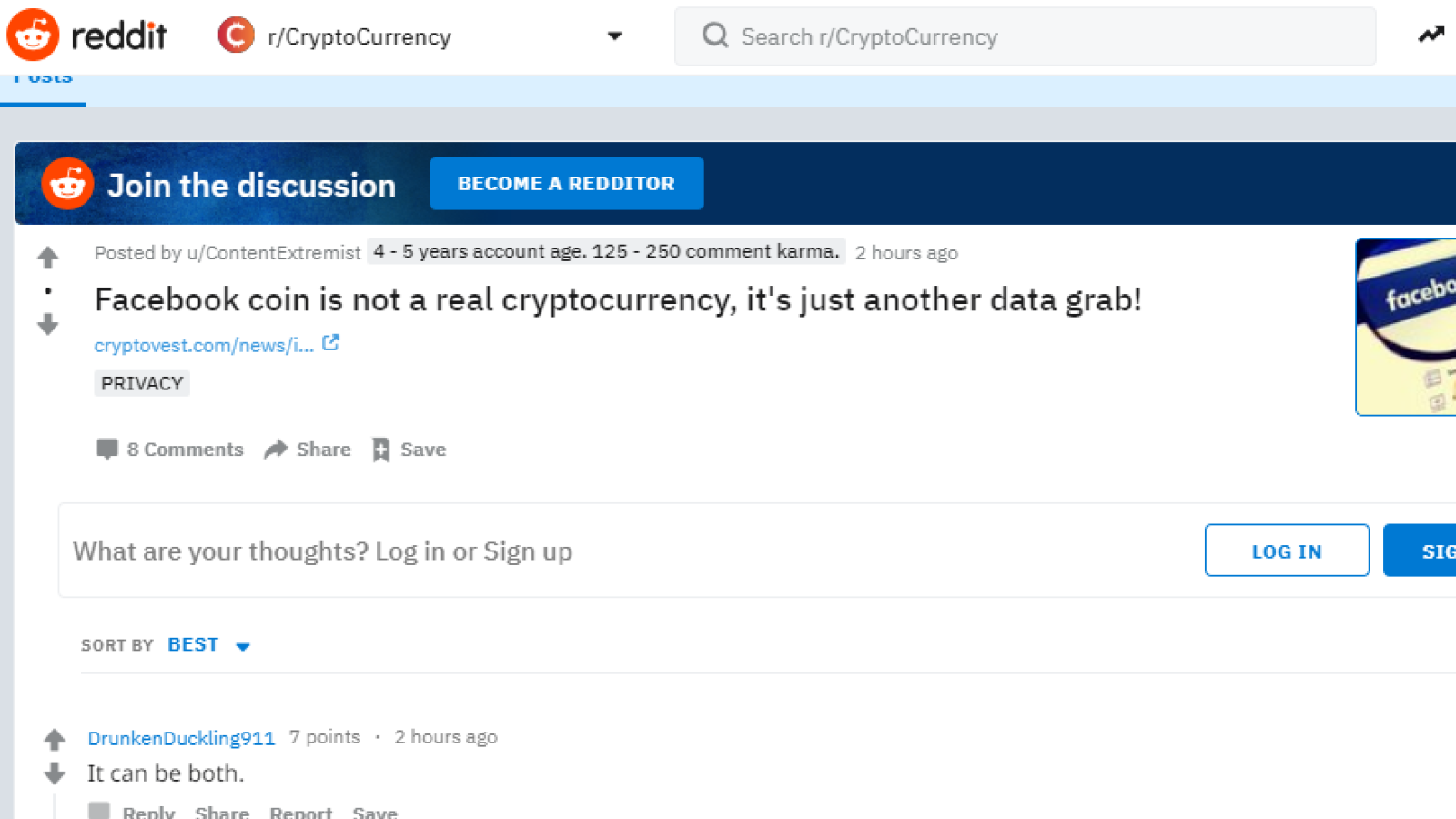 'Facebook Coin'
The social media giant could be launching its own token very soon and the platform aims to integrate it into WhatsApp, one of several most famous messaging app on earth and owned by Facebook.
As per NYT, the new coin will by pegged to the USD and will be used for financial transactions mainly on the Indian market, although its use in other countries cannot be excluded. Basically, it will be also valued on a 1:1 rate by local fiat currencies. This makes it look like a regular stablecoin.
The Facebook Coin (FC) is being created by a team led by David Markus, who used to work for PayPal. The making of this coin is allegedly being held secret even from other Facebook staff.
The other of the article asks out loud – what is Facebook plan to succeed in by making this coin?
Does Facebook really need its own crypto?
Facebook will likely to integrate FC not only in WhatsApp but also in Messenger, Instagram and Facebook itself. Users would be able to exchange these coins or use them for some local features or services.
It is hard to say for sure what Mark Zuckerberg's brainchild wants to achieve with the launch of the coin but the solution suggested above does not seem to require a DLT-based coin at all. Something like PayPal would be enough to enable Facebook users to send internal payments to each other.
Telegram's coin and Facebook's crypto
If we look at the most famous example of a popular social media making its own crypto – this would be Telegram messaging app. Last year Telegram received from investors in a closed ICO around nearly $2 bln.
Telegram is developing a whole independent network called TON (Telegram Open Network). The crypto in question will go by the name GRAM.
It is building an actual ecosystem, whereas Facebook is making only a sort of stablecoin.
This fact is also raising questions, since there have been reports in the media that Facebook is in talks with crypto exchanges for listing its future coin. But if it is going to be a stablecoin, its price will hardly move far away from its USD peg. Investors will hardly be interested in this kind of an asset.
Will Facebook make users hand in their private data to use Facebook Coin?
To let customers use the new coin in WhatsApp, etc, Facebook is likely to collect user information as part of KYC and AML measures. Probably, users will have to turn in their ID number, passport data, scan of their passport, etc, the same as they do on crypto exchanges to verify your account.
Considering the events regarding Facebook handling user data over to third parties, this question becomes pretty sharp. Will people actually trust Facebook now to store even more of their private data after the public scandals?
Who can guarantee that this data will not be used for sending more targeted adverts to personal pages of users?
Besides, just like Forbes recently wrote about the much-hyped JP Morgan's crypto coin JPM, Facebook Coin will hardly make much of an impact on the crypto industry, believes the author of the article.