While running more or less smoothly from a technical perspective, Ethereum's Istanbul upgrade has caused some problems within the network's operations.
Smart Contracts Fail
Antoine Le Calvez, Data Engineer at Coin Metrics, highlighted on his Twitter page some of the problems of Ethereum (ETH) network caused by switching to the Istanbul rules. After launching its hard fork last Sunday, the price of gas (small transaction fee used to reward Ethereum miners) was redesigned.
It is from these gas price dynamics that led to unexpected consequences. According to Mr. Le Calvez:
on a global level, smart contract calls running out of gas became much more frequent following the hard fork.
La Calvez calculated the rate of smart contract failure due to gas insufficiency and noted that "failure rates more than quadrupled".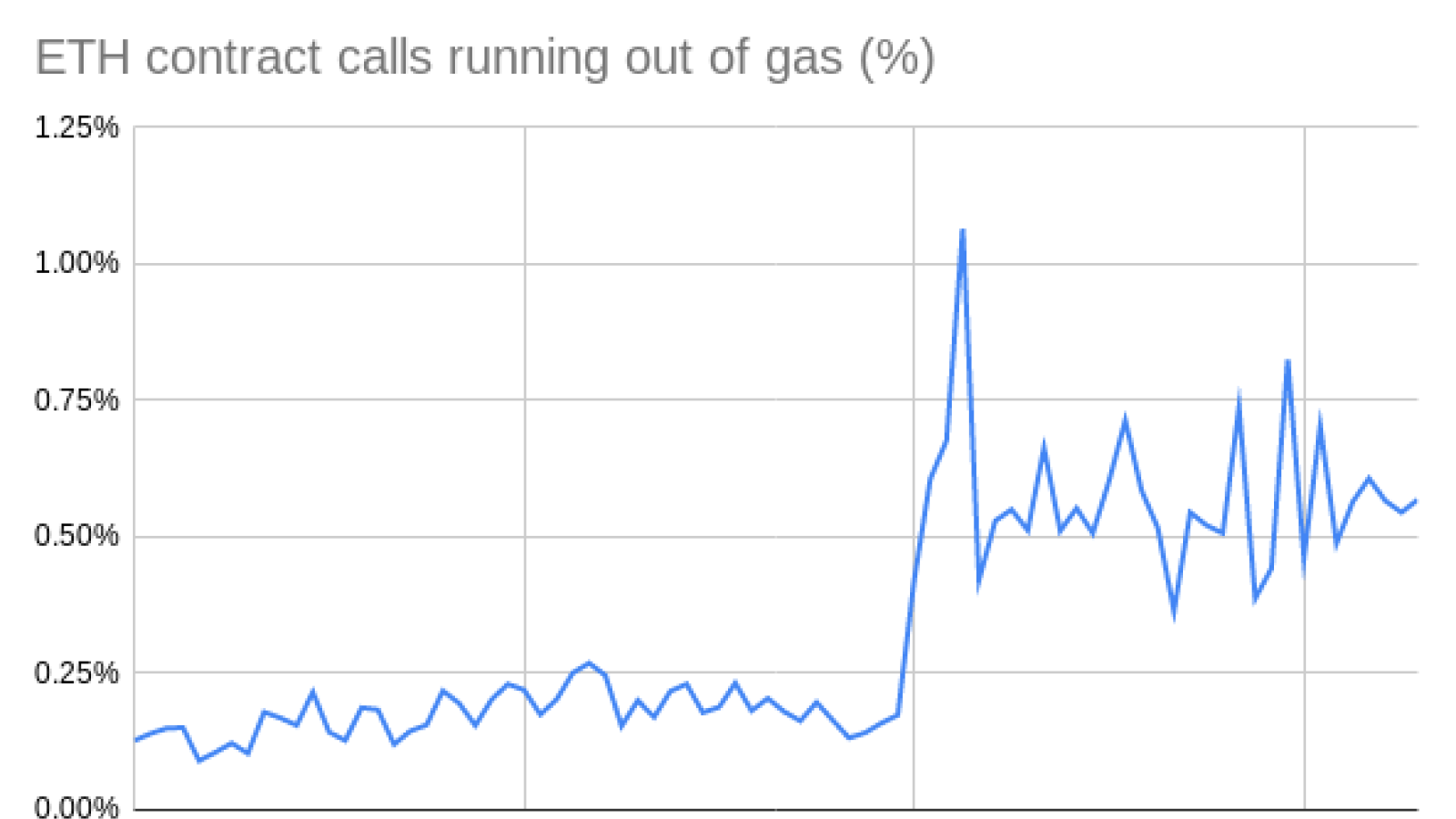 Mr. Le Calvez also found out that some exchange users were facing challenges in the post-Istanbul Ethereum. For instance, some transfers from the Gemini multi-currency exchange towards its own hot wallet were rejected due to out of gas errors.
That's What Bitcoin Tries to Avoid
The assumptions of Mr. Le Calvez excited numerous crypto traders, developers, and researchers. Lucas Nuzzi, Head of Research at Digital Assets Research, compared the problems of Ethereum with those of a post-fork Bitcoin (BTC). He said that such transformations have "led thousands of dApps to fail", and that this should be regarded as a form of censorship.
Mr. Nuzzi further stated that Bitcoin faced challenges of this type while implementing the multi-signature features. This experience made Bitcoin developers reconsider their attitude towards backward compatibility.
To be fair, this has happened in Bitcoin before. When bare multisigs were deactivated, several Counterfactual applications broke. That traumatized a lot of people working on Bitcoin and solidified the culture of backwards compatibility.

— Lucas Nuzzi (@LucasNuzzi) December 9, 2019
Ethereum's Istanbul Hard Fork occurred on December 8, 2019 on Block #9069000. It was one of the last systemwide upgrades of the Ethereum 1.0 network.
Have you encountered any problems with your Ethereum wallet? Write us on Twitter!