In this article we will analyze Ethereum price prediction for the month of February 2019. As of Feb. 4, 2019, some key statistics for Ethereum are the following ones:
· Price is $107.6232
· Market Cap is 10.95 Billion
· Circulating Supply is 104.62 Million and Volume is 3.02 Billion
· 52 Week Low-52 Week High: $82.4270- $1,236.4666
· Year-to-date performance is -25.62%, a decline from over $150 in early January 2019, to the recent price of $104.62.
What is our monthly Ethereum price prediction for February 2019? Can Ethereum have a larger market capitalization than Ripple in February 2019, moving up one position from third to second position of the top 100 cryptocurrencies by market capitalization on CoinMarketCap?
Some Ethereum price prediction mentions by other sources
In a previous article about Ethereum price prediction 2019 the question was if Ethereum price will be above $1000 by the end of 2019.
In this article we will focus on monthly only Ethereum price prediction. Some interesting Ethereum forecasts for the month of February 2019 are the following ones:
· WalletInvestor with its forecast trend line estimates that Ethereum will trade at almost same levels as today, that is at about $105 by the end of February 2019. The predicted range is $100-$110.
· CoinPredictor has a more bearish Ethereum price prediction estimating a decline of -45.1% for the next four weeks and a potential price of $58.39 by the end of February 2019.
· LongForecast has a range for Ethereum price prediction for February 2019 as follows: "ETH to USD predictions for February 2019. In the beginning price at 97 Dollars. Maximum price $104, minimum price $65. The average for the month $84. Ethereum price forecast at the end of the month $70, change for February -27.8%."
· TradingBeasts appears on the other hand to be extremely bullish on Ethereum. The monthly Ethereum price prediction for February 2019 is a price of $249.26 by the beginning of February 2019. This seems highly unlikely as on January 29, 2019 the price of Ethereum is about $105. The minimum and maximum prices for Ethereum by Trading Beasts during February 2019 are $420.71 and $618.68 respectively. And by the end of the month a rather very bullish Ethereum price prediction of $494.95.
Monthly Ethereum price prediction based on technical analysis
What does our technical analysis based on the daily and monthly Ethereum charts tell us to make an Ethereum price prediction by the end of February 2019?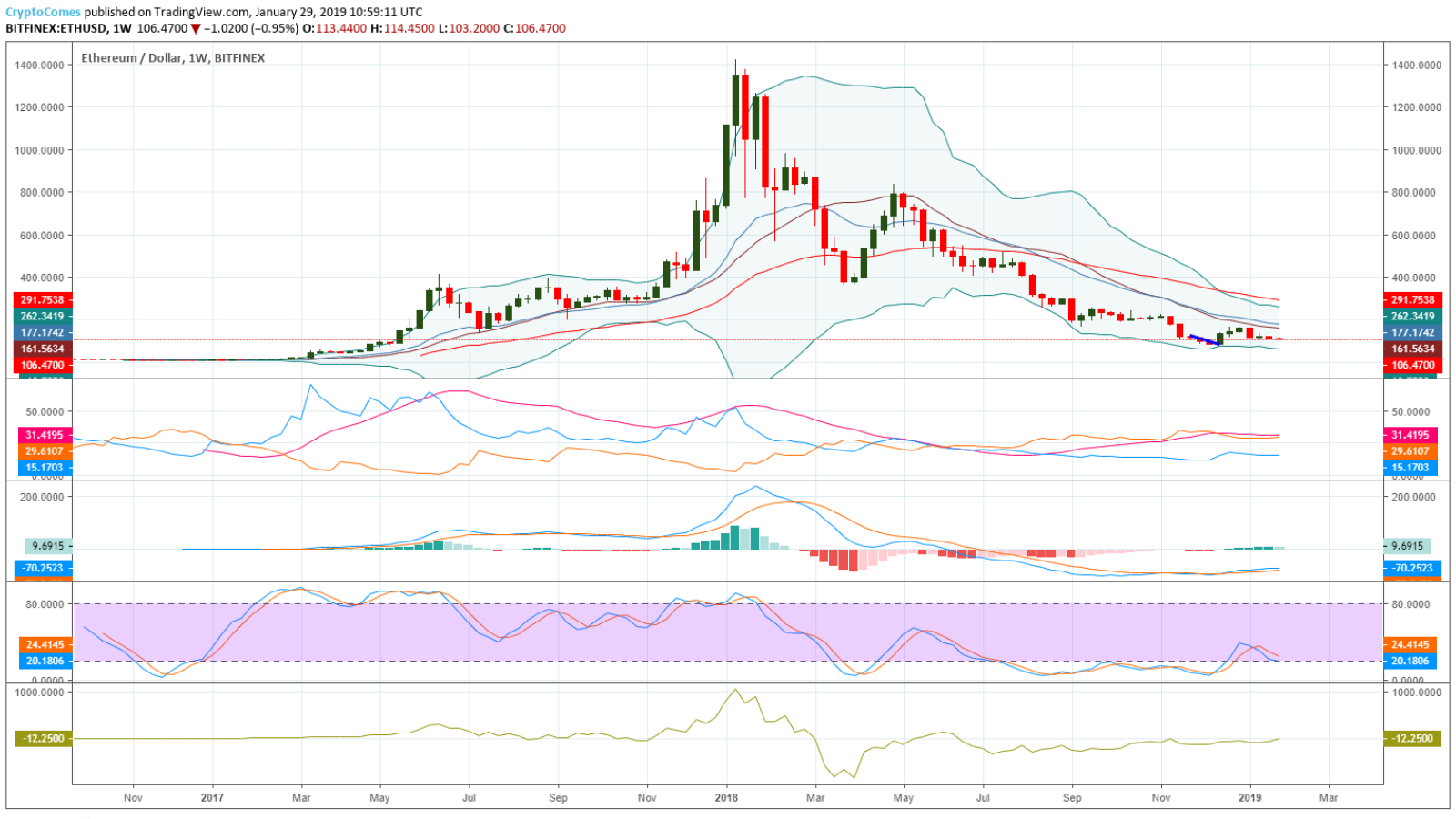 We will have two scenarios, one bullish and one bearish about the Ethereum monthly forecast.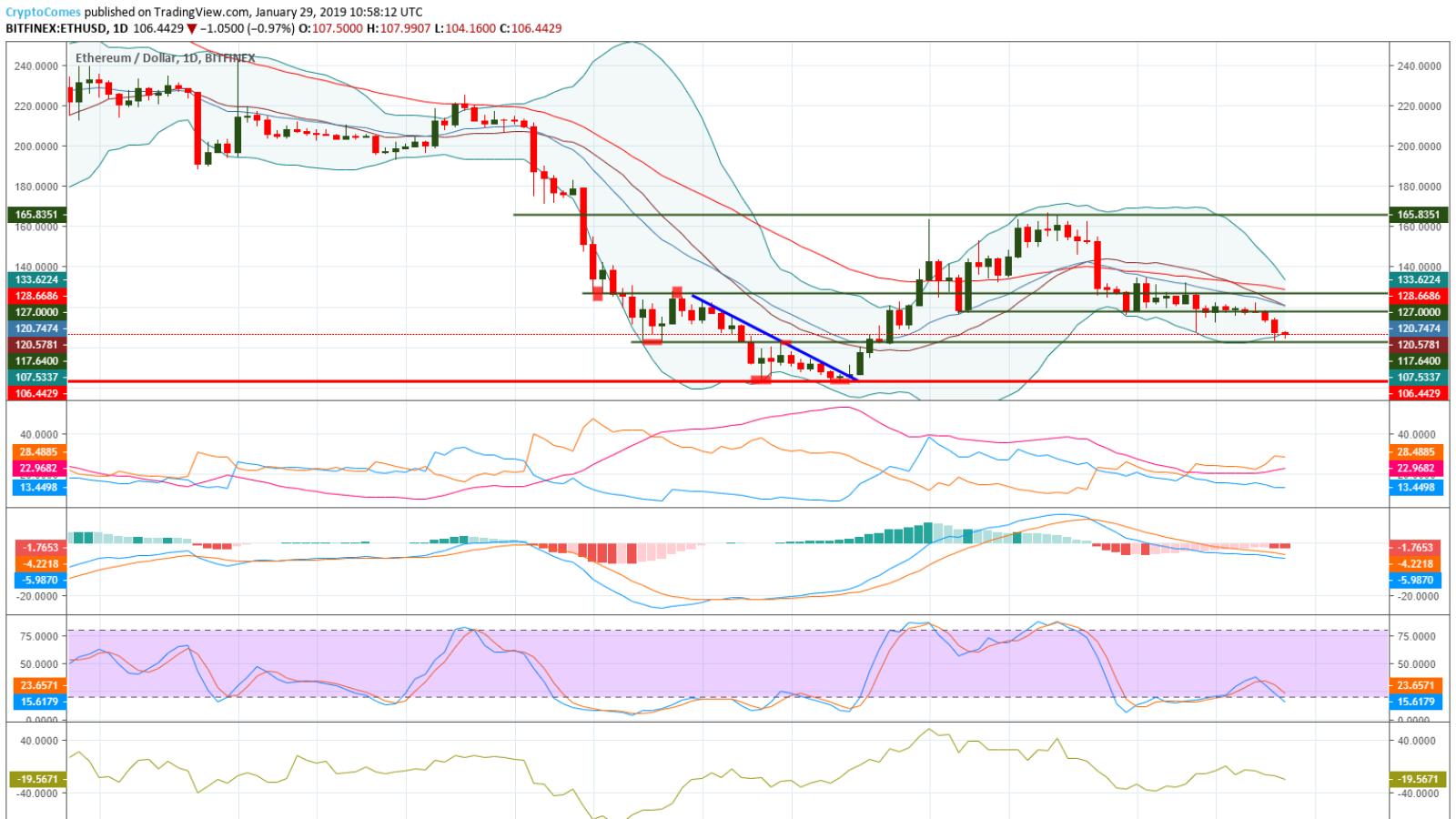 Ethereum price bullish monthly scenario
As the recent price of about $105 has reached the lower daily Bollinger band a potential bounce is likely. The lower and upper daily Bollinger bands are about $106-$133.40 as of Feb. 4, 2019. A bounce up to the level of $120-$125 is likely.
There is strong resistance at the level of $120-$130 and both 50-day and 20-day exponential moving averages with current values of $128.34 and $120.23, which are declining act as strong resistance levels.
Ethereum price bearish monthly scenario
Technical indicators show that a downtrend is the dominant trend. The ADX/DMI indicator shows not a strong trend, but the value of -DI line at 30.03 is above the value of +DI line at 13.18, indicating that there is still enough of selling pressure.
The MACD indicator is pointing down, the momentum indicator is also declining, and the stochastics indicator (14,3,3) formed a bullish cross which has failed. When price bounced to about $119 a bearish cross occurred and the declining 20-day exponential moving average acted as a confirmed resistance.
If the support near the level of $105-$103.50 does not hold, a move lower towards the price level of $90-$85, revisiting the lows formed back in December 2018 is highly likely. Our Ethereum coin price forecast is a conservative one and based on the recent weakness we tend to favor the bearish over the bullish scenario.
Our technical analysis and monthly forecast for Ethereum for the month of February 2019 is not an investment recommendation. But considering the short-term bounce of price on the weekly chart from Dec. 17, 2018 to Jan. 7, 2019 and the following resumed decline we favor the recent downtrend to probably continue in February 2019.