The future of Ethereum as it relates to its scaling capabilities has been placed under deep scrutiny as the role of the growing horde of Layer 2 protocols in tapering down associated fees is being analyzed. According to data from L2Fees, the majority of L2 protocols have significantly lower fees associated with transfers and swaps of assets when compared with Ethereum's.
Per the data, Loopring ranks as the cheapest platform to conduct transactions as the average cost to send Ethereum is pegged at $0.03, while swapping costs $0.05.
Arbitrum (ARB), Polygon's zkEVM and zkSync Era require 6 cents, 16 cents and 5 cents, respectively. While these protocols are notably more efficient, the fact that they are able to combine speed and low cost when compared to Ethereum has already positioned them as outfits with immense potential.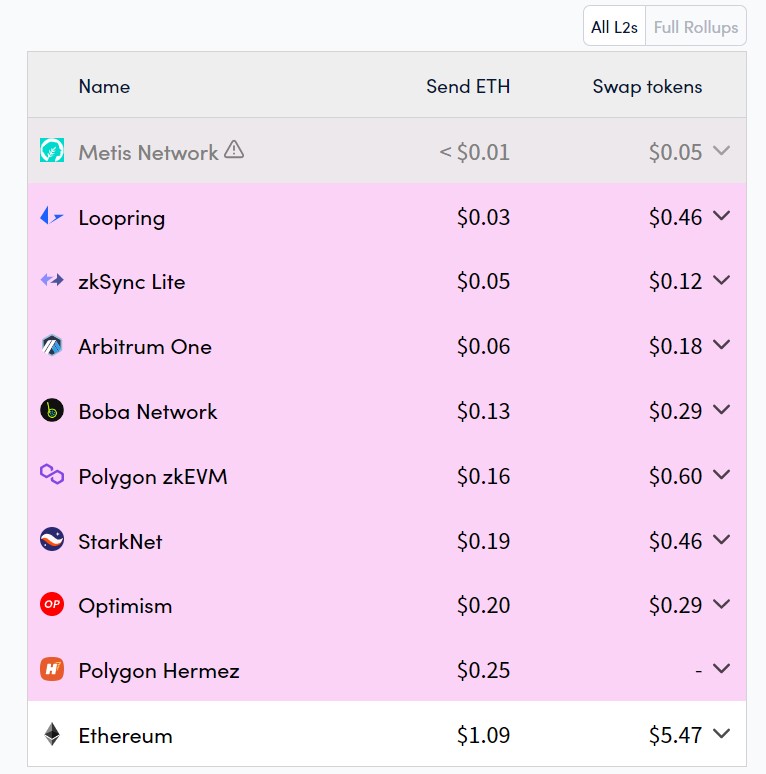 Ethereum, despite its soaring gas fees, is still the most robust blockchain protocol in the world, though there has been an ongoing targeted rebrand in the network's features as a proof-of-stake (PoS) protocol. While a push to higher scalability is in the works, the best way to make use of the Ethereum protocol easily at this time is via the associated L2 protocol.
Are L2s enough?
The majority of Layer 2 protocols out there make use of the Zero Knowledge Proof technology to verify transactions. zk-Proof, as it is fondly called, helps convey verification information faster in a way that frees up additional data that can drag down transaction processing.
To date, it is considered the most viable way to fully commercialize the Ethereum blockchain, as many transactions can be bundled and confirmed at the same time and for much less. While these technologies are still undergoing active development, they represent the best avenue to onboard the next billion users into the Ethereum ecosystem.