Whale Alert reports that a staggering 38,143 ETH tokens, or nearly $151 million worth, have been moved to exchanges in the last 24 hours. Ethereum is facing barriers near its present price after rising to $4,005 earlier today.
According to Whale Alert, the first large transaction of 21,075 ETH, worth $83,252,793, appeared on the blockchain around 23 hours ago.
Another large transaction of 11,097 ETH tokens, or $44,475,089 worth, arrived four hours after the first one. In between these were transactions of 2,971 and 3,004 ETH tokens worth $11,965,552 and $12,080,470, respectively.
Aside from this, three transactions of Ethereum being moved from exchanges to wallets were reported by WhaleStats. The largest transaction had 15,000 ETH, or $60,451,561 worth, transferred from Bitfinex to an unknown wallet.
? ? ? ? ? ? 15,000 #ETH (60,451,561 USD) transferred from #Bitfinex to unknown wallethttps://t.co/urSoM5IzFi

— Whale Alert (@whale_alert) December 22, 2021
The other two transactions had nearly $23 million worth of ETH moved from Kraken to a mysterious wallet.
Ethereum price action
After Ether's price hit a new high of $4,867 on Nov. 10, interest in the Ethereum ecosystem has grown, but the rally was short-lived as overall market sentiment slipped into fear. Despite pushing for some recovery, ETH's price fell while reaching a low of $3,503.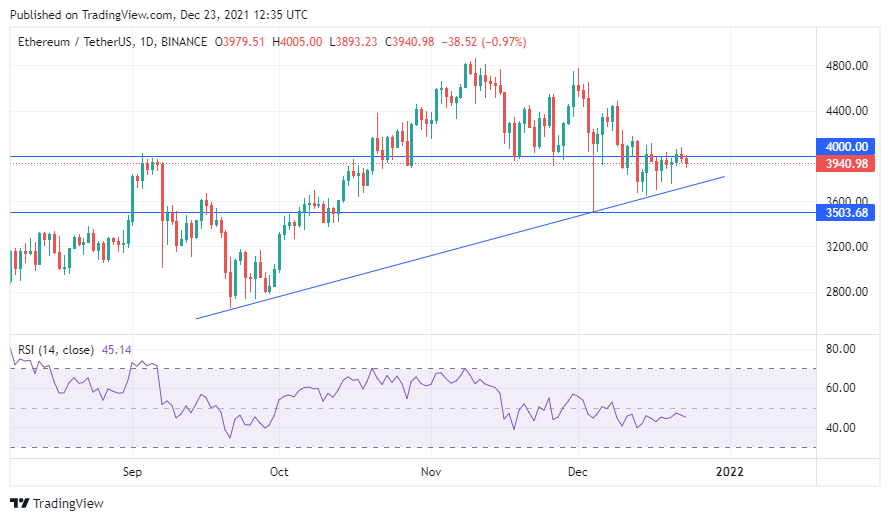 The Ethereum price has shown continuous signs of recovery from the shock in the present week around the $4,000 mark, defending much of its uptrend by its support base. On Wednesday, the price of Ether was rejected at $4,074 and currently faces the $4,000 barrier.
At press time, Ethereum's price sits at $3,940, with $15,316,090,468 in 24-hour trading volume. In the previous 24 hours, it dropped 2.12%. With a live market cap of $467,242,699,326 as seen on CoinMarketCap, it currently ranks #2. The maximum supply is not known; however, it has a circulating supply of 118,857,239 ETH tokens.