Ethereum (ETH), the world's second-largest cryptocurrency by market capitalization, is making a promising recovery. After bouncing off a significant trendline, the digital currency is now approaching the $1700 price level, a crucial psychological milestone that could trigger further gains.
The recent bounce is particularly noteworthy given the broader context. Ethereum, like many other cryptocurrencies, has faced a tough market environment in recent weeks, with prices dropping sharply amidst a general market downturn. But the current rebound shows that Ethereum continues to have a strong underlying value proposition that can attract buyers even in challenging times.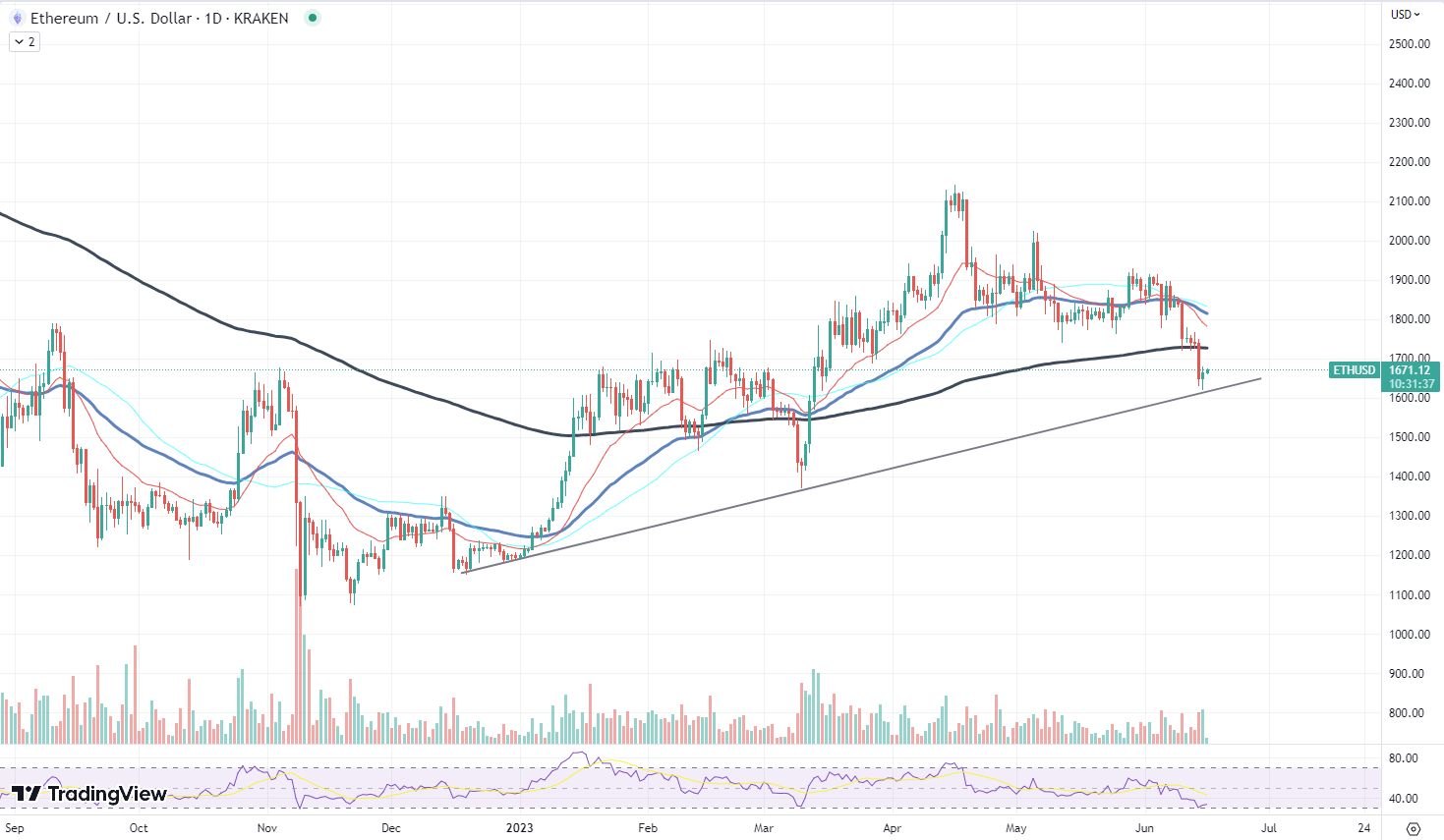 Adding to the optimistic outlook is a significant spike in trading volume. Typically, a rise in volume is a good indicator of increased interest and activity in a particular asset. In Ethereum's case, this rise in volume suggests that more traders and investors are turning their attention towards the digital asset, potentially paving the way for further price increases.
Equally promising is the relative strength index (RSI), which is currently hovering around 30. The RSI is a momentum indicator that measures the speed and change of price movements. When the RSI is below 30, it indicates that the asset may be oversold, suggesting that a price increase could be on the horizon.
Is risk-on back?
GMX, a decentralized perpetual futures exchange on Arbitrum that enables users to leverage assets without the need for an intermediary. Recently demonstrated an impressive 4.8% surge, which may serve as an indication that investors are shifting their approach back to 'risk-on'.
Traditionally, futures trading on centralized exchanges requires a middleman who takes custody of assets and enforces contracts. In contrast, GMX operates in a trustless manner, relying on smart contracts to automatically enforce terms. The leverage provided by GMX allows traders to multiply their potential returns, a factor that is particularly attractive in the current volatile crypto market.
The recent surge in GMX's value appears to be linked to growing interest in decentralized leverage trading. This trading strategy is riskier than regular spot trading, but it offers potentially higher rewards. In a time where the crypto market is showing signs of rebounding, it seems that the appetite for riskier strategies like leverage trading is on the rise again.
While this uptick in GMX value is promising, it's crucial to note that the crypto market's inherent volatility and risk factors associated with decentralized leverage trading. Investors should always ensure they fully understand the potential risks involved and conduct their own research before making any investment decisions.
XRP remains firm
XRP's recent dip below $0.5 might have caused some market jitters among investors, but a more in-depth look reveals there is no cause for panic. A careful analysis of XRP's price action shows a resilience that could be a silver lining for the digital currency.
First, XRP has tested the $0.5 level multiple times over the last three days. Despite these brushes with the price floor, the cryptocurrency has consistently rebounded, indicating a strong demand at this level. This frequent bouncing back suggests a solid investor base that sees value in the token at these price points.
Second, technical analysis enthusiasts would note that XRP is presently hovering around its 200-day exponential moving average (EMA), a critical support level that hasn't been decisively breached for nearly three months. The 200 EMA often acts as a dynamic support or resistance level and is watched closely by traders and investors. The fact that XRP hasn't broken this level, even during a general market downturn, is a bullish sign of underlying strength.
Lastly, unlike other altcoins such as Cardano, Solana, or Binance Coin that witnessed substantial sell-offs, XRP has remained relatively stable. It continues to trade within a neutral price trend, signifying that investors are less likely to desert it in droves. The recently released Hinman documents, potentially clarifying Ripple's legal standing, have added a degree of optimism to the XRP market.