ETC, the native asset of the Ethereum Classic chain, suddenly printed a massive green daily candlestick as its price rebounded from yesterday's lows of $15.64. The kick initiated pushed ETC's price to intraday highs of $18.18 seen at press time, where a seemingly significant barrier was met.
At the time of publication, ETC was trading up 12.09% in the last 24 hours at $18. The Ethereum spinoff is also up 17.42% in the past week.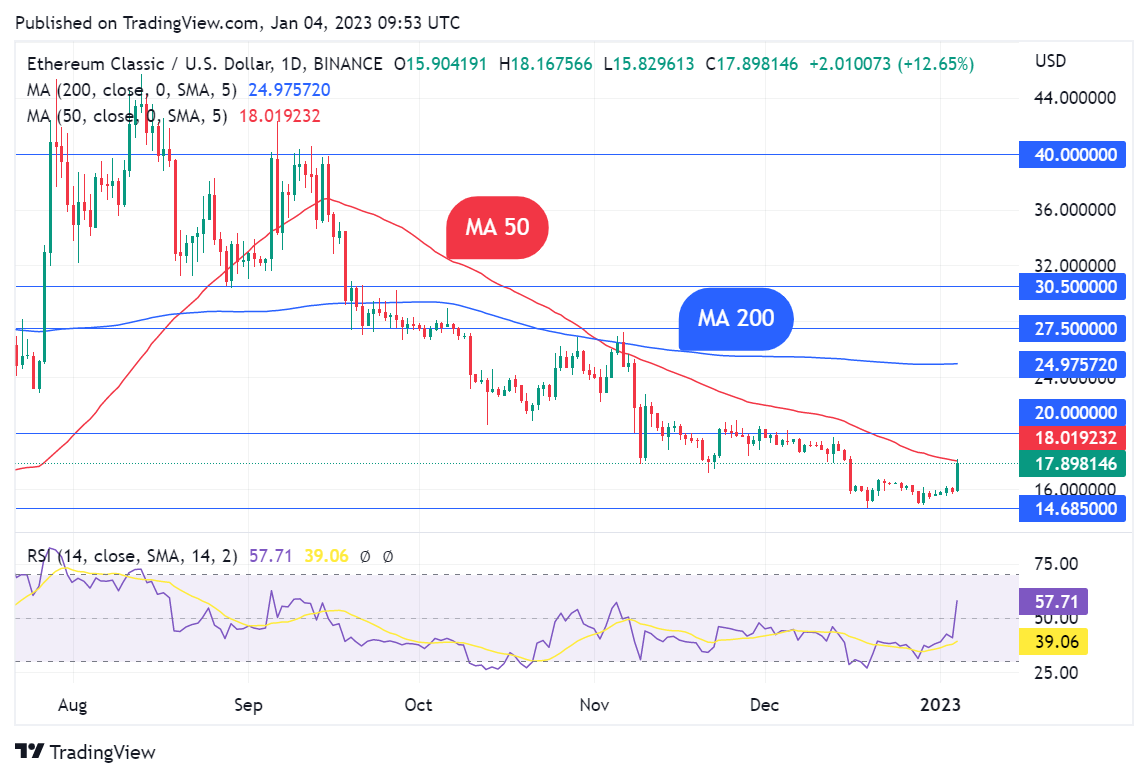 According to blockchain analytics firm Santiment, Ethereum Classic is enjoying a pretty nice rally of its own. It further added, "Not only is volume high, but it's also being shorted massively by traders on exchanges."
According to CoinMarketCap data, ETC trading volume has shot up by 238% in the last 24 hours.
Therefore, the reason for the recent sharp spike might be partly due to a short squeeze. Most often, a "short squeeze" happens when many traders bet against an asset and its price shoots up instead. A short squeeze results primarily from the massive short selling of an asset.
Ethereum Classic was a top gainer ahead of the Ethereum Merge event, which took place in mid-September. After the much-publicized Merge event and the hype faded, ETC's price fell steadily, losing nearly half of its value. For context, on the day of the Ethereum Merge, ETC traded near $38.
Technically, for Ethereum Classic to continue its upward trend, the short-term barrier above $18 needed to be broken, with the target of $24 in sight.
In other news, the ETC collaboration says it is changing the RPC URL for the Ethereum Classic mainnet from Ethercluster to Rivet. The Ethercluster RPC endpoints will be discontinued on July 1, 2023, a notice in a blog post reads.