Decentraland (MANA) is experiencing extreme volatility today, with its price trading at $0.7202, up 6.01% at the time of writing. With its current price performance, the metaverse token has sustained one of the most impressive price actions over the past seven days as it has maintained a 79.27% growth trend within this time span.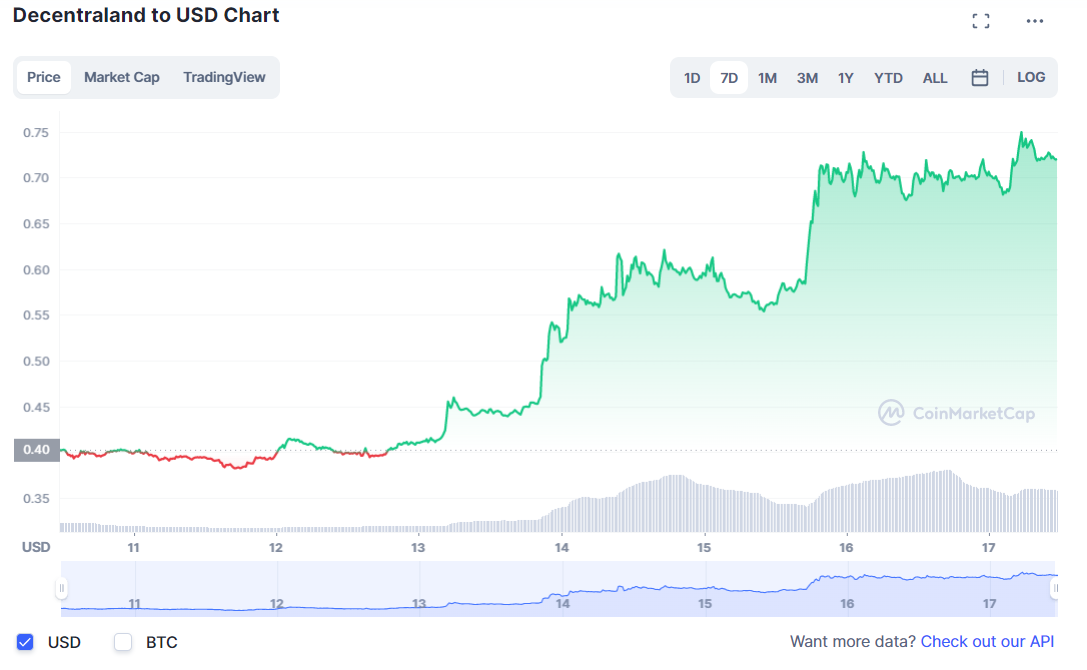 The impressive growth strides of MANA in the week-to-date period as shown in the charts above typically signify a close push to a short-term price cliff that may fuel an unexpected round of sales.
With this new-found bullish run, investors will need to keep an eye out for a breakout above the $0.8 price level, a point that may spell one of two things: a run toward its 52-week high, or a massive dump from investors that had been HODLing for the past year.
Decentraland has been a major beneficiary of the growing acclaim surrounding the metaverse world, and as a dominant real estate venture in the space, it has gained tremendous traction over the past year. The coin is one of the altcoins that is constantly used as a yardstick to measure the overall outlook in the metaverse world.
Need to remain watchful
As a major rule in the volatile world of crypto, every significant price surge is bound to be accompanied by a corresponding reversal or periods of cooling off. The second major likely event that may arise from the growth in the price of MANA is that its price will fall back toward the support at $0.5, especially if the market changes course in the near term.
Should the price consolidate in this manner, it will give the coin a much needed breather as bulls will be forced to restrategize, depending on core protocol fundamentals as motivation to inject funds into the coin in the near future.