The article is written in cooperation with HaasOnline.
The appearance of Bitcoin and cryptocurrency have spawned a myriad of ways to earn and grow your crypto investments. Cryptocurrency can be a real gold mine if you invest wisely and the benefits of trading are not limited to passive income only.
Do you actively monitor the crypto markets? Can you quickly make calculations and make decisions without hesitation? If yes, it's time to opt for a cryptocurrency arbitrage bot. This type of trading has the ability to generate profit many times your initial investment if you devote enough time to arbitraging and learn how to trade with this strategy.
Let's find out what cryptocurrency arbitrage is, and which arbitrage strategies have proved to be profitable.
Simple arbitrage
This strategy means buying and selling the same coin at one time on different exchanges.
In this case, the arbitraging process is faster, since there is no need to transfer funds from one platform to another. Traders store a balance of their desired cryptocurrencies on two exchanges during the same trading period: the transactions will be conducted between both of those exchanges.
For example, you have 1 BTC and 100 EOS on exchanges A and B. When the exchange rate difference appears in the EOS / BTC pair, buy EOS on the first exchange for BTC and sell all EOS on the second.
Next, we even the balances of both sites, by manual rebalancing and transferring the purchased coins from platform A to B. At the same time, we transfer from the second exchange to the first missing part in BTC. As a result, the spread between these transfers generates a profit.
In this strategy, the trader does not spend time on transferring funds from one platform to another, but the problem of commissions is not solved. There are a few more disadvantages:
There is no possibility of choosing exchanges since the funds are stored at a maximum of three sites.
Not every trader can afford to work like that and needs to use a larger number of exchanges.
The cost of transferring between exchanges is doubled because you have to transfer funds again for the deposits to become equal again.
Traders who choose this strategy often work exclusively with one pair of cryptocurrencies, for example, USD/BTC, since not all exchanges provide the opportunity to trade in fiat.
Convergence arbitrage
In this case, a trader buys a coin on the exchange where it's undervalued and sells where it's overvalued. The difference in price between the two exchanges generates a profit. This approach can be very profitable, but it's more time consuming than simple arbitrage because you have to deal with several exchange platforms. Taking into consideration how quickly crypto prices move, it can take from a day to a week to finish the process on price market momentum.
Triangular arbitrage
This process means reaping profit from the price differences between the three currencies.
Ideally, the transaction is carried out the following way:
Purchase of BTC for dollars;
Purchase of EOS for Bitcoin;
Sale of EOS for dollars.
Of course, usually the market is partly balanced and the difference between the rates is not considerable, and won't cover the commission and spread. But on the exchanges, similar situations still occur, giving the opportunity for generating a larger profit margin.
The main drawback of the triangle arbitrage is the risks you take - if you react slowly, the quotes may change and your profit margins shrink.
You should also understand that when it comes to several cryptocurrencies, it's almost impossible to calculate all the possible options for this kind of transaction. Therefore, traders resort to the help of crypto trading bots.
Bots - a simpler alternative
Manual analysis of the cryptocurrency market is a challenging and time-consuming task. How do you automate calculations and ease work? Use a crypto trading bot.
A trading bot is a program that runs market analysis algorithms and can place orders and execute transactions. All functions are performed according to a pre-programmed trading system based on user-configured settings. The trade bots can be connected to the most common trading terminals and external modules that control the trading program. Exchange trading robots have long been used by both private and institutional investors.
An ideal bot for arbitraging should simultaneously calculate options for the exchange between selected pairs, compare them and select the most profitable transaction chains. It's an irreplaceable instrument for both experienced traders and crypto enthusiasts.
There are hundreds of trading bots available, both free and subscription-based. Choosing the right automated trading platform is crucial for successful trading: you need to make sure a solution is trusted, reliable, and provides all essential tools. If you're looking for trade automation software, opt for HaasOnline Trade Server and their HaasBots - it boasts an optimal price/quality ratio for traders looking to move beyond basic and manual trading.
Why try trade bots from HaasOnline?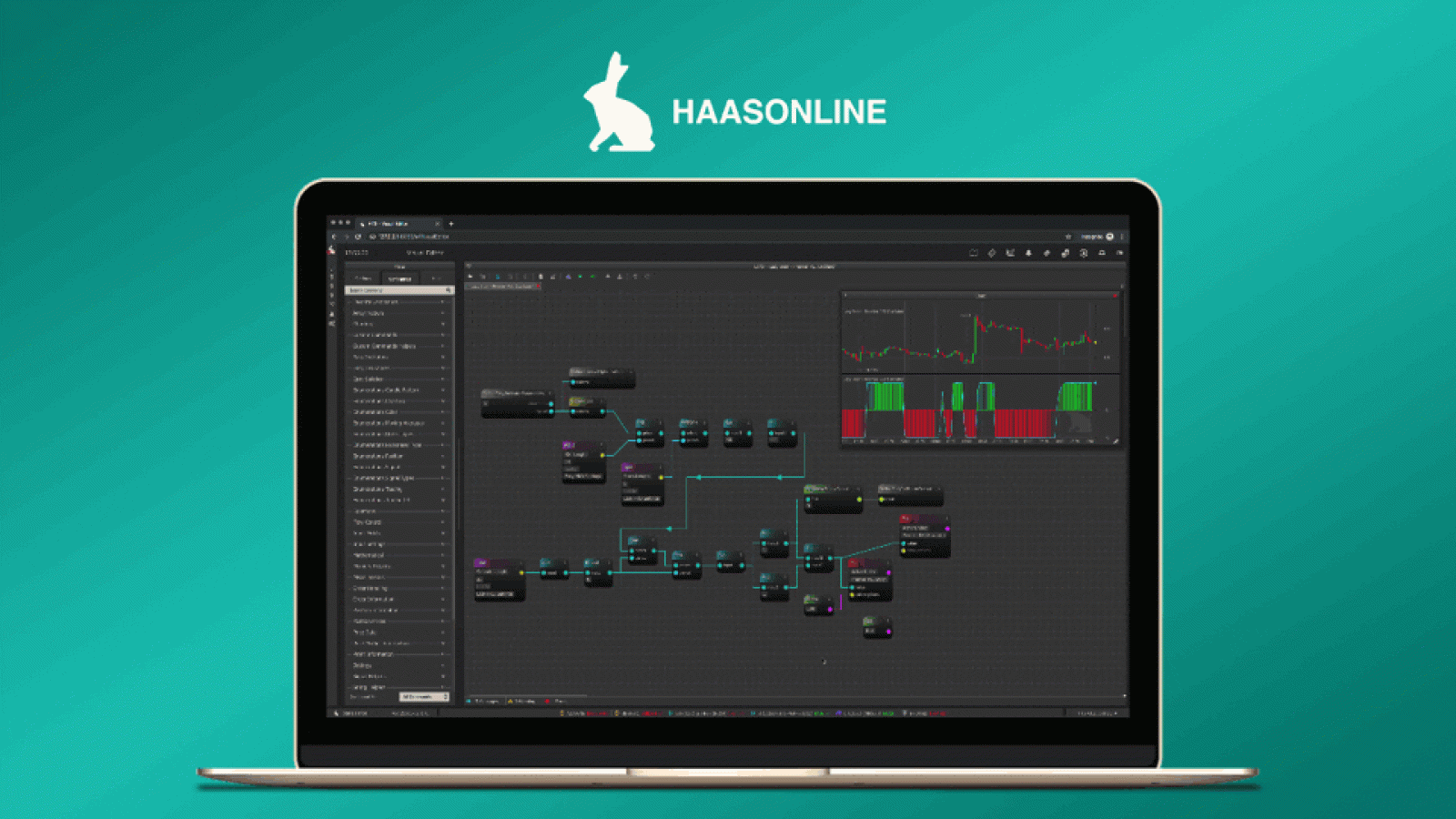 Using a cryptocurrency trading bot from HaasOnline allows for a whole gamut of advantages, including:
Strict adherence to algorithms. A trading bot cannot miss a deal – it's not driven by emotions. It follows the inherent algorithm and user settings for timely actions, which removes a lion's share of work for traders.
The ability to quickly analyze data. If your trading strategy involves processing large amounts of market information in a short period of time or making very fast transactions, a HaasBot trading bot can help with this.
The ability to implement and customize your own automated crypto trading strategies. Their visual editor makes creating and backtesting a breeze. No manual coding is required – you can use the visual editor to deploy your own trading strategy. It's easy!
Simultaneous trading of several cryptocurrencies. If the signals appear simultaneously, some of them can be skipped or even confused. The bot will perform instant calculations and executions on any number of given assets on multiple exchanges.
HaasOnline Trade Server: key features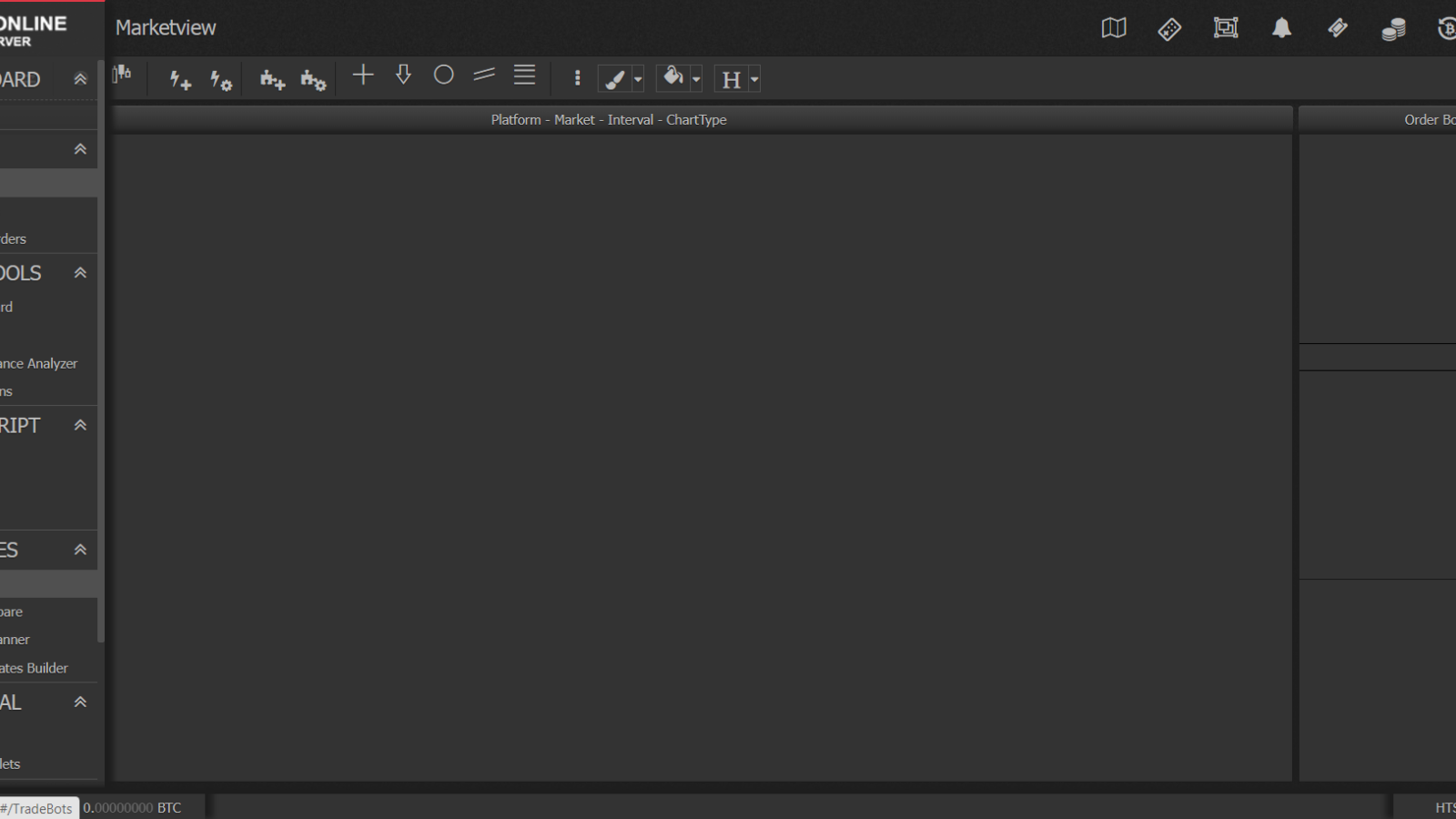 Simple and easy to navigate, HaasOnline Trade Server's interface boasts a huge variety of available features & functions:
Full-fledged reports & statistics about profit, active bots, executed trades, trades per account, and individual bot performance.
Tools for market analysis and comparison.
Intuitive customizable dashboards to keep track of trade performance and market movement at a glance.
A visual editor and script editor built on top of their all-new HaasScript 2.0 scripting language.
Create custom order templates.
HaasOnline Trade Server is fully customizable, so it's a great solution for both starters and advanced traders. It has a clear intuitive interface, so finding the right tool is a matter of a few clicks.
Conclusion
Cryptocurrency arbitrage is a great addition to crypto trading since tokens tend to be more volatile than fiat. To increase profit margins, you need to track the market movements in a timely manner - this is where HaasOnline Trade Server comes in handy. Their trading bots are one of the most convenient and efficient solutions on the market. With a Haasbot, you don't have to a quant or programmer – they provide all the necessary tools and features to automate the analysis and trading processes. HaasBot offers several pricing plans for its software, so every trader will find an optimal plan with all the necessary tools to fit their needs.