Crypto Fest 2023 | Cape Town, November 24, 2023
Event details
Location:

Dates:

Fri, 11/24/2023 - Fri, 11/24/2023

Website

https://cryptofest.co.za/

Price: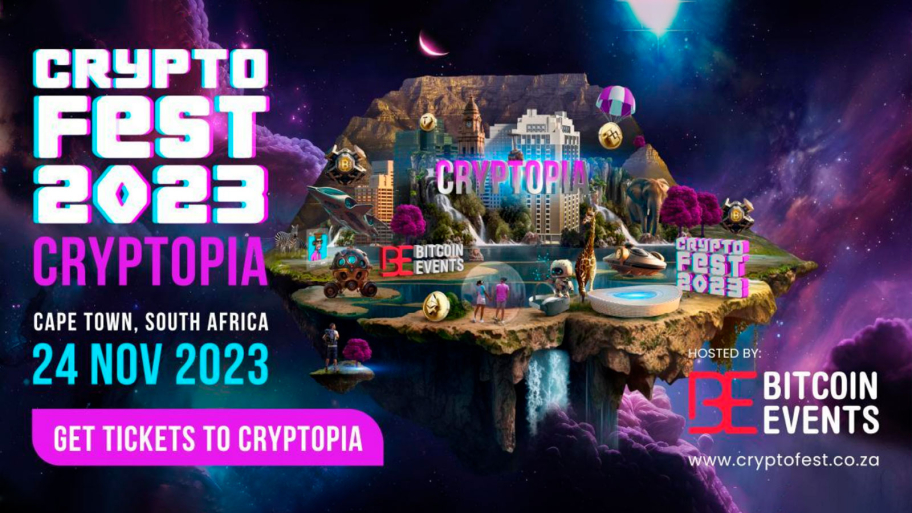 Cover image via U.Today
Get ready for the most exciting crypto event of the year! Crypto Fest is back for its fifth edition on November 24, 2023, and once again we're bringing the party to Cape Town, South Africa.
Rub shoulders with industry experts and visionary speakers from across the globe as they share their insights on the hottest trends in cryptocurrency, Non-Fungible Tokens (NFTs), the Metaverse, Web3, and Decentralized Finance (DeFi). Get ready to have your mind expanded and your ideas ignited!
Crypto Fest 2023 is not just an event; it's an unforgettable experience that will leave you buzzing with excitement.
Highlights of Crypto Fest 2023:
1. Festival-beach-like Setting: Cabo Beach Club is the epitome of a perfect seaside venue for a festival like Crypto Fest 2023. With its stunning location and views, exquisite facilities and vibrant atmosphere, this beach club offers an ideal setting to celebrate the world of Web3.
2. Exclusive Networking Experiences: As a Crypto Fest 2023 VIP or Whale, there are exceptional networking opportunities designed to elevate your festival experience. Immerse yourself in private VIP lounges where attendees can engage in meaningful conversations and build connections with industry leaders, innovators and fellow enthusiasts. Included is an unforgettable yacht experience where the stunning ocean backdrop sets the stage for close networking sessions.
3. Top Global Speakers and Educational Workshops: Visionary leaders, top executives, and renowned experts will take to the stage to share their insights and predictions for the future of the crypto industry in Africa and beyond. Educational workshops will provide attendees with unparalleled opportunities to dive deeper into specific topics and acquire practical skills that attendees can apply in real-world scenarios.
4. Awe-inspiring Experiences: Step into the Metaverse Gaming Zone, a domain where virtual worlds collide with reality, and immerse yourself in the captivating NFT Gallery, where art meets blockchain innovation. Witness a stunning collection of African NFT collections that redefine the concept of ownership and creativity.
5. Live-music and DJ Sets at the After-Party: Top local talent will take to the stage to keep the party going after the main event. It's the perfect opportunity for networking and mingling with fellow enthusiasts!
Mark your calendars for Crypto Fest 2023 and prepare for an immersive journey into the world of Web3, cryptocurrencies, blockchain innovation and digital finance.
For more information and to secure your tickets, please visit the website.
Follow us on social media for updates:
Twitter: https://twitter.com/BlockchainZA
Facebook: https://www.facebook.com/BitcoinEventsZA
Advertisement
Top
Crypto
News
in
Your
Mailbox
Top
Crypto
News
in
Your
Mailbox