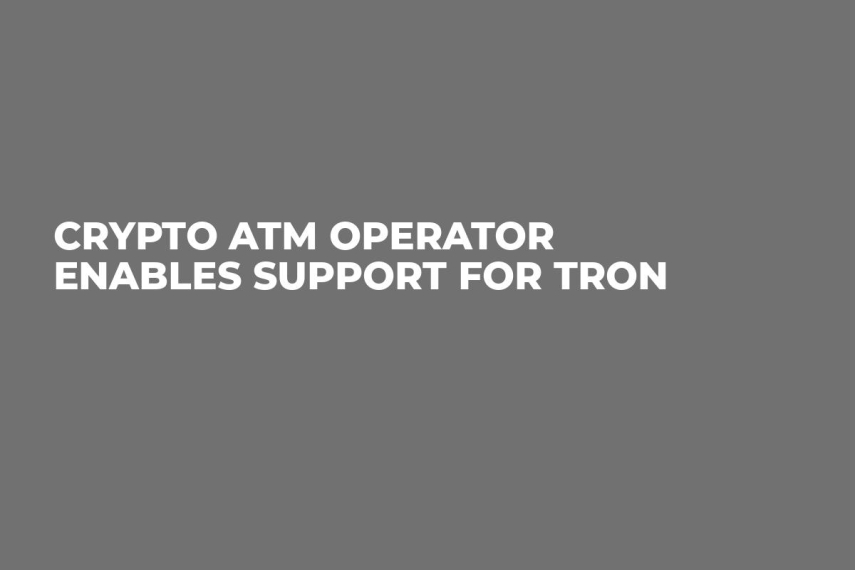 Cover image via U.Today
ATM operator CoinFlip just enabled support for Tron (TRX) at any of CoinFlip's 57 cryptocurrency ATMs in the United States.
Tron is the first ever ERC20 token that can be bought with cash. Most cryptocurrency ATMs only offer Bitcoin or a mixture of Ethereum, Litecoin and Bitcoin Cash.
This could come as good news for investors and newcomers who want to buy a token that is not readily available on user-friendly exchanges such as Coinbase.
The ability to pay with cash directly is beneficial for many users because it cuts out the multiple buys and sells and the moving around of Bitcoin to make a purchase on an exchange.
Ecosystem for Tron
Tron is a decentralized content entertainment protocol based on Blockchain technology. The company strives to construct a global free content entertainment system, utilizing Blockchain technology.
The protocol allows each user to freely publish, to store and own data. In the decentralized autonomous form, users can choose the distribution, subscription, and push of contents into the "entertainment ecosystem." Tron's token is known as Tronix and its operations base is China.
Fast-growing operator
CoinFlip is a Chicago-based cryptocurrency ATM operator that currently has 57 ATMs located in California, Illinois, Indiana, Nevada, North Carolina, Ohio, Tennessee, Texas, and Wisconsin. Further expansion is planned.
CoinFlip's ATMs allow users to buy and sell Bitcoin, Ethereum, Litecoin, and now Tron.
Some of the ATMs are two-way exchanges: offering the ability to sell and withdraw the proceeds as cash.
There is planned expansion of token offerings on the company's ATMs for the near future. Crypto ATMs are popular with newcomers, remittance senders, investors, and individuals who find the current online exchanges too complicated to use.