Cronos (CRO) has joined the league of high-performing altcoins after soaring as high as 11.24% over the past 24 hours to $0.07841. The growth of the CRO token is even more pronounced over the week-to-date (WTD) period, during which it has added to its overall valuation with more than 15% growth.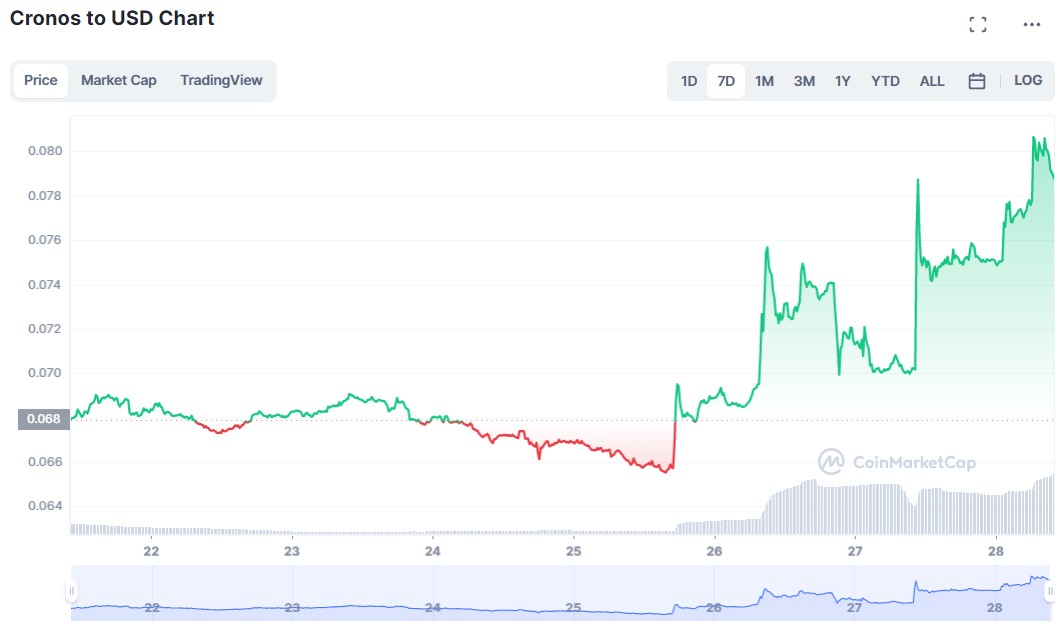 The Cronos token is the native digital currency of the Crypto.com trading platform, and in almost all measures, the asset has been featured in very robust campaigns that are helping to drive up its demand from users and investors at large. CRO's growth is shaping up at this time on the back of three observable fundamentals.
The first is the excitement connected with the most recent partnership the trading platform inked with tech giant Samsung Electronics. The partnership saw the Cronos App designed and optimized for Galaxy Z Fold devices. As noted, this app will enhance functionality as concerns trading and analytics.
Second, Cronos has created a unique gateway for the Ethereum users to earn Flash rewards as one of the core supports for the Shapella upgrade. Finally, the listing of highly innovative projects, the most recent of which is TomiNet, has further repositioned the exchange as a dynamic one that understands the core demands from the industry.
Model for exchange tokens
That CRO is leading other exchange tokens today does not necessarily come as a major surprise.
Typically, cryptocurrencies linked to exchanges have a ready market that always guarantees their steady demand and buy-up. Binance Coin (BNB), Kucoin Token (KCS) and OKB are among the biggest beneficiaries of the influence their underlying trading outfits brandish.
OKB in particular has returned more value to its investors with standing statistics that show more than 95% of its current wallet addresses are in profit.