KuCoin, one of the largest cryptocurrency exchanges by net trading volume, held a KuCoin Spotlight Fiesta: A 1,000,000 USDT Rewards Pool to SUI Spotlight participants, the event took place between April 10, 2023 and May 12, 2023. The participants will be able to win various 'Mystery Boxes' with lucrative bonuses for traders. USDT rewards, Futures Deduction Coupons, Futures Trial Funds, Rate-Up Coupons, Trading Fee Rebate Coupons, Margin Bonuses, Interest-Free Coupons, VIP Trial Vouchers will be available for lucky participants of the Spotlight Fiesta.
KuCoin Spotlight Fiesta: Join Fairer Token Sale With a 1,000,000 USDT Rewards Pool
To reward the most committed traders and let them earn in a gamified way, KuCoin announces the launch of Spotlight Fiesta, a massive trading festival.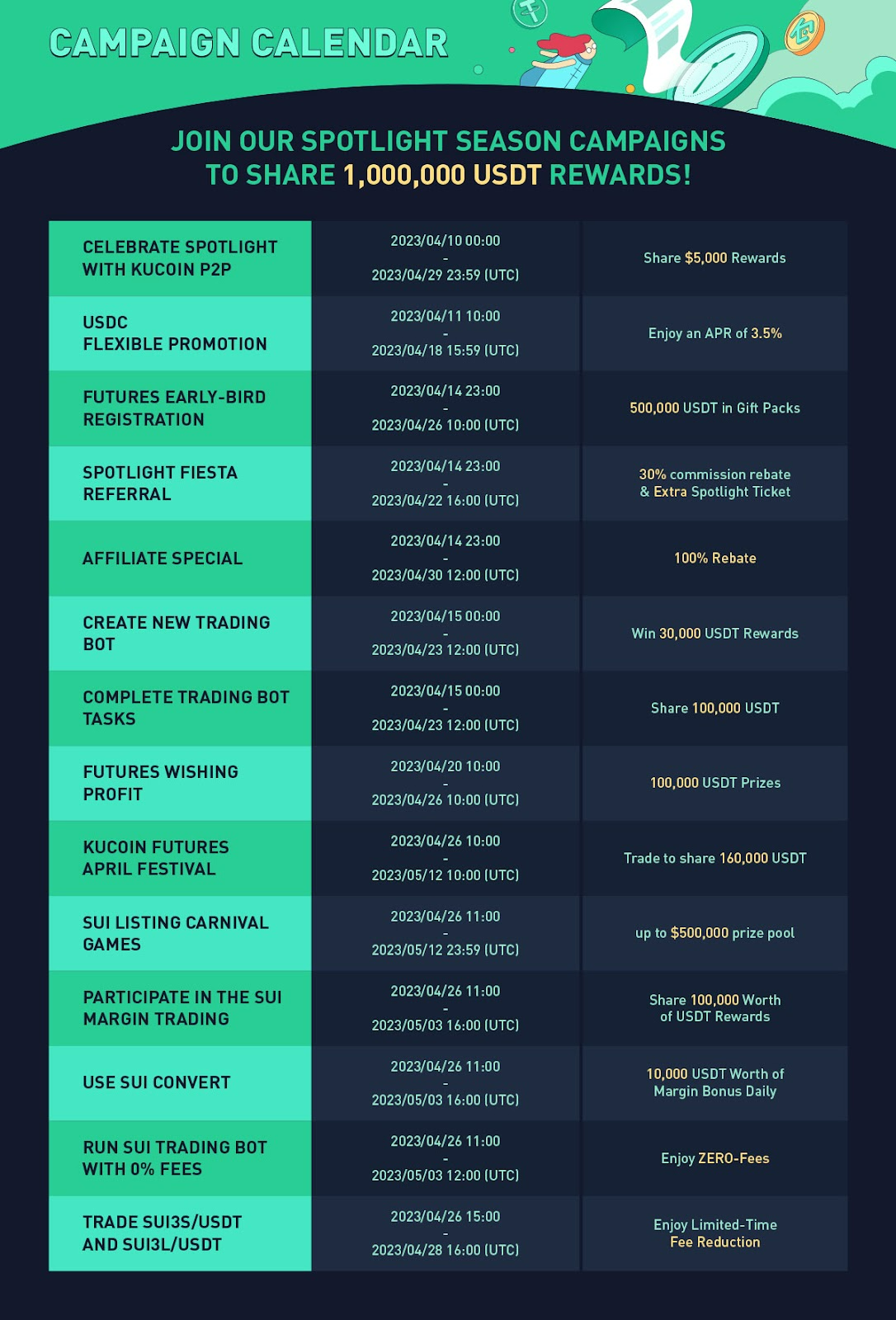 Image by KuCoin
All rewards will be distributed to players 14 days after the campaign is closed.
KuCoin introduces Sui Network (SUI) as its 25th KuCoin Spotlight project
According to an official announcement shared by the KuCoin team, SUI, the core native cryptocurrency token of the Sui blockchain, becomes its 25th spotlight project. KuCoin Spotlight token sale for SUI kicked off on Saturday, April 15.
KuCoin 25th Spotlight: Sui (SUI) Token Sale

Immerse yourself in SUI's thrilling world with #KuCoinSpotlight.

— KuCoin (@kucoincom) April 19, 2023
In total, 225 million SUI tokens are allocated by its developer Mysten Labs to the token sale campaign on the KuCoin exchange. The offering price is capped at 0.1 U.S. Dollar Tether (USDT), while the maximum allocation for one account equals 10,000 SUI.
Introducing Sui Network (SUI), new-generation L1 blockchain by Mysten Labs
Sui Network (SUI) by Mysten Labs is among the most anticipated blockchains of 2023. It is written in Move, a user-friendly programming language.
The Sui blockchain's main focus is unmatched scaling opportunities: It uses different scalability strategies compared to other mainstream L1s and, therefore, targets way higher throughput benchmarks.
As covered by U.Today previously, Sui Network (SUI) successfully underwent stress-testing in Wave testnets.