Despite the growing competition surrounding it as a blockchain-backed oracle service, Chainlink (LINK) still ranks as the dominant player in this niche. Riding on its influence and broad adoption, the protocol's native digital currency, LINK, is changing hands at a spot price value of $8.09.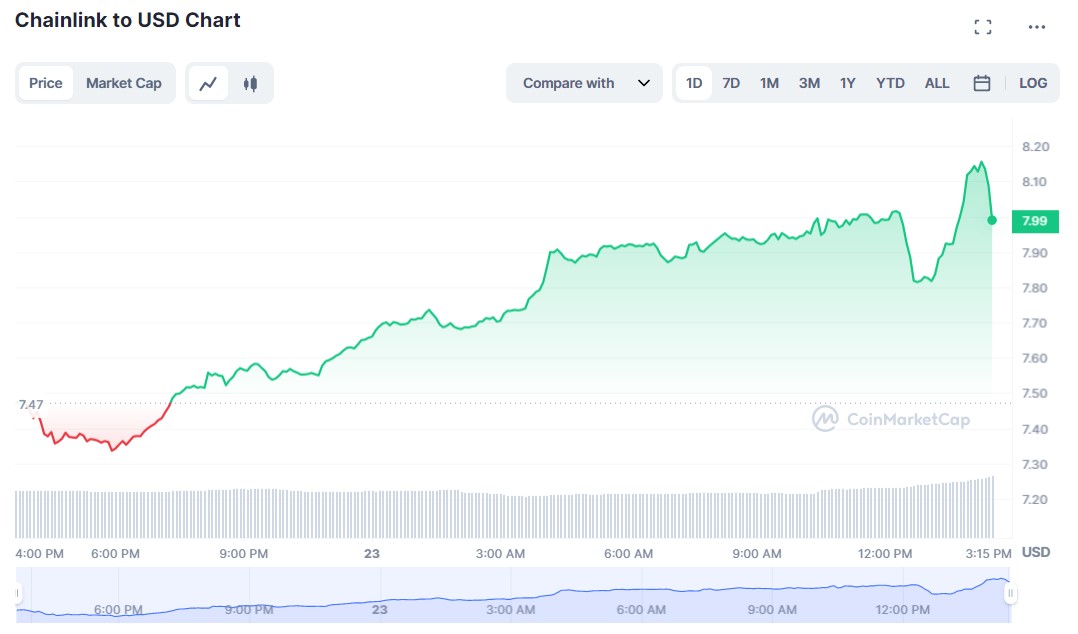 This price growth represents both 8% growth over the past 24 hours and by 12.29% in the week-to-date period. The Chainlink influence has even grown more thus far this year, bringing the Total Value Enabled (TVE) to more than $7 billion.
While token growth uniquely hinges on increased buy-up, which also stems from increased utility and usage, the growth may also be attributed to Chainlink's popularity. As shared in one of its latest updates, the oracle service provider has gone live on more than 10 social media platforms, expanding awareness of the protocol to new users.
Besides this popularity push, Chainlink has also been up front about its goals for this year, most of which have kept the community ecstatic about what the future holds. One of the key measures it is looking forward to is repositioning to onboard more blockchain networks and create the tailored service to make it the dominant oracle service provider to and from blockchains.
Powering broader Web3 evolution
Since Chainlink made its debut back in 2017, it has been consistently helping to power the evolution of Web 3.0 across the board.
While it doubles down on this role, it is inking a number of highly functional partnerships along the way. One of these partnerships was with Arbitrum, tagged as one of the linkups that can truly change the crypto ecosystem.
Chainlink has a unique price action with relatively milder volatility. The token is down by as much as 84% below its all-time high (ATH) of $52.88.