Cardano (ADA) has seen its trading volume surge to over 23 billion ADA, which could potentially spark a new bull run for the cryptocurrency. Despite ADA losing 22% of its value in the last three weeks due to a lack of speculative volume, the recent surge in trading volume could be a promising sign for the asset's future performance.
As of now, ADA does not have a significant volume in the DeFi sector of the chain, which could be one of the reasons for its underperformance on the market. However, Cardano is actively working on improving its DeFi capabilities and bringing in more users to the platform, which could lead to a surge in speculative volume for the cryptocurrency.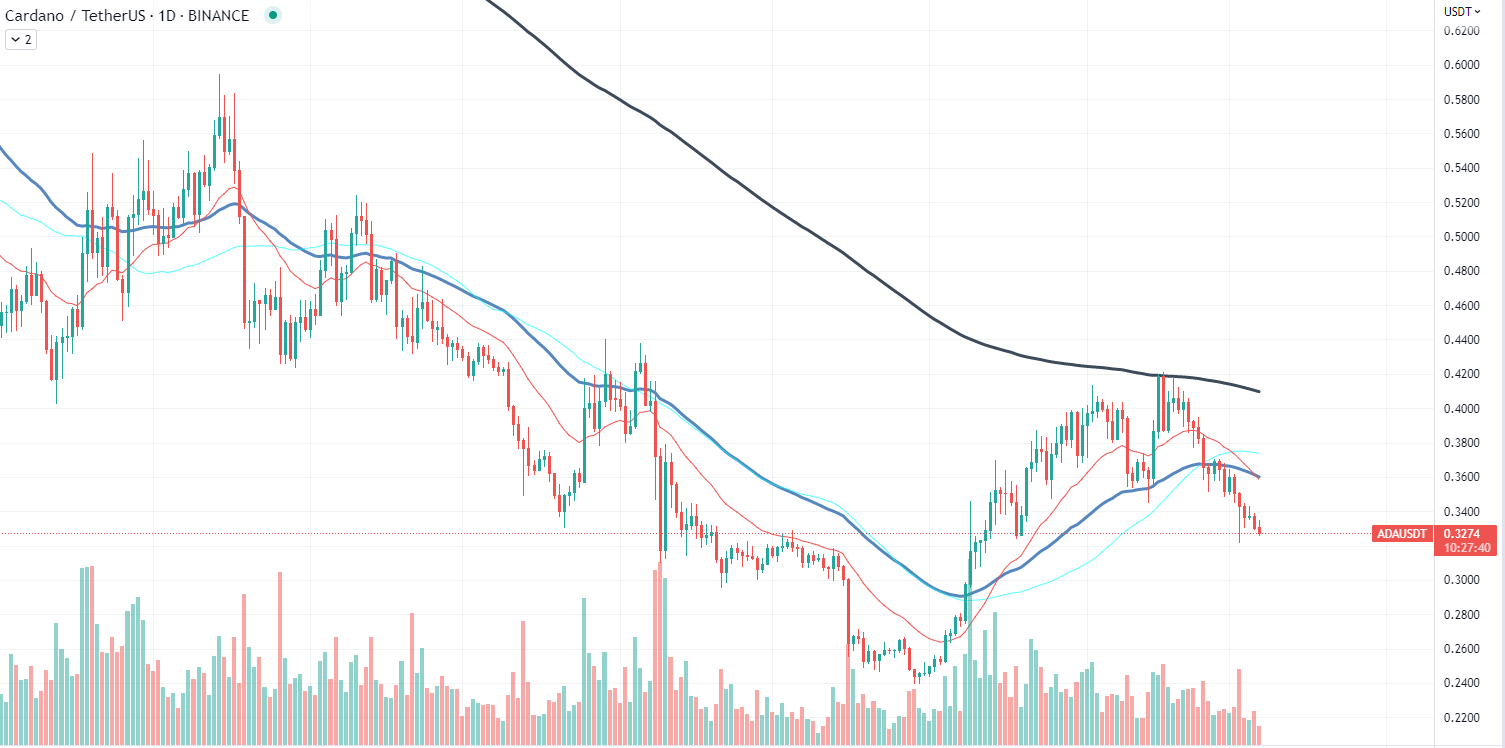 Furthermore, Cardano has been making significant strides in its development and partnerships, which could also boost its value in the long run. For example, Cardano, in the past, partnered with Chainlink to provide secure and reliable price feeds for developers building on its blockchain.
The surge in trading volume for ADA could also be attributed to the overall bullish sentiment on the cryptocurrency market. Bitcoin and Ethereum, the two largest cryptocurrencies by market cap, have been performing well in recent weeks, with both assets hitting new all-time highs. This has led to increased investor interest in the cryptocurrency market, which could spill over to other assets, such as Cardano.
Whales' favorite
Lido Finance has seen a continuous accumulation of its token, LDO, by whales, despite increasing competition from other liquid staking derivatives. According to recent reports, an LDO whale, who already holds 14.8 million LDO worth $39.38 million, purchased an additional 474,527 LDO worth $1.24 million from Binance.
The technical analysis of LDO shows a significant drop in the token's value in the last few days. However, the whale's purchase might indicate that the accumulation is still ongoing, and the value of LDO is expected to increase shortly.
The continuous accumulation of LDO by whales is a significant indicator of the platform's growing popularity among investors. Lido Finance aims to enable staking of Ethereum 2.0 for users who do not have the required 32 ETH for staking and bring more liquidity for stakers, making Ethereum's lockup period more flexible.
Despite the increasing competition among liquid staking derivatives, Lido Finance remains one of the most popular platforms in the market. The platform has continued to attract investors by offering high yields and low transaction fees. As a result, Lido's TVL has grown from $0 in early 2021 to over $9 billion as of January 2022.
U.S. Dollar aims upward
The recent strengthening of the U.S. Dollar Index could have a potential impact on the cryptocurrency market. The U.S. Dollar Index (DXY) is a measure of the value of the U.S. Dollar relative to a basket of foreign currencies. The index has been on the rise recently, climbing to a six-month high of 96.86 on Jan. 28.
A strong U.S. Dollar can have a negative effect on the cryptocurrency market, as it increases the value of the dollar and makes it more expensive for foreign investors to buy digital assets. This can lead to a drop in demand and put downward pressure on prices.
In addition to the strengthening of the U.S. dollar, recent selling activities by Ethereum co-founder Vitalik Buterin have also painted a bearish outlook for the market. Buterin recently sold almost all of his token holdings, including selling around $100,000 worth of ETH.