Cardano (ADA), one of the top cryptocurrencies on the market, has been showing some intriguing signs of potential bullish momentum. The digital asset recently demonstrated an inverted double-top pattern, suggesting a possible trend reversal. This development has caught the attention of traders and investors, who are always on the lookout for such indications in the volatile crypto market.
The inverted double-top pattern is considered a bullish signal in technical analysis. As the name suggests, it appears as an upside-down "W" on a price chart, where two low points form at approximately the same level. This pattern is typically viewed as a signal that the asset's price is set to rise, as it often forms at the end of a bearish market phase.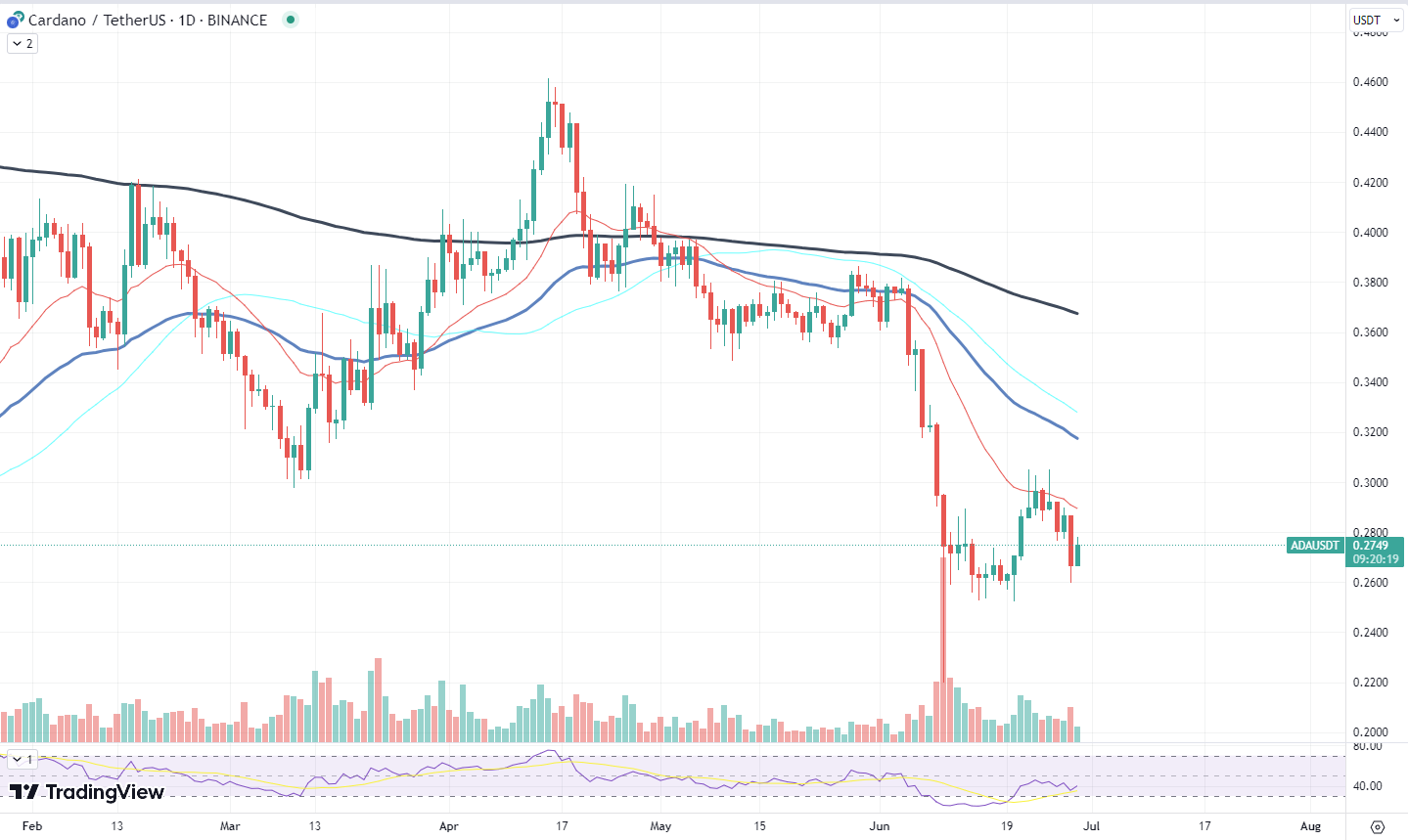 Cardano's recent formation of this pattern suggests that the cryptocurrency might be preparing to reverse its downtrend and embark on an upward trajectory. If this pattern plays out as expected, the next price target for ADA could be around the $0.31 mark.
It is important to note that while technical analysis patterns like the inverted double-top can provide valuable insights into possible future price movements, they are not a guaranteed prediction tool. Market conditions, investor sentiment and broader economic factors can all influence a cryptocurrency's price.
However, if Cardano does follow the typical progression of the inverted double-top pattern, it could provide a much-needed boost to ADA's value and could potentially trigger increased buying activity on the market.
Whales push Ethereum down
The cryptocurrency market has been in turmoil recently, with Ethereum facing a significant drop. In just about two days, the second largest cryptocurrency plummeted from $1,914 to $1,842. This sudden downward shift came on the heels of a surge in selling activity, particularly among whale-tier Ethereum addresses.
An Ethereum whale reportedly moved the astronomical sum of approximately $47 million worth of Ether on Binance. At least around $20 million worth of Ether was sold, and 16 million Ether was withdrawn. Furthermore, the same whale still holds approximately 14 million Ether, the selling of which could potentially intensify the downward pressure on the market.
Selling activities among whale-tier addresses have proven to have significant sway on the crypto market in the past. They not only initiate price changes but also influence market sentiment. With such a large volume of Ethereum still in the whale's possession, the future market direction remains uncertain.
Compounding Ethereum's woes, MicroStrategy's recent Bitcoin buy led to a market downtrend. For reasons yet to be fully understood, the firm's Bitcoin purchases have consistently sparked market declines. These combined forces have had a significant impact on Ethereum's value, leading to its recent retreat back to support levels.
Shiba Inu looking at bottom
The world of cryptocurrencies is a roller coaster ride of peaks and valleys. Recently, the Shiba Inu token (SHIB) demonstrated this reality once again. After dropping below the 21 Exponential Moving Average (EMA) support level, SHIB has returned to its local bottom. This significant downward shift reveals a potential new price target for the meme coin.
This recent movement has opened the door for SHIB to potentially trend toward the $0.000006 price level. With the 21 EMA support level surpassed, there appears to be little holding the token back from descending to this next price level. Such a decline would signify a significant devaluation for the token and could have broader implications for the meme coin market.
However, the crypto market is known for its unpredictability, and the descent is not yet a foregone conclusion. If bulls unexpectedly seize control of the market, there remains a possibility of reversing the current trend. In such a scenario, SHIB could witness a surge that may not only stop its price from dropping further but potentially even result in a notable rebound.
The move below the 21 EMA support level is a significant moment for SHIB and its holders. As traders and investors react to this movement, market dynamics could shift dramatically. At this juncture, SHIB holders and prospective investors are watching the market closely. The following days could provide clarity on whether the Shiba Inu token's future lies at the lower $0.000006 price level or if a bullish resurgence can turn the tide in its favor.