Bitcoin is moving steadily to overcome the $5,500 threshold easily, and traders are wondering whether it will reach new higher high during this bullish period. What to expect from Bitcoin in the short term? Should we buy or hold it? Read Bitcoin price predictions from TradingView experts to find this out.
2017 vs 2019 BTC performance – What's the difference?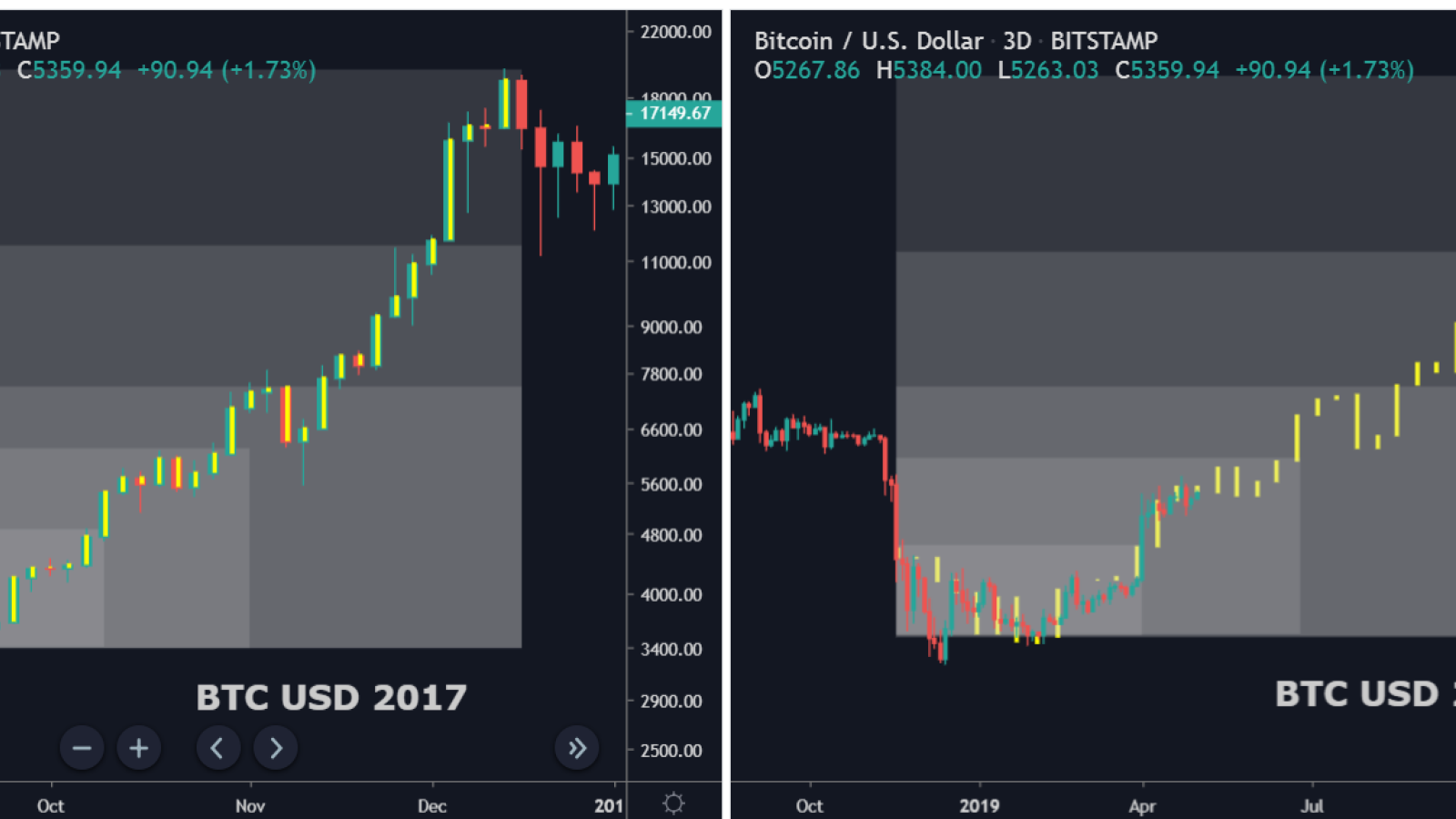 The user filbfilb has decided to compare BTC's similarity between 2017 and 2019 in the way in which we bottomed from $5,000->$3,000 2017 and broke back to $5,000. It took a lot longer this time in a bear market.
The right hand 2019 chart is running 4x slower than the left hand chart. The main reasons why BTC might soar like this if Tether doesn't destroy the market are:
The uptrend shown is around the same length as the down trend

The halvening hype

FOMO
So after making this observation, filbfilb has concluded that if we break the $6,000 level, Bitcoin will be ready to skyrocket due to the strength of the FOMO in this market.
Yet, there's something to take care of first. Now, we are facing the strongest resistance in Bitcoin history with EMA100 1W resistance ($5,750-$5,850). A resistance that hits it equals a huge drop that will hold everyone to finger. Everything might happen in a few hours and we'll see that we've fallen 30 to 40 percent!
Also, filbfilb warns us that until now, the only fraudulent companies manufacturing a miner machine have been behind this pump. Their money is over and there is no new money to inject and enter the market.
The trend might change to the better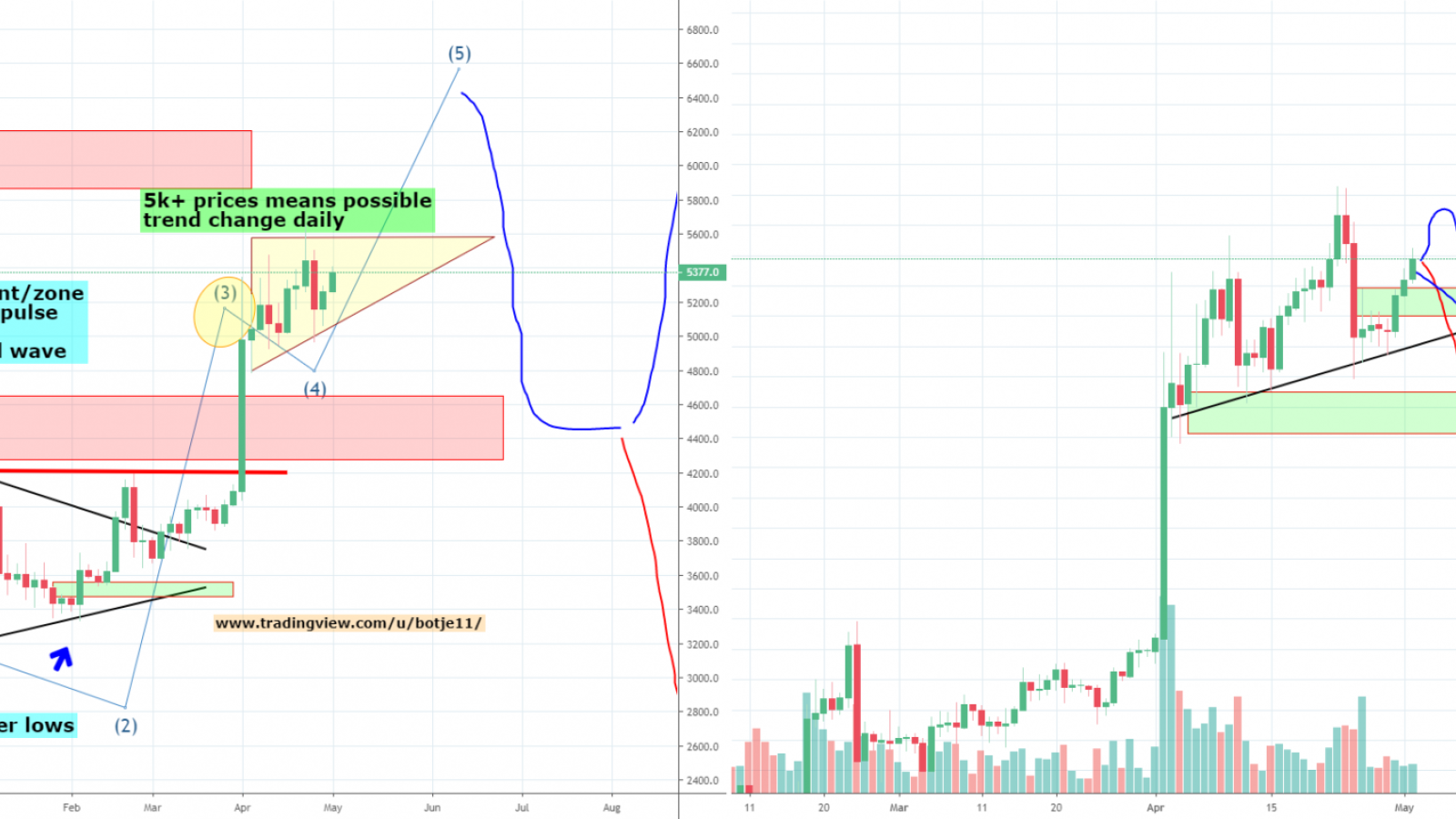 Bitcoin whales have made a pull once again fooling us, giving all the signs of divergence and whatever more. This is pure manipulation and, as botje11 mentioned in his previous BTC analysis, they are probably putting pressure on all the shorts that protected themselves since the Bitfinex issues from a week ago. Alts are still not strong enough, so this seems to be July 2018 all over again.
Meaning, Bitcoin can simply continue to rally coming week (or not), but alts will very likely stay far behind or maybe even dump. This is also very likely a confirmation that this rally is just temporary. Since there is no support from the rest of the market, it might be just a manipulation of the shorts/longs to push the price higher. So this rally is carried by a few people and not by the whole market. As long as we stay above $5,600, it's very likely to see this continue in the coming week.
Bulls are controlling the market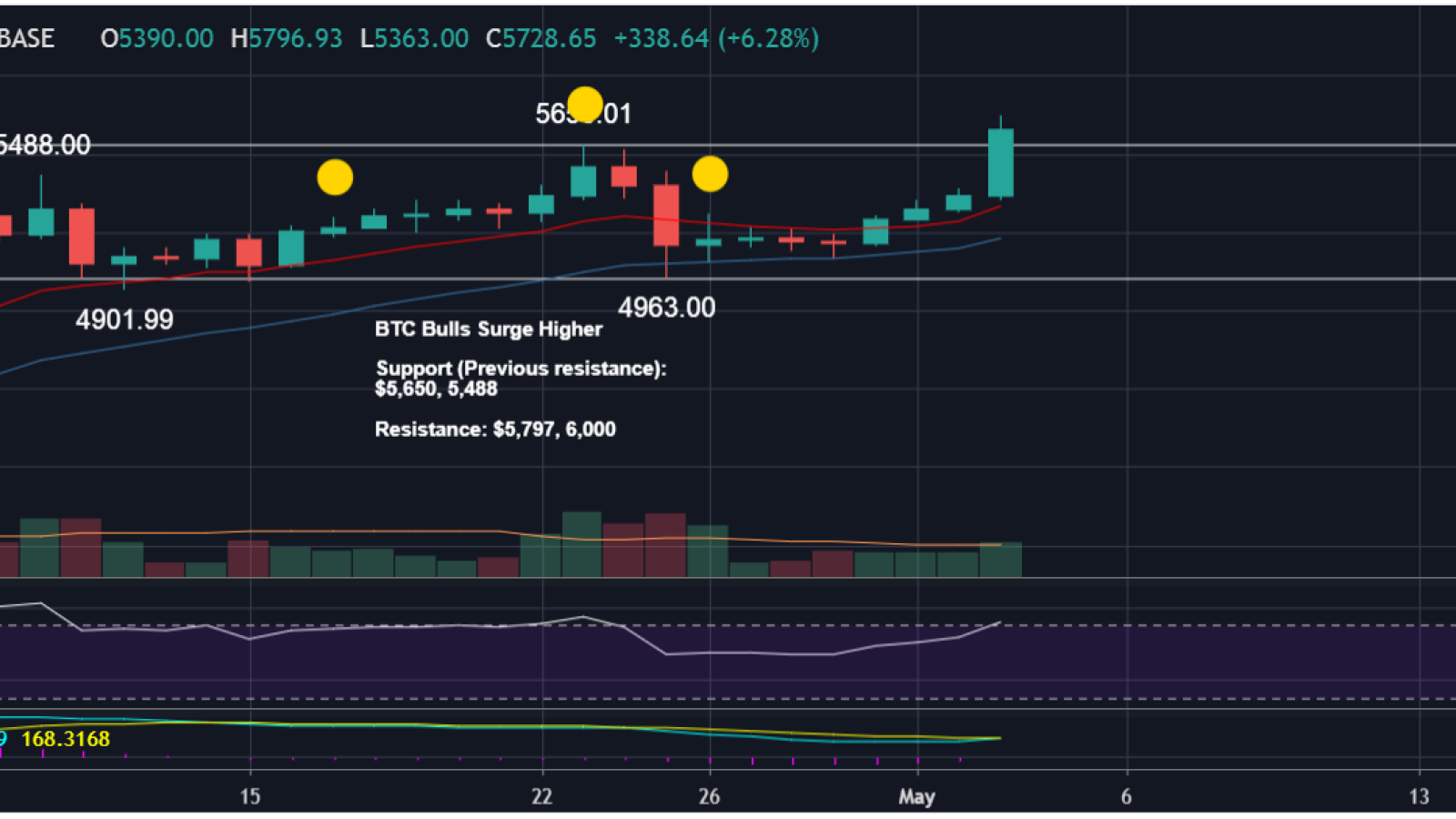 Bulls are in full control, breaking to higher highs and heading right into the zone everyone is watching in the $6,000 range. However, as TheChartGuys have noticed, every time we head to higher highs, some bears are waiting for a new low of the year are converted. Each time, the odds shift a bit more to favor the bottom.
ETH and LTC have clearly formed weekly higher lows, while BTC has yet to consolidate for a weekly higher low. Traders should continue to monitor the 4-hour uptrend to keep the bulls in complete control. Bears need to patiently wait to have resistances to trade against but they would need to see a loss of the 4-hour uptrend to indicate daily consolidation coming.
The time is ripe for Bitcoin to hit the $6,000 mark – when the $5,500 resistance has been overcome recently, it becomes easier for BTC to hit this ceiling again. However, no one can give you 100% warranties, and if BTC suddenly decides to retrace, it will be the right time to invest.