On May 1, Whale Alert reported on his Twitter account that 40 thousand Bitcoins, which is over $213 mln, were moved between two unknown wallets.
? ? ? ? ? ? ? ? ? ? 40,000 #BTC (214,310,470 USD) transferred from unknown wallet to unknown wallet
The Bitcoins were transferred from the wallet bc1q9sh6544xls87x7skjzyfhkty4wq7z76vn7qzq9 to the bc1q5shngj24323nsrmxv99st02na6srekfctt30ch address. Tx: https://t.co/OovyE7b2mj

— Whale Alert (@whale_alert) May 1, 2019
The first address occupies position #22 on the Bitcoin richest wallets list.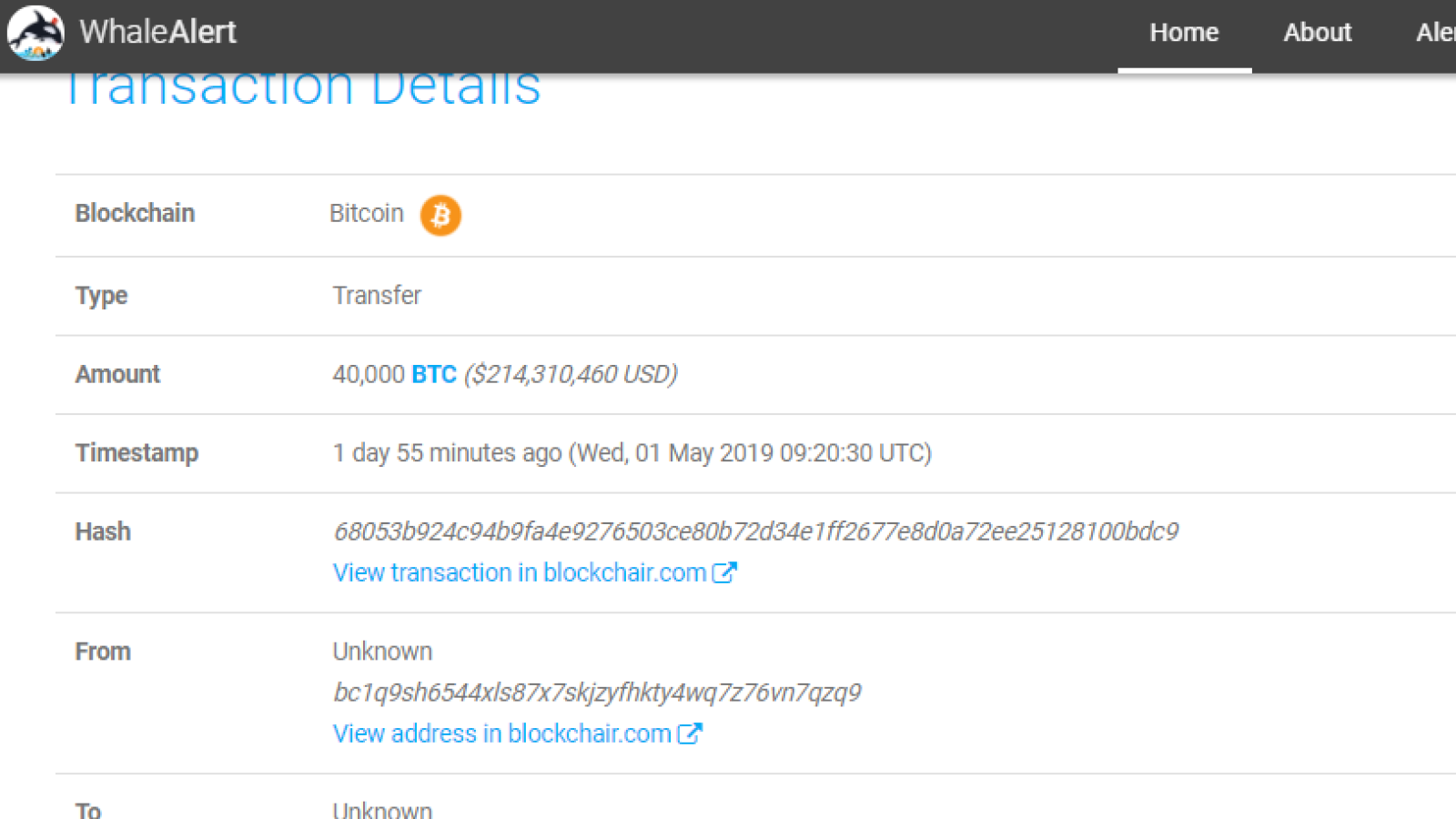 The BTC held since early 2018
Data shows that the sender had been storing the 40,000 BTC since early 2018 – the period right after Bitcoin price reached its ATH and then started rolling downhill.
On May 1, the sender went down from position #21 of the richest BTC wallets to #22. Presently, the address contains zero Bitcoin after sending the 40,000 BTC to the above-mentioned address.
As the list gets updated later on, the receiving wallet will hold position #22.

Whale Alert reports 1 bln XRP release from escrow
On Wednesday, the same Twitter user that goes by the name Whale Alert reported a release of 1 bln XRP from the Ripple escrow wallet.
Ripple takes XRP off its escrow on a regular basis. As per the recent Ripple Q1 2019 report, the earlier released coins have been used for funding various crypto projects based on Ripple's technology and for contributing to its promotion.