Tue, 11/06/2018 - 02:03 (updated)

212
Bitcoin Price Prediction for November: The Market Is Wound Up and Waiting
Bitcoin price predictions 2018 have not come to pass. The coin is range-bound and waiting for something to happen, but what could it be?
Contents
Technical Outlook
The technical outlook for Bitcoin is lackluster at best. With no major catalyst to drive it, the coin is languishing near long-term lows where it has been trading for many months. The world's leading cryptocurrency is trapped in a tight range and does not look like it will break out any time soon. Indicators like stochastic and MACD concur; this token is range-bound and trending sideways for the short-term at least.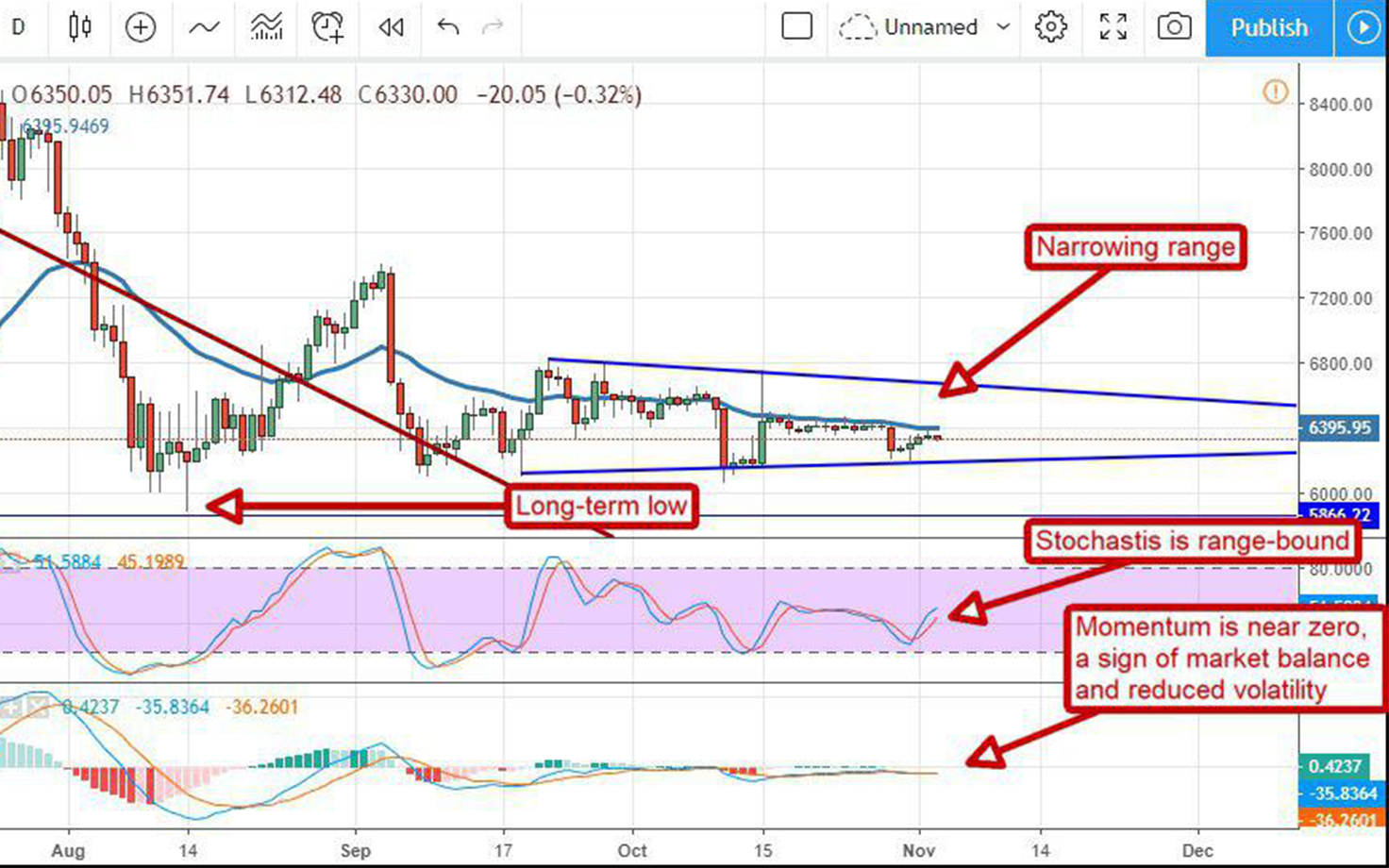 Description - Bitcoin price chart with Bitcoin Predictions 2018
Major support is above $6,000, and the token's range appears to be narrowing down to a point near $6,400. This point is noteworthy as it is the balance point at which miners — most of them, anyway — are able to turn a profit. If the price of Bitcoin was to fall significantly below this level, it could force miners out of the market and spell the end for the world's reserve cryptocurrency… That is not a possibility in our Bitcoin projections.
Our Bitcoin forecast is this: the price of Bitcoin will most likely trend sideways within the current trading range until the next major catalyst emerges. The token will likely trend near a point of the market equilibrium that appears to be near $6,400. When the catalysts emerge and there are several on the horizon, Bitcoin will break out of the range and start moving higher. How high it goes will depend on the catalyst.
Bitcoin miners are supporting the market
The global hash rate data says that Bitcoin miners are still interested in the number one cryptocurrency by market cap and are supporting the market. The global hash rate, the amount of computing power spent on BTC mining, topped out this year when BTC prices hit their lowest levels but have since been trending at record-high levels. The miners are important for one fundamental fact: they are the source of all Bitcoins. Because it costs the miners about $6,500 per coin to operate their rigs, you can bet the price of Bitcoin won't far fall below that level.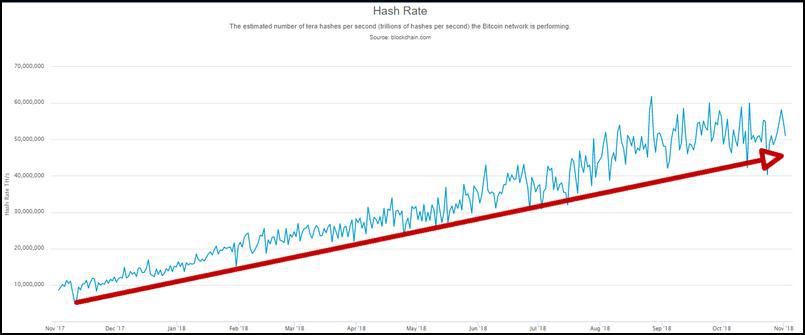 Description - Chart of Bitcoin hash rate growth since 2017
A Dwindling Supply will help drive prices higher
What most Bitcoin price predictions fail to mention is the ever-dwindling supply of Bitcoins. By dwindling, I do not mean the ever-increasing difficulty rate which makes finding new Bitcoins harder and harder. By dwindling, I mean the growing number of Bitcoins that are lost or irretrievably locked away.
Proof of Burn is a way to start new cryptocurrencies by burning another cryptocurrency. A public cryptocurrency burn is sending cryptocurrency to a prearranged and irretrievable BTC address for the purpose of shifting value from one token to another.
Estimates as recent as November 2017 had the number of lost Bitcoins at 4 mln. That number has jumped significantly over the last 12 months and now stands closer to 7 mln lost Bitcoins. The reasons for the loss are varied, but all point to one thing: less and less Bitcoins are available every day, and eventually, they will all be gone. To put this problem into perspective, think about this: there are only 21 mln BTCs ever to be mined, about 18 mln are already mined, and 7 mln of those are lost.
People lose Bitcoin on purpose?!
One of the primary reasons Bitcoins are getting lost is Proof-of-Burn. Proof-of-Burn is the concept that value stored in one token can be transferred to a new digital token. By burning coins in a public fashion, sending them to an unrecoverable address, the tokens are lost on purpose and are in effect an escrow account guaranteeing the value of the newly created cryptocurrency.
Regardless the reason, the bottom line for investors is this. Bitcoin is a commodity; commodities are valued based on supply and demand. We know for a fact that supply is shrinking, all it will take for Bitcoin's price to shoot higher is an increased demand.
Bitcoin is the dominant cryptocurrency
Despite this year's bear market in cryptocurrency, Bitcoin remains the leading digital currency by market cap. The total market cap for Bitcoin has been hovering near $110 bln over the past few months and represents more than 50% of the total cryptocurrency market. This figure shows Bitcoin is still the most sought-after digital token commanding the greatest flow of new money.
Over the past year, Bitcoin's dominance has been in flux as bearish activity and the launch of new tokens induce market volatility. Bitcoin's dominance fell to a low near 33% in January 2018 and has since recovered. Over the past two months, the token's dominance has steadily increased to current levels as market participants flock back to the most stable and trusted digital currency on the market.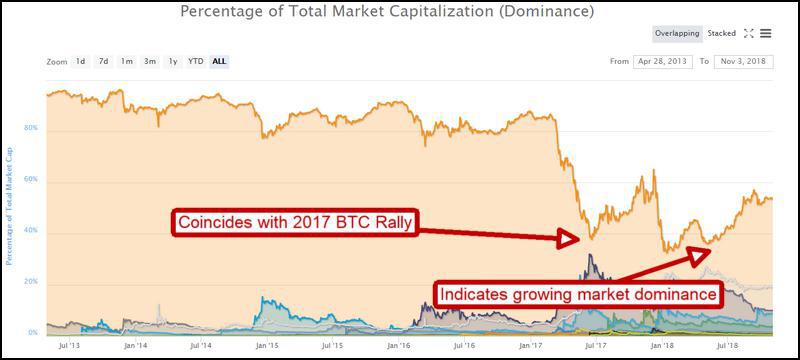 Description - Chart of Bitcoin price dominance with annotations
This figure is brought into sharp contrast when compared to the #2 and #3 digital currencies by market cap, Ethereum and Ripple. Combined, Ethereum and Ripple command less than 20% of the total market which makes them less attractive to new money seeking to invest in cryptocurrency. When the market comes back, and it will, Bitcoin will be the first choice as it has the greatest respect and trust among digital currency traders.
Bitcoin dominance November 2018 is 53%.

Ethereum dominance November 2018 is 10%.

Ripple dominance November 2018 is 9%.
How does this affect the Bitcoin price prediction 2018? If you look at the Bitcoin price prediction 2017, there is a compelling comparison to be made. In 2017, just before Bitcoin began its wild march to $20,000, the token's dominance fell below 40% before resurging to more than 60%. Many analysts believe, and I am one of them, this year's fall to 33% and rebound to 50% are signaling a rebound in Bitcoin price that only needs a catalyst to get started.
Regulation is the catalyst traders are waiting for
The catalyst traders are waiting for is regulation. Regulation and regulatory issues have been hanging over the entire cryptocurrency market for years and are the cause of the 2018 bear market. The war began last fall when China's financial regulators moved to ban cryptocurrency, cryptocurrency trading, and ICO's within China. The bear market was set off a month or so later when South Korea, a hotbed of Blockchain technology, made similar moves. Since then, South Korea has softened their stance, embracing Blockchain and digital financial securities, but the issue of regulation is far from being settled.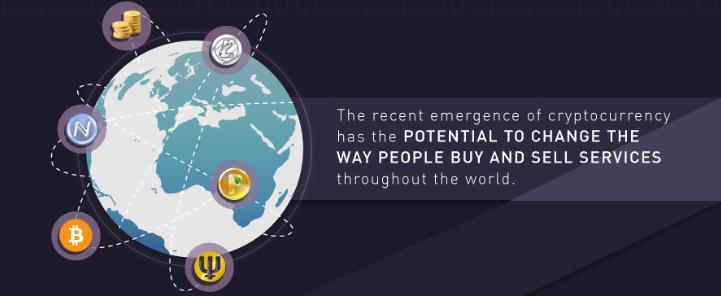 Description - Bitcoin's potential to change the world, from CCN.com
The number one issue holding traders back today is the SEC, the CFTC, and US regulation. The SEC and CFTC have allowed the listing of BTC futures, but that is as far as they've got regarding the legal listing of Blockchain-based trading solutions in the US. The SEC has created a cryptocurrency czar whose job is to coordinate proper regulation of the market, but still, there is no framework, not even a hint of what may come.
Traders around the world are waiting for a Bitcoin or cryptocurrency ETF to be listed in the US. Many Bitcoin predictions see such a listing as early as this year, although the chances of that are getting slimmer by the day. The SEC has already reviewed and rejected over a dozen requests by money managers to list such an ETF, and there is yet no indication of when, or even if, a Bitcoin ETF will be permitted.
A Bitcoin ETF is on the way, traders need to be ready
A group of Blockchain industry leaders including fund managers, cryptocurrency developers, and hedge fund/private equity investors made a plea to the US Congress for clarity on cryptocurrency regulation. Their stance is that lack of regulation is far more damaging to the US investor than any risks with the technology. The plea resulted in Congress asking the SEC for clarification, and yet still no word.
The biggest hurdle for US regulation of cryptocurrency is a lack of regulated infrastructure; there isn't any, or not very much, anyway. The good news is that Bakkt may end all that. Bakkt is a joint venture between the ICE (The Intercontinental Exchange) and partners.
"Bakkt is designed to enable consumers and institutions to seamlessly buy, sell, store and spend digital assets. Formed with the purpose of bringing trust, efficiency and commerce to digital assets, Bakkt seeks to develop open technology to connect existing market and merchant infrastructure to the Blockchain."
The exchange is designed to support the purchase, storage, and trading of digital currencies across ecosystems and includes a digital clearinghouse for trades. The exchange is expected to launch its first products, new BTC/USD futures, in early December 2018 and seen as the stepping stone to a Bitcoin ETF.
The takeaway for traders is this: Bitcoin regulation is holding the market back, and news, for good or bad, is what will drive the cryptocurrency markets over the next twelve months. If the SEC puts the kibosh on BTC and cryptocurrency investing, ETFs, and other retail products, you can rest assured the cryptocurrency market will react negatively. If, on the other hand, a BTC ETF is approved (as expected), you can rest assured Bitcoin prediction and Bitcoin price forecast will turn overwhelmingly bullish.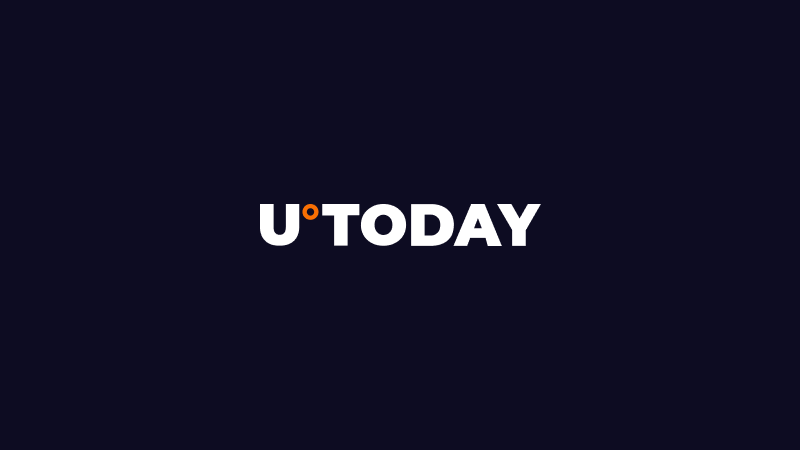 Description - Bitcoin prices are expected to move higher in 2018 and 2019
My Bitcoin Prediction? It is only a matter of time before the US embraces cryptocurrency regulation and allows a BTC ETF to be listed. If that happens, my Bitcoin price forecast is this: Bitcoin will retest its all-time high near $20,000 and most likely break through to new all-time highs. Bitcoin predictions 2018 are a dime a dozen, everybody has an opinion of when and how high BTC will go. The only thing you need to know is that BTC is going to move higher, if not now, then very, very soon.
Tue, 11/06/2018 - 02:03 (updated)

212
Sat, 11/17/2018 - 10:13 (updated)

212
Stellar Price Prediction: Rising in the Ranks
Stellar lumens pushes EOS out of its fifth ranked spot, will the move in valuation continue or is this just a head-fake?
Contents
Stellar lumens pushes EOS out of its fifth ranked spot, will the move in valuation continue or is this just a head-fake?
XLM price predictions are about to change
The Stellar Lumens price prediction is about to get a reboot. The token has seen a surge of interest that has lifted the price and increased the Stellar market cap to a point it has retaken the #5 spot in the cryptocurrency market. The token has edged out its competitor, EOS, and joined the top five at a time when most cryptocurrency markets are wallowing.
Despite the gains, the daily chart shows a token that is still range-bound and having trouble moving above resistance. In the near term, my Stellar price prediction is for range-bound trading with a chance of moving higher. Resistance is near 0.2800 and may be broken if bulls can gather their strength.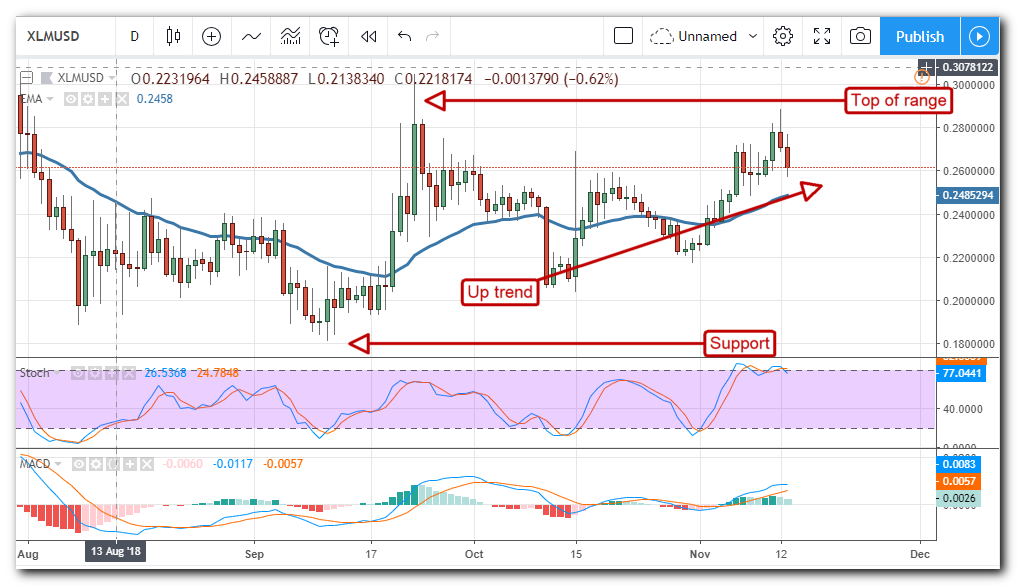 The indicators are mixed. They both show bullish conditions but also confirm resistance at the current levels. This does not mean the token won't go higher, just that it is consolidating with a chance of moving lower. If the token is able to regain its upward momentum a move above 0.2800 would be significantly bullish and likely take the coin up to the next targets.
Stellar Predictions: Airdrops will drive value
Stellar is a unique cryptocurrency that uses neither proof-of-work nor proof-of-stake mining to support the network and generate tokens. All of the Stellar Lumens were created at the launch of the network and are being given away by airdrop. Airdrop is when cryptocurrency is automatically delivered to specified wallets.
In this case, the Stellar team has a schedule of delivery that includes special events like the giveaway with wallet provider Blockchain. Stellar is giving away an initial $125 million in Lumens to account holders with a registered Blockchain wallet. The deal was initially intended as a way for Blockchain to grow users and Stellar to distribute tokens, but the result was far more than intended.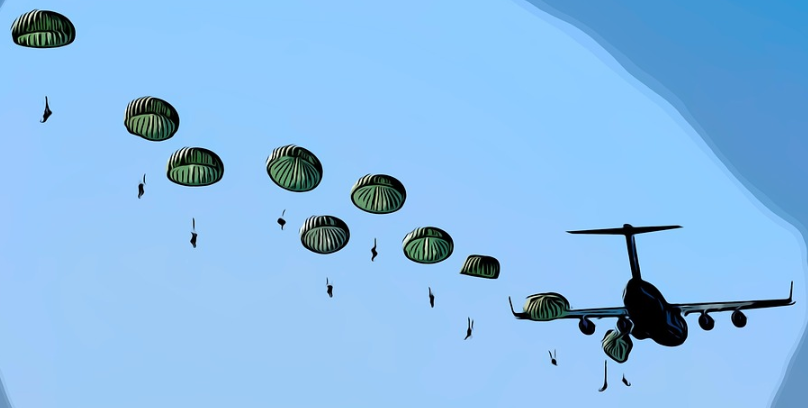 Stellar Lumens received so much attention and garnered so much support the token was able to post significant gains in price while other major coins like Bitcoin, Litecoin, and Ethereum continue to wallow at a long-term low.
Stellar Lumens Predictions: Big gains are on the way
The next targets for the Stellar coin price prediction this month are 0.3600 and 0.4600, both of which have provided resistance over the past year. A move above 0.4600 would be very bullish and likely result in a retest of the all-time high. The weekly chart shows an asset that has bottomed and looks ready to move higher, all that Stellar needs now is a catalyst to spark the move.
Lumens - The native token of the Stellar network.
The Stellar network can process a transaction in 2.5 seconds.
The Stellar network can verify 1000 transactions per second.
There are roughly 8.7 billion Lumens distributed of 104.46 billion total Lumens.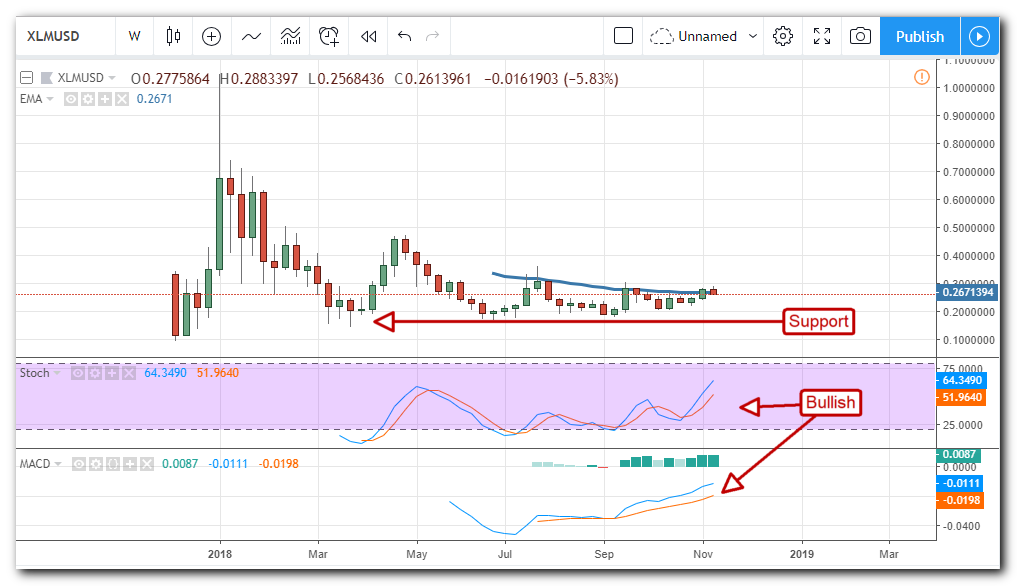 Stellar's market capitalization is about 4.9 billion USD at the time of this writing. That equates to 1.90% of the total cryptocurrency market and its dominance may rise along with its price as usage grows. The Stellar network boasts some of the fastest transaction speeds in blockchain technology and is a likely candidate for mass-adoption.
XLM forecast: HODL on for dear life
Another unique feature that will affect the Stellar Lumens forecast 2018 is inflation. Otherwise known as a mining fee, inflation is the reward holders of Lumens receive for making them available to the network (to provide liquidity and ensure speedy transactions).

Because the minimum volume of Lumens required to become an inflation receiver is so high most "miners" are part of a pool. Once an account is verified it will receive a share of each week's inflation, equal to 1% of issued Lumens, so long as the account remains live.
The takeaway for traders is that this is an incentivized means of ensuring Lumens are held and not just sold once they've been airdropped. This mechanism will help support the price over the long-term as usage grows and demand for the coins grows.
In the meantime, holders of Lumens using a Blockchain wallet can expect to receive a portion of an additional 375 million airdropped Lumens in the next few weeks and months. With this kind of activity to drive value, the consensus XLM price prediction 2018 is likely to rise further.
Lumen price prediction; Sharia compliance opens new opportunities for investors
No XLM prediction is worth much without a look at usage and acceptance. If the token and network aren't being used there isn't much hope prices will rise. In this case, the news is good. The Stellar Lumens network is making inroads to global financial systems and recently announced its acceptance by the SRB.
Stellar is the only Sharia-compliant blockchain.
The SRB, the Shariyah Review Board, has given a set of guidelines enabling sharia-compliant applications of Stellar technology with Islamic financial institutions. The SRB is licensed by the Central Bank of Bahrain and a globally recognized agency. Regarding cryptocurrency and the Islamic world, Stellar is the first to be sharia certified which gives it an edge over others in the market.
Stellar lumens forecast: Shining bright
The Stellar Lumens forecast is shining bright. The Lumen coin has seen an upsurge in interest, prices are seeing bullish activity, airdrops and inflation payments are on the way, and the Stellar network is expanding. Now all the token needs are a push to make it break above resistance levels and move higher.
That push may be US regulation. The US has been dragging out its decision to regulate cryptocurrency or not and that decision will have the entire cryptocurrency market moving when it comes. The best hope at this time is that the SEC will announce some form of a framework for regulation once a compliant infrastructure is built.
The Bakkt exchange is the most likely candidate as it is a joint venture between the Intercontinental Exchange and partners. The Bakkt Exchange is designed to facilitate cross-token atomic swaps, store cryptocurrency, serve as a clearinghouse, and facilitate the listing of blockchain based ETF products.
The bottom line is this; Stellar Lumens price predictions 2018 are mixed and mixed for a reason. There are a lot of reasons why Stellar could rise to new highs but no reason for them to break out of the trading range, at least not yet. The good news is that when the catalyst comes the move is likely to deliver gains of 100% to 200%.
Sat, 11/17/2018 - 10:13 (updated)

212
Follow us and get all
crypto news 24/7