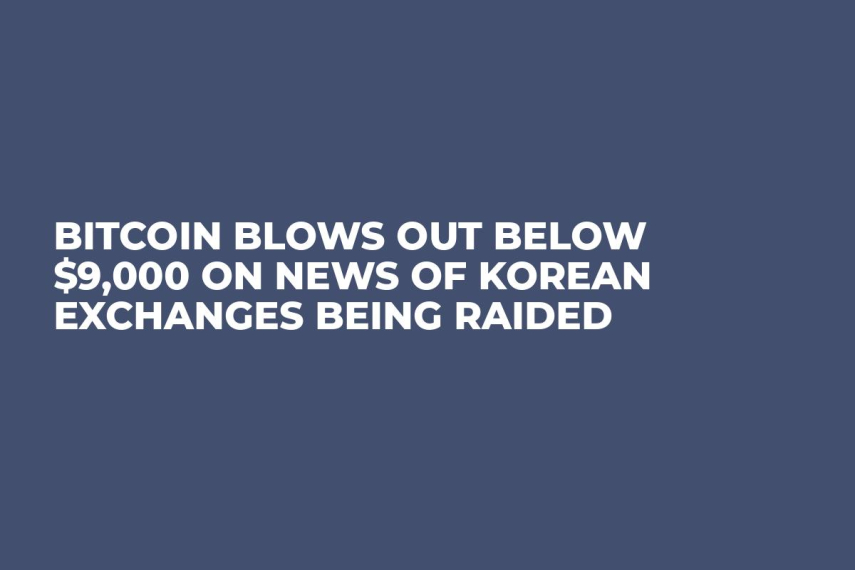 Cover image via U.Today
Bitcoin had been holding steady for coming on two weeks before it started collapsing on Friday, falling towards $8,500. The one catalyst that is being blamed for this sudden drop in a market that looked to be in recovery is that Korean prosecutors raided Korean exchange Upbit.
This is another dampening move by regulatory bodies that has knocked the confidence of rebuilding Bitcoin investors, especially in the lead up to Consensus.
Falling sharply
Bitcoin price was pushing its way towards $10,000 last Sunday before starting the week closer to $9,000 having experienced something of a sell off with the new highs. But as the week continued the price found its middle ground, hovering around $9,300 as an average.
But with the price dropping as much as 8.5 percent in the last 24 hours, the belief is that something sparked this large drop, and many are pointing to the raids on one of Korea's biggest exchanges.
Upbit raid
Authorities searched the exchange's offices, according to an official from the Seoul Southern District Prosecutors' Office, who asked not to be identified citing office policy. She declined to provide further details of the raid, which was first reported by the Korea Economic Daily.
"Upbit is currently under investigation by prosecutors and is cooperating," the exchange said in a notice to clients, adding that services such as transactions and withdrawals were unaffected and that client assets were safe.
On the eve of Consensus
The raid and dip in price come at an interesting time as many have seen over previous years that Consensus, one of the biggest cryptocurrency conferences globally, is a catalyst for the growth of Bitcoin's price.
In the wake of the conference previously, Bitcoin rose 69 percent during the conference, which is now in its fourth year and 138 percent in the two months afterward.