Arbitrum (ARB), the token associated with the popular Layer 2 scaling solution, is witnessing a solid 8% surge in its price. Interestingly, the rise comes amid prominent cryptocurrency investors, including Andrew Kang, significantly increasing their holdings. This bullish activity offers a glimmer of hope following a challenging market period for ARB, which had seen its value dip by 29% over the last few days.
Andrew Kang, known for his acumen in spotting and backing promising projects, has made a significant move toward ARB. He sold all of his holdings in RDNT, only to reinvest the proceeds in ARB, purchasing a total of 723,311 ARB, equivalent to $867K, at an average price of $1.2 per token.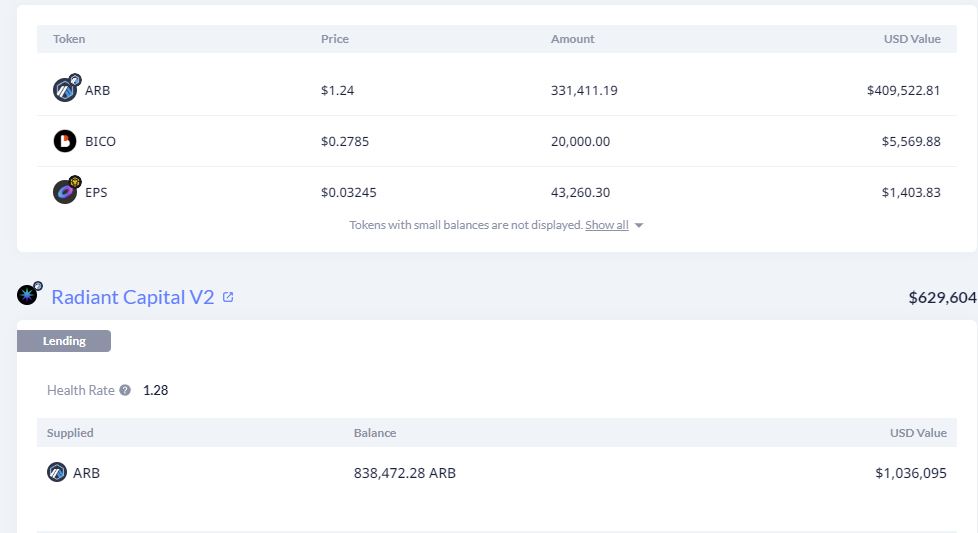 Notably, he then proceeded to deposit all of his newly acquired ARB tokens into RDNT Capital, suggesting an optimistic outlook on the token's future performance.
Additionally, another whale, known by the address "0xf59b," has also decided to capitalize on ARB's rise. This entity deposited 1.2 million ARB ($1.5 million) into OKX.
The fact that these tokens were withdrawn from OKX on May 8 and potentially purchased at around $1.2 indicates the whale was waiting for a price increase to take advantage of their holdings.
It seems that Andrew Kang is leveraging his position to go long on ARB through RDNT Capital. By buying ARB, depositing it, borrowing USDC and then buying more ARB, he is effectively doubling down on his investment, illustrating strong confidence in ARB's potential growth.
These recent large-scale investments reflect increased optimism toward Arbitrum's Layer 2 solution, despite its recent challenges on the market. With the slowly rising activity on Ethereum network after the most recent drop, L2 networks might go through another bullish cycle.