Thu, 10/04/2018 - 15:54 (updated)

212
The PR teams behind these coins failed the companies, and by failing, so did the coin and the MVPs, not by a little, but by a lot
Contents
What is worse than being a failure is being a failure with poor marketing and advertising. The following are some of the biggest failures, due to poor marketing practices, for 2018.
Centra Coin
Floyd Mayweather was a celebrity endorser of Centra Tech, along with DJ Khaled, but the endorsements did little to promote the coin when one of the co-founders, Raymond Trapani was arrested on April 20, 2018 and charged with securities and wire fraud for more than $25 mln associated with the company's ICO. After that, there has not been much more news. Oh, and they claimed they entered a deal with Visa, which even Visa denies. How low can you go?
Narrative Network
While the assonance is on the "N" the Narrative Network has done very little in creating a story worth reading. It was named the next Steem but failed to deliver on any of the promises it made. To top it off 50 percent of the ICO, $7 mln of the $14 mln raised went to the team and to development, leaving the token severely undervalued. While the name has a ring to it, it is rather dull and does not suggest robust writing but non-descript nonsense.
Bee Token
If you got stung by the bee, you are not alone. What was thought of as the decentralized Airbnb of the cryptoworld, got rave reviews of course, but it was not until right up to the end that the problems emerged. There was a planned scam that diverted funds out of the company and into the hands of the founders? Most likely, but after a strong ICO, the bee sting was suicidal as the token price never got off the ground and ended being another worthless ICO in the ending up in the rubbish bin.
RentBerry
Berrys are small and sweet, but RentBerry is small and sour because from it's initial value, it has only lost money for its token holders. Crashing down about 900 percent of what it was worth, essentially rotten on the vine. The premise of the rotten RentBerry was to use security deposits as a form of investment. This investment scheme is something more akin to what a slum landlord might try to do with your security deposit when you are not looking and then try to blame you things being broken, which were broken to begin with when you moved in. Not cool in anyone's book and investing in the security deposits of hard-working tenants isn't cool either.
Iungo
While Iungo is very ambitious and surely garnered much attention, there is no roadmap on the site, and the news and company blog is filled more with marketing stories rather than any pertinent information about how the company is doing or what they are doing to achieve their goals. Based on the public financial information, it is safe to say that progress has stalled and the fact that the company does not directly address this issue is another sign that there is a problem. On top of that, the marketing behind the project, Iungo (Is that an "I" or an "L" in the name, oh an "I"? Easy for you to say) This naming convention has caused a lot of confusion and with confusion comes failure. If customers don't know the name, they won't buy into the game.
Thu, 10/04/2018 - 15:54 (updated)

212
Fri, 11/16/2018 - 12:43 (updated)

212
Central Banks — One Step Closer to Creating Crypto?
IMF Chief said in a speech that central bank digital currencies (CBDC) could be a good solution to some of the problems faced by the banking sector
IMF Chief Christine Lagarde said in a speech that central bank digital currencies (CBDC) could be a good solution to some of the problems faced by the banking sector. This is good news and was followed up by three central banks with propositions to use CBDC for cross-border payments.
Central banks in Canada, Singapore, and the UK issued a report, noting that various CBDC models could be used to overcome various problems such as going through multiple intermediaries and other time-consuming hurdles. If this comes to fruition, it remains to be seen how it will affect the current crypto market.
Charts at a Glance – BTC/USD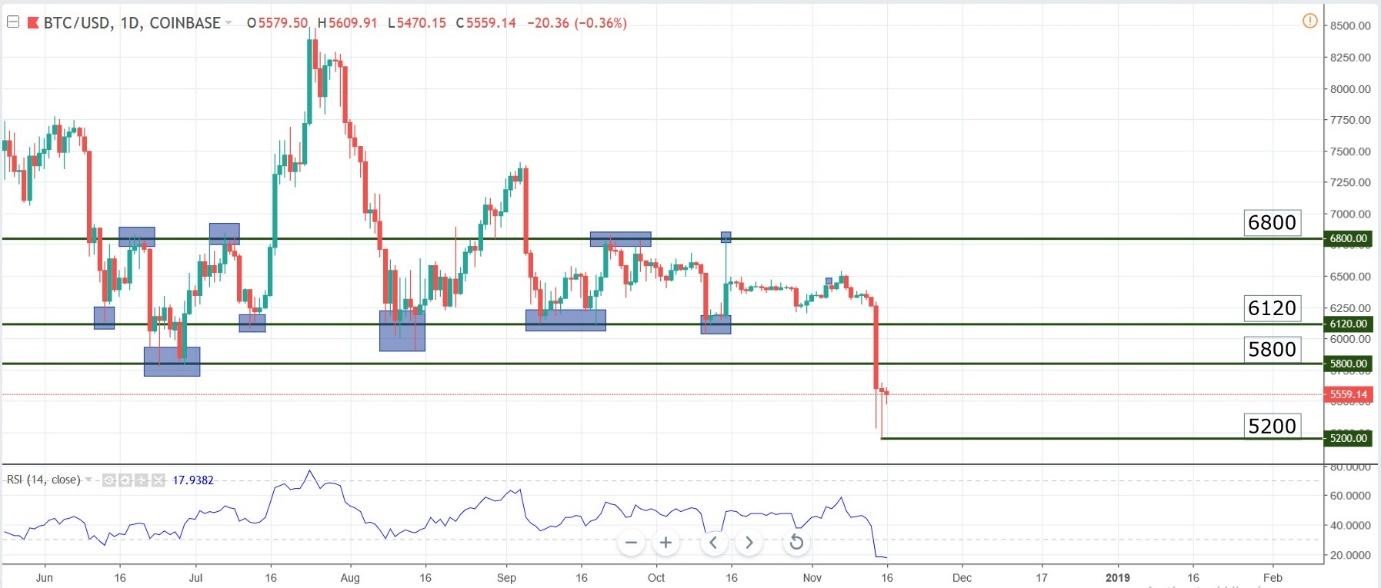 After dropping to a low of 5188 against the US Dollar, Bitcoin showed rejection at around 5200 by printing two 4-hour candles with massive wicks in their lower part. This is a sign that the sell-off may come to an end or at least that 5200 is strong support for now.
The Relative Strength Index is deep in oversold territory (below its 30 level), which is a fact that, combined with the support at 5200, could push the pair higher. Currently, one BTC is worth 5,540 US Dollars; the next level of interest is located at 5800, so it's not such a big distance to travel and could be reached over the weekend.
Support zone: 5200 as technical support and 5000 as a psychological level
Resistance zone: 5777 - 5800
Most likely scenario: bounce higher, with 5800 as the target
Alternative scenario: new attempt to break support (5200)
Fri, 11/16/2018 - 12:43 (updated)

212
Follow us and get all
crypto news 24/7