3rd Annual Modernscapes MENA Summit | Dubai, October 3-4, 2023
Event details
Location:

Dates:

Tue, 10/03/2023 - Wed, 10/04/2023

Website

https://modernscapesmena.com/

Price: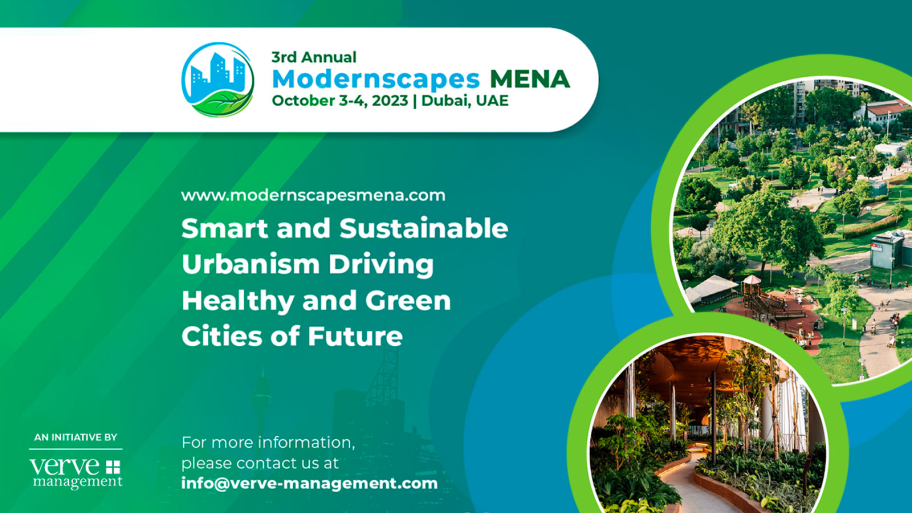 Cover image via U.Today
With more than 70% of world's population expected to live in cities by 2050, the urban environment is growing and developing rapidly, which is an alarming call to reshape our cities in smarter ways in order to maintain the urban environment as well as the quality of life.
The Future of landscaping in our ever-changing urban centers will revolve around green, healthy, sustainable and well-designed shared spaces that will encourage interaction among humans in the age of the Internet and smartphones.
In line with the Dubai 2040 Urban Master Plan and inspired by the vision of HRH Sheikh Mohammed bin Rashid Al Maktoum, Vice President and Prime Minister of the UAE and Ruler of Dubai, to transform Dubai into the best city to live in the world, this summit plays an important role in spreading knowledge on the creation of urbanscapes that enhance the happiness and quality of life of residents, citizens, and visitors of Dubai. The summit takes place on 3rd – 4th October 2023 aiming to gather over 200+ landscape architects, consultants, contractors, developers and municipality officials representing key upcoming & ongoing projects along with regional urban revitalization projects
Who will you meet?
Landscape and Design Architects
Engineering Consultants
Urban Planners
Government and Municipalities
Facility Management and Maintenance
Property Developers
Irrigation and Sustainability Managers
Topic highlights
Happy Cities – Living spaces enhancing the happiness and quality of life of residents
GreenScaped Buildings – Designing the urban realm for climate resilience
Innovative landscape design in the development and maintenance of recreational & sport facilities
Approaches to urban and landscape design for a new world
How to create eco-friendly and sustainable playgrounds
Role of technology in future landscape design nts
Government authorities' role in building sustainable communities
Building a sustainable green-blue Infrastructure in an urban setting
Green roofs and the future of urban green infrastructure
Ecotourism and Sustainability – An overview on Importance of Sustainable Tourism
Why attend
The 3rd Annual Modernscapes MENA 2023 will emphasize on green urbanism, livable cities and sustainable communities with a focus on enhancing the happiness and quality of life of residents.
With over 30+ speakers from the global and regional landscape design community, 3rd Annual Modernscapes MENA 2023 will bring together the key leaders from across the region under one single platform. Delegates will experience a power-packed agenda consisting of presentations, panel discussions and keynotes from globally renowned speakers, panel discussions and moderators.
If you are ready to innovate and join the ranks of the brightest minds in the industry while resonating with the following reasons compelling reasons to attend, then register today:
1. Gain knowledge and insights from top industry leaders and experts from across the globe
2. Network with industry peers in a solution-oriented environment
3. Discuss significant partnerships and collaborations with industry leaders
4. Deep dive into insights derived from real-time case studies
5. Build industry ecosystem collaboration to address latest challenges
Website: https://modernscapesmena.com/
Advertisement
Top
Crypto
News
in
Your
Mailbox
Top
Crypto
News
in
Your
Mailbox