XRP is poised for a potential price recovery, based on recent market trends and the technical analysis outlined in our previous report. Our earlier prediction of a drop toward the $0.46 level, which serves as the lower border of the descending price channel, seems to have taken shape, and it is now time for a likely upward shift.
Descending price channels are typically bearish patterns until a breakout to the upper boundary occurs, signifying a potential trend reversal. XRP has been moving within this downward trend, consistently reaching lower highs and lower lows. Now, the currency has approached the lower boundary of the channel, presenting an ideal setup for a potential rebound.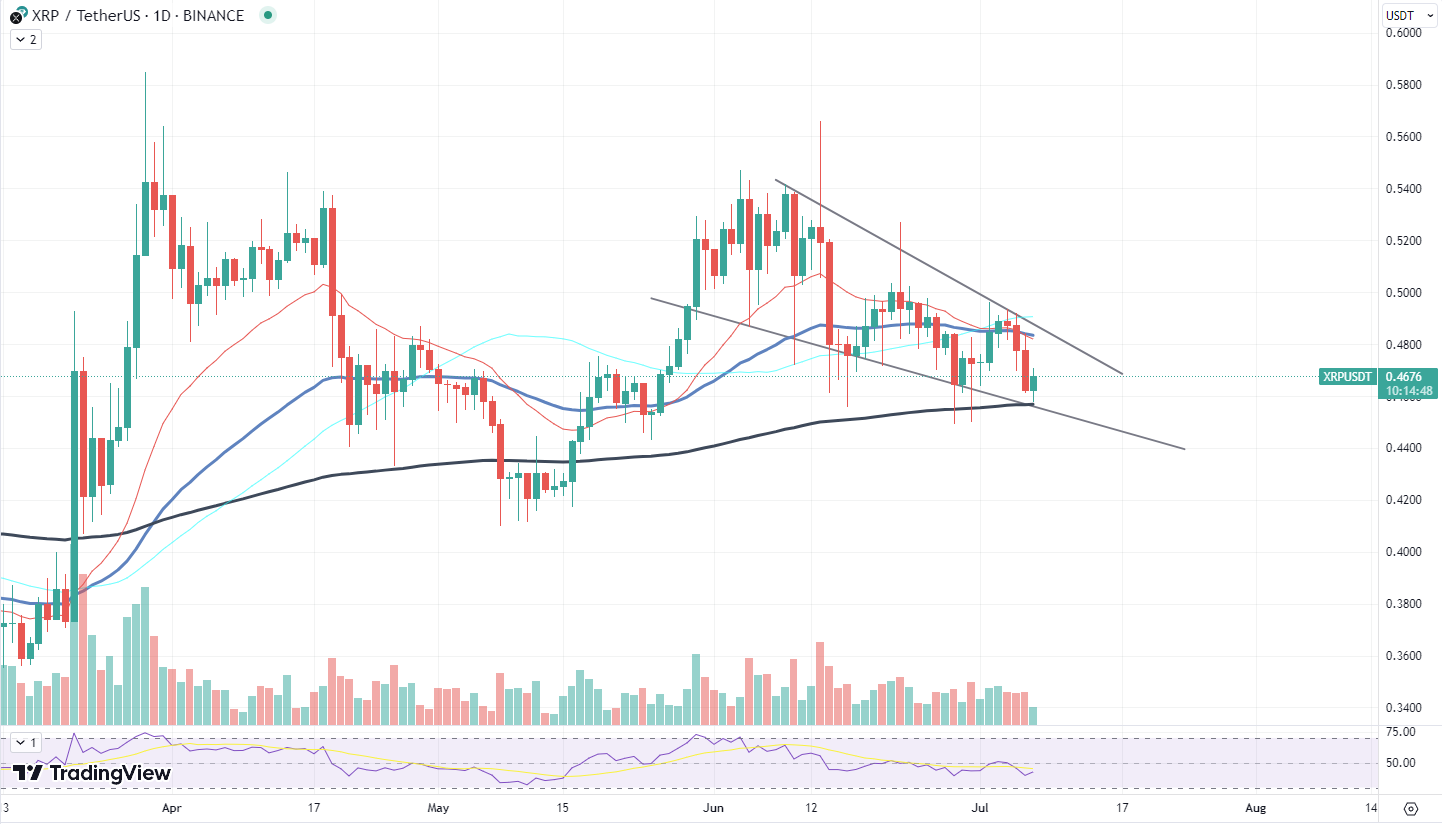 Crucially, XRP's trading volume has also been on a decreasing trend. Declining volume during a bearish trend can often signal weakening selling pressure. When sellers begin to run out of steam, it creates an environment ripe for buyers to step in and drive the price upward. This could very well be the scenario unfolding for XRP.
However, it is important to remember that in the ever-volatile world of cryptocurrencies, things can change rapidly. While the technical signs suggest imminent upward movement, external factors such as regulatory news, macroeconomic events or changes in investor sentiment can impact XRP's trajectory.
Nevertheless, if XRP manages to leverage this setup and commence an upward move, the next target could be the upper boundary of the channel. If this happens, it would potentially signify the end of the current bearish phase and the start of a new bullish trend for XRP.
Arbitrum is on rise
The recent price action of Arbitrum (ARB), an Ethereum Layer 2 scaling solution, has been sparking interest among market observers. A close examination of its chart reveals an intriguing pattern that suggests a potential move is on the horizon.
Arbitrum's price recently dipped to a local support level that is represented by the lower boundary of a sideways price channel. This downward movement in the support level has caught the attention of chartists, as it is often seen as an entry point for potential buyers. It suggests that ARB's price might be setting up for a bounce-back rally, a common occurrence after touching support levels within a defined price channel.
Importantly, a bounce back from the current support level could send Arbitrum's price toward the upper boundary of the price channel, potentially resulting in a noteworthy price increase. On the flip side, if the support level fails to hold, ARB might experience further downside, breaking out of the channel to the lower side.
The critical takeaway for traders and investors is the heightened potential for a significant price movement in the near future. They should keep a close eye on Arbitrum's price, as the next move could potentially present a significant trading opportunity.
Shiba Inu hits critical threshold
Shiba Inu (SHIB), one of the most discussed cryptocurrencies in recent months, seems to have reached a pivotal point in its price action. The meme coin has bounced off the local support level at $0.0000071, creating a possible stepping stone for further upward movement.
The support level, the price point below which an asset has historically struggled to fall due to strong buying pressure, is a crucial technical indicator for traders. The bounce off of this point means that Shiba Inu has potentially halted its downward trend and could signal a bullish momentum shift, as it shows a willingness by buyers to step in and purchase the asset at this price level.
This dynamic is further supported by the current status of the Relative Strength Index (RSI). SHIB's RSI has returned to a neutral zone, indicating that the asset is neither overbought nor oversold at this time. This neutrality often provides the asset with room to move in either direction without being restrained by extreme market sentiment.
Should this market sentiment align with the bulls, SHIB could experience a rally from its current price point. Traders should keep an eye on whether the token can maintain its position above the $0.0000071 level. If it can hold this line of support, the next stop could potentially be a move toward previous resistance levels.