As we are well into the first month of winter, let us have a look at the situation with some of the top exchange platforms this past fall, more specifically this November: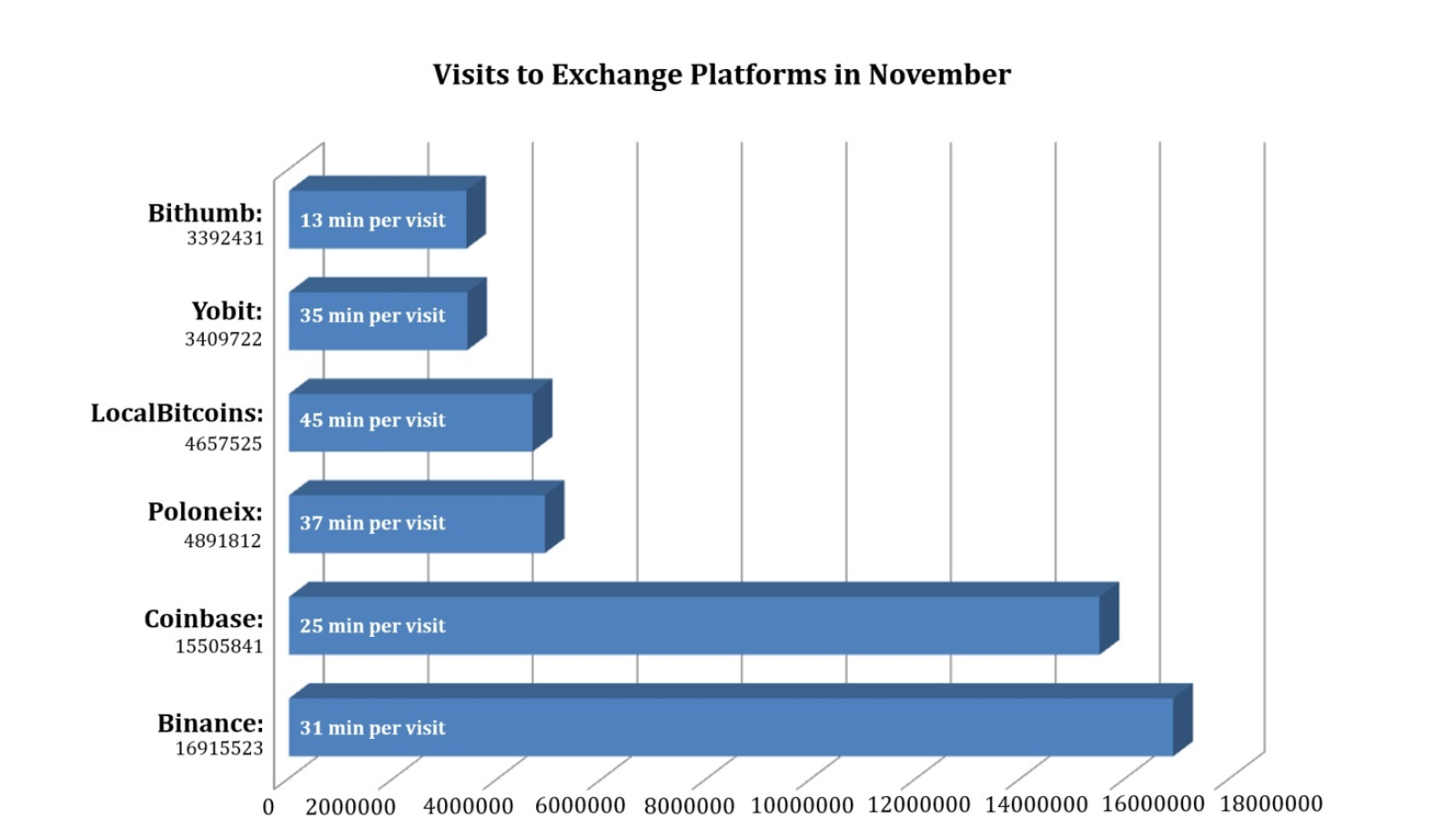 Binance
The biggest exchange platform in the world by market cap was founded by Changpeng Zhao last year, and it has been making headlines ever since. Not only does the company, which is now based in Japan, trade over 150 crypto coins and have its own digital currency Binance Coin (BNB), but now it is also set to develop its own Blockchain. The platform had close to 17 million visits last month, each one averaging just over 30 minutes.
Coinbase
One of the top exchanges in the world, Coinbase, was founded six years ago and is based in San Francisco. While the platform is striving for quality, not quantity, with barely 10 crypto coins on display, it is attracting a substantial client base of dedicated traders all the same, especially the ones operating from within North America. Last month the platform saw an impressive 15.5 million visits, each one averaging 25 minutes.
Poloniex
Poloniex was founded in 2014 in Delaware, USA, by Tristan D'Agosta. Since February this year, it has been owned by the DLT company Circle, which is headquartered in Boston, Massachusetts. While Poloniex, which also has an office in San Francisco, doesn't have nearly as many clients as the first two platforms, its grip on the market remains strong nonetheless: almost 5 million visits last month, each one averaging almost 40 minutes.
This well-known platform headquartered in Helsinki, Finland, was established in 2012. Since its business is conducted on the local over-the-counter and peer-to-peer basis, most of the platform's trading volumes are not even reflected on CoinMarketCap. In no way, however, does it take away from the website's popularity, especially among those wanting to invest into Bitcoin in countries with hyperinflation, namely in Latin America. Last month saw close to 4.7 million visits to the website, each one averaging a lengthy 45 minutes.
Yobit
This crypto exchange platform based in Moscow, Russia, was founded in 2014. So far, feedback in the community has been mixed, with many claiming that the platform is legit and some calling it a scam. No doubt, the platform's supposedly fishy aura has a lot to do with where the platform is based: Russia is no walk in the park when it comes to business, so distinguishing fact from fiction can be difficult. Be that as it may, the website does have its loyal following, which resulted in 3.5 million visits last month, each one averaging approximately half an hour.
Bithumb
Bithumb is based in South Korea. The only other Asian platform on our list today after Binance—Bitfinex, HitBTC, and Huobi having been excluded from this research—Bithumb advertises itself as Korea's #1 Virtual Currency Exchange. With a market cap of around 1.4 billion USD, its grip on the industry is firm. The platform had close to 3.4 million visits last month, each one averaging under 15 minutes, making Bithumb our supposed leader in terms of speediness of service...or perhaps it is simply Asian punctuality.