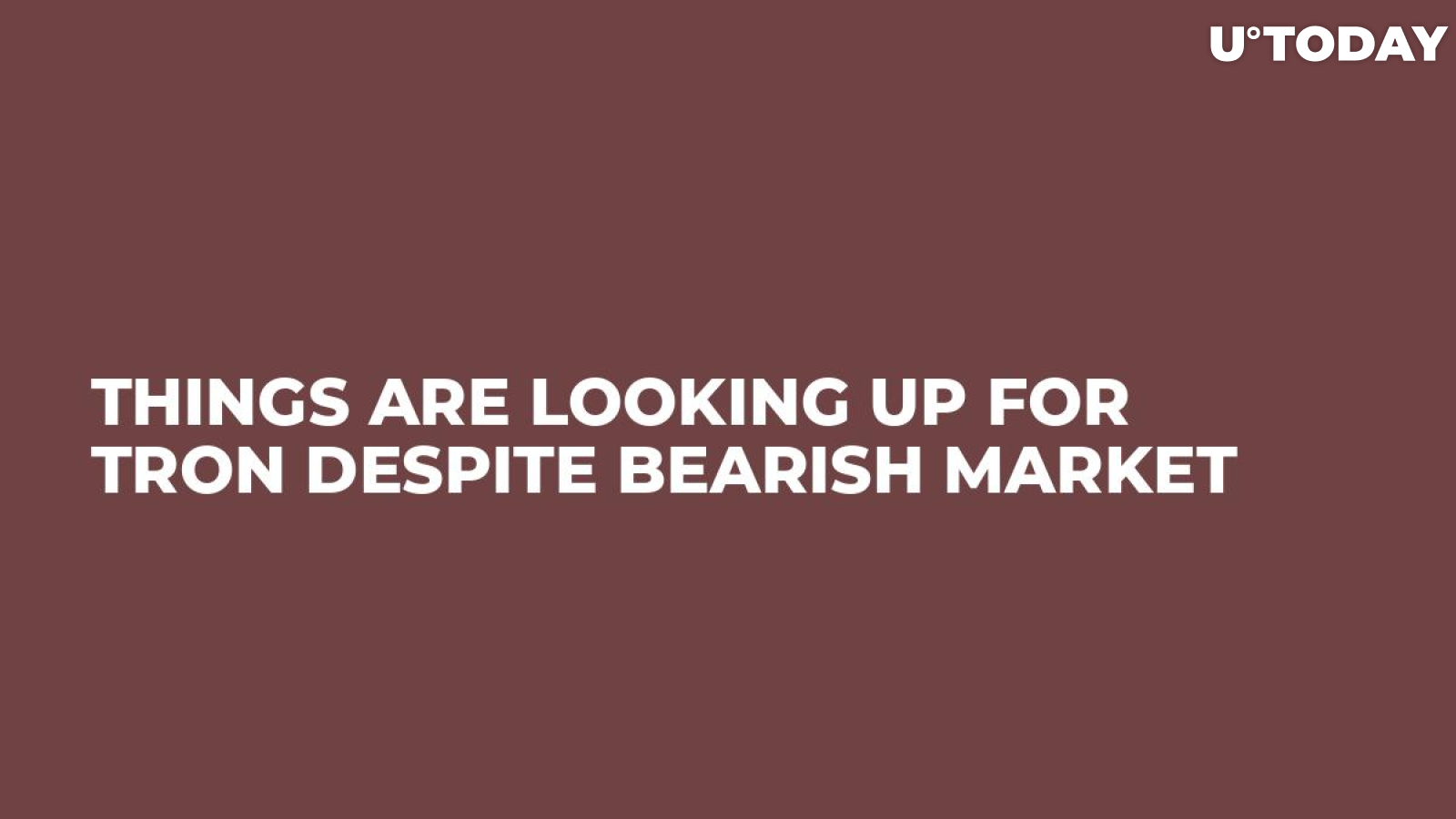 Cover image via U.Today
Coinmarketcap reports that TRX is currently trading at $0.022144, a price tag that has been reached after a small decline. Over the past fortnight, the coin has been drifting between $0.22 and $0.26.
The Tron community would perhaps like to see more from TRX, but, in any case, the coin has managed to do well enough by holding on without dropping through the floor. Concurrently, the Tron Foundation with Justin Sun have been very active of late.
TRX makes its way to an untapped market
On Tuesday, TRX trading was launched on AltcoinTrader. It is a small-scale crypto exchange platform based in South Africa. Even though it may seem like nothing special, AltcoinTrader has opened an untapped crypto market for Tron. At present, this listing may not seem vital, but it might be in the long term.
Tron outperforms Ethereum by daily transactions
Even though the overall market sentiment has been negative, the Tron Blockchain has demonstrated a significant rise regarding network capacity and has set two transaction records close to each other in time.
On Oct. 18, Justin Sun tweeted that the Tron network had got over the 500,000 figure, thereby outperforming Ethereum. The Tron CEO stipulated it was the first time Tron had moved past Ethereum. The next record was announced on Saturday, Oct. 27, when many financial news outlets screamed about Tron getting over the 900,000 threshold of daily operations.
Tron cooperates with Binance Charity Fund
At this year's World Investment Forum at the UN, Binance CEO Changpeng Zhao mentioned the contribution Tron had made to the Blockchain Charity Foundation (BCF) launched by Binance. In particular, Tron assisted with the transfer of funds to victims of the flood that had badly affected Japan in the summer, with Justin Sun having donated a substantial amount of that sum in crypto himself.
At the same forum, Justin Sun commented on CZ's speech, saying that he would do his utmost to improve society using crypto as a tool.
Tron Virtual Machine, dApps, smart contracts
Even though the Tron Virtual Machine (TVM) is still not completely ready and is being 'fine-tuned' as we speak by the Tron team in order to facilitate and simplify a dApp creation process, Tron's weekly report shows that work is being done on a much wider scale than was previously expected by the community.
In addition, in the report, it was said that dApphouse had been released. Now the Tron Blockchain can also work with smart contracts through Tronscan.
To top it off, Justin Sun tweeted that according to a CoinTrendz survey, TRX remains the most frequently mentioned coin on Twitter.