On July 30, the Tron CEO Justin Sun celebrated his 29th birthday. However, that was also the fourth foundation anniversary of the blockchain that Tron sprang off last year – Ethereum.
In a recent tweet, Justin Sun suggests Vitalik Buterin congratulate him, thus bringing another wave of criticism on himself from the community.
I have the same birthday with @ethereum.? Wish me a happy birthday @VitalikButerin? https://t.co/DtSOTSJl57

— Justin Sun (@justinsuntron) July 30, 2019
The crypto community gives Justin Sun a #whenjail hashtag
The recent events that Justin Sun has been involved in have made him slightly fall in the eyes of many in the crypto community. The much-hyped lunch with Warren Buffett which later was postponed and now seems to be canceled, Sun's troubles with Chinese authorities and numerous accusations of scamming, illegal gambling and running a pornography business have filled media headlines over the last couple of weeks.
Sun allegedly apologized to the community and regulators on Weibo and promised to start taking care of his health now (treating his 'kidney stones', which many believe to be a mere excuse for not postponing the lunch with Buffett) and reduce his social media presence.
However, a short while ago he tweeted a Bruce Lee quote without naming the source, thus making the community furious and bringing accusations of scamming on himself again.
Empty your mind, be formless, shapeless, like water. Put water into a cup. Becomes the cup. Put water into a teapot. Becomes the teapot. Be water my friend.

— Justin Sun (@justinsuntron) July 27, 2019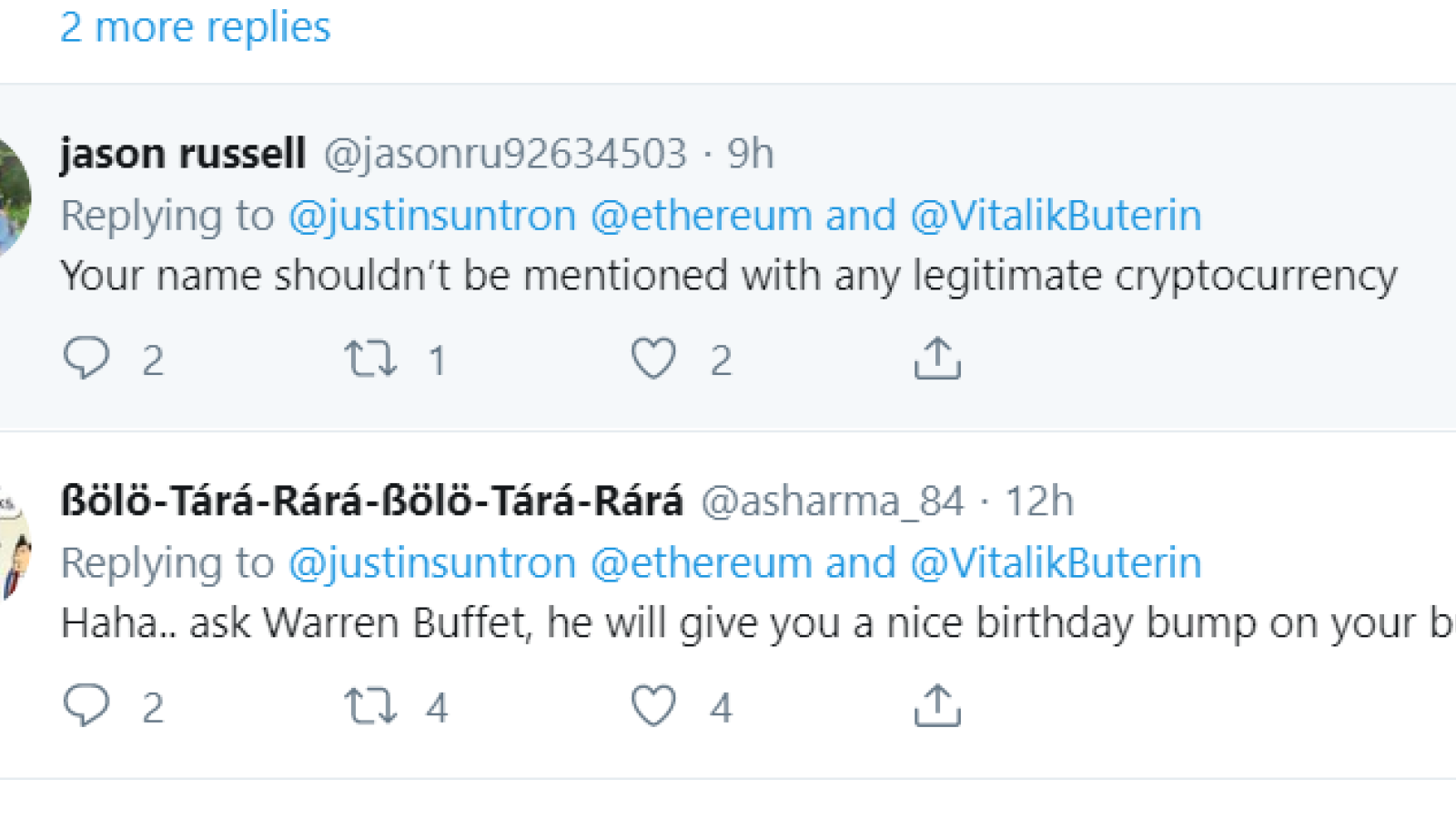 A twitter user has even put a hashtag #whenjail when replying to Justin Sun's request to Vitalik Buterin.
Jesus christ you're desperate...#whenjail

— Amberlamps (@elimherr) July 31, 2019
TRX price recovering
For a few days in a row, TRX price was showing a negative movement, dropping significantly with Tron dropping to spot #12 from #10 on CoinMarketCap.
However, at press time, the TRX price is in the green, showing a 2.31-percent rise and trading at $0.0223.