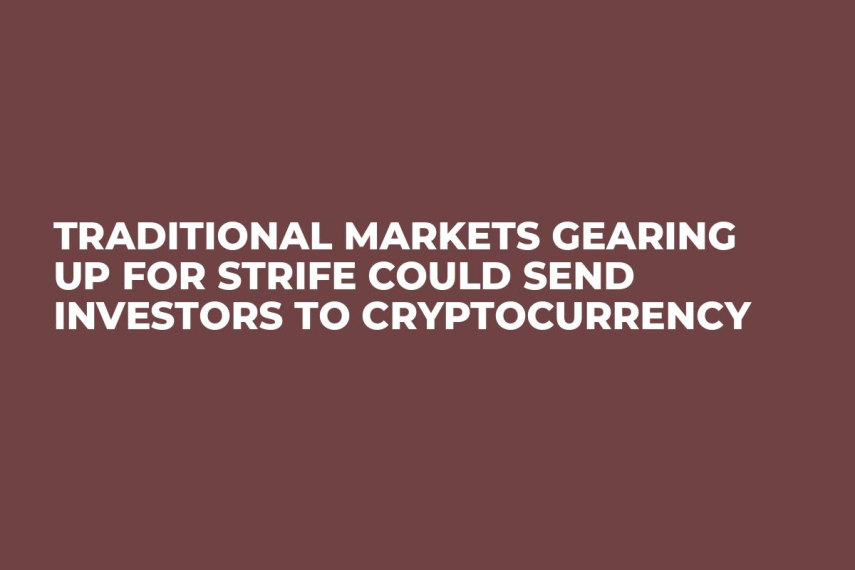 Cover image via U.Today
There is a battle brewing in the markets, especially between the likes of China and the US, and as such, many traditional investors are increasing their use if hedging strategies to try and protect their assets.
However, this general uneasy feeling in the markets could be a good sign for cryptocurrencies as the risk-factor in increases across the board, the cryptocurrency market does not look as hostile to those trying to hedge their investments into something out of the ordinary.
Ways to protect profits
Because of mountain barriers to trade between the US and China, there are suggestions from money managers that people need to look at other ways of protecting their profits in the event that equity markets take a dive.
That includes bets against declines in equity indexes and currencies as well as dividends and bonds. However, for the more adventurous investor, especially in a climate that has an increased factor of risk, cryptocurrencies are a new asset class that operates differently from the rest of the market.
"Only now have trade war concerns grabbed the spotlight for investors after bubbling away in the background for most of this year, prompting the rush for such hedging trades," said Gerard Fitzpatrick, London-based chief investment officer for Europe Middle East and Africa at Russell Investments.
There are ways for these traditional investors to hedge on cryptocurrencies in their understood methods, such as with futures trading offered by a number of investment exchanges in the US.
Slow trickle
Even though there is an expectation that the traditional markets will take a dive, it does not necessarily mean that there will be a flood of money in the cryptocurrency market, rather than some investors may decide to take a dip and see.
While many investors are reducing their exposure to equities, most remain reluctant to completely move away from stocks. As a result, demand has risen for investment positions aimed at offsetting potential losses.
But, as cryptocurrencies begin offering more product services that traders can use and are used to, there should be more of a sway towards them when the traditional markets fluctuate due to the lack of correlation between the two markets.