Now that the market seems to be recovering after a long crypto winter, investors have all eyes on Bitcoin's price. This is the major crypto that partially defines the price of all other altcoins, so it's essential to have an idea about its future development. The asset has already touched the $4,000 support line and is still holding near this edge. Will it have enough power to reach $5,000 and higher? TradingView users share their analyses and theories.
"Time to prepare for big Rally (55-80%)"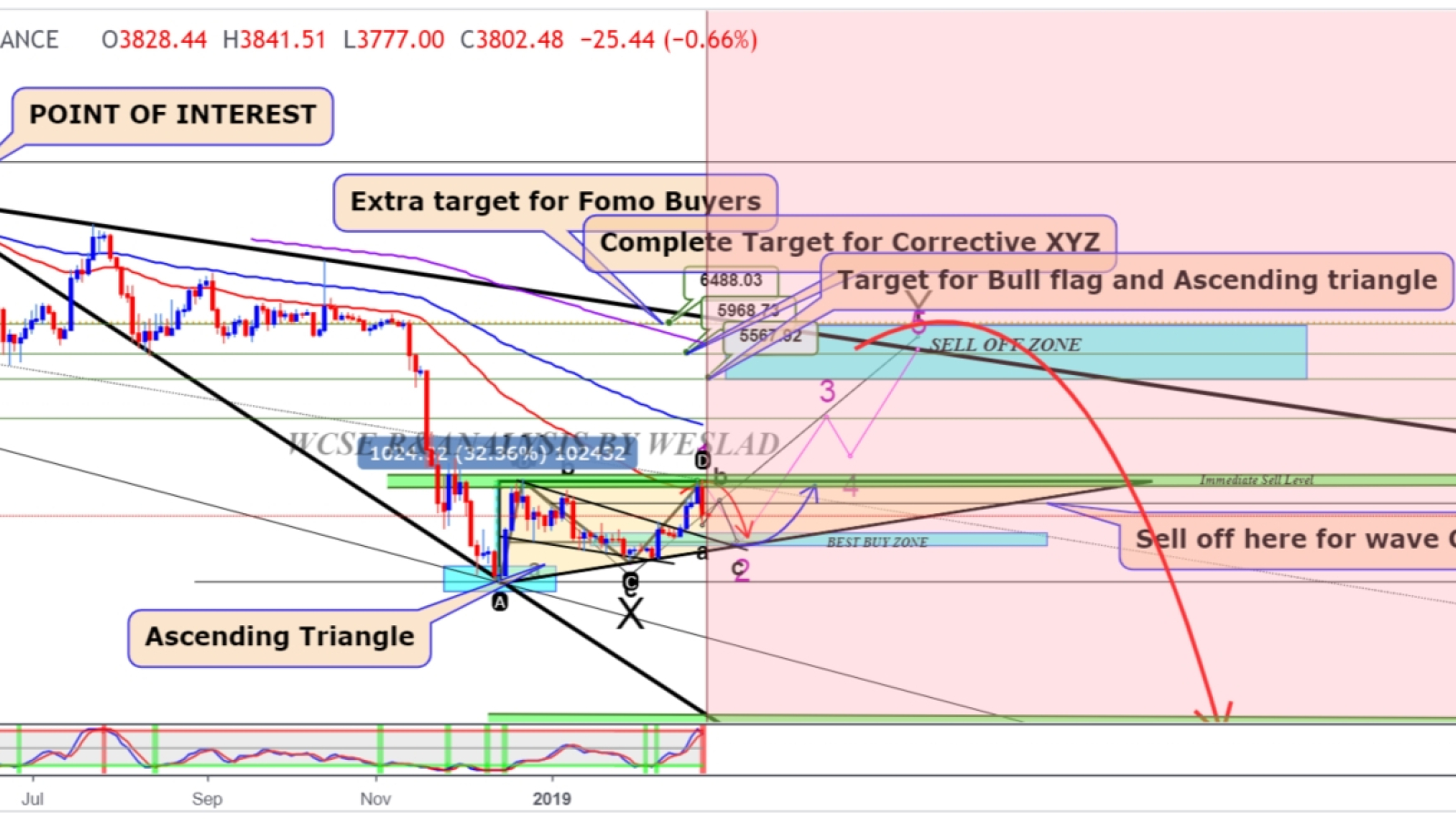 Recently, the crypto community has witnessed a 20% growth of BTC that ended with a serious dump that most traders regarded as the finish of its rally. However, a user called Weslad reassures the following: "The rally is just cooking up as the move represent sub wave 1 out of 5 big moves on the corrective wave Y of the big drop from 10,000$. We should expect another form of the big rally after the break of price from the ascending triangle."
BTC has already broken the bullish flag, and now its price is gradually moving to the uptrend. Take a look at the chart provided by Weslad. For successful trading, you should look for the following marks in the accumulation zone:
Possible entry zone

Possible support level

Sell targets
Develop your own entry/exit strategy for trading, and don't forget to apply stop loss! If Weslad's prediction is correct, BTC might reach $6,000 by the end of this spring.
"BTC will make a decision at the end of March"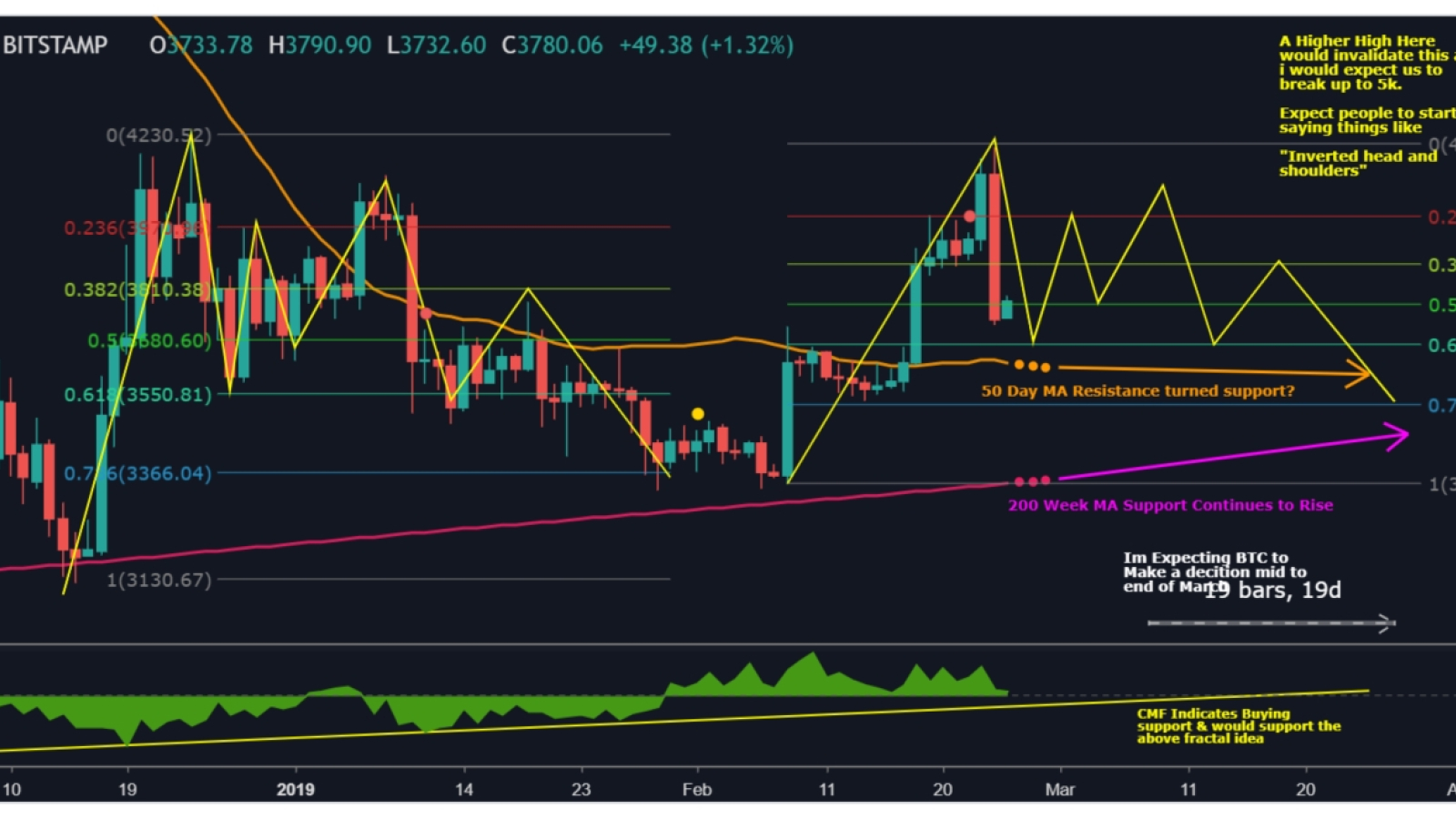 A user nicknamed filbfilb claims that most likely, we are going through a corrective phase – it has already happened to Bitcoin many times. He expects that Bitcoin will get to new heights again before retesting the reload area like last time. That can trigger even more frustration on the market.
Filbfilb doesn't comment on how exactly it will all be resolved, but he is sure BTC won't fall to $1,000. It's more likely to be bullish than stay bearish around $3,000.
When Bitcoin manages to make a higher high during its daily performance, it will be more possible to reach $4,000 again and move further. The user expects BTC to make a decision by the end of this March.
"Bitcoin STILL Follows 2015 Bottoming Fractal"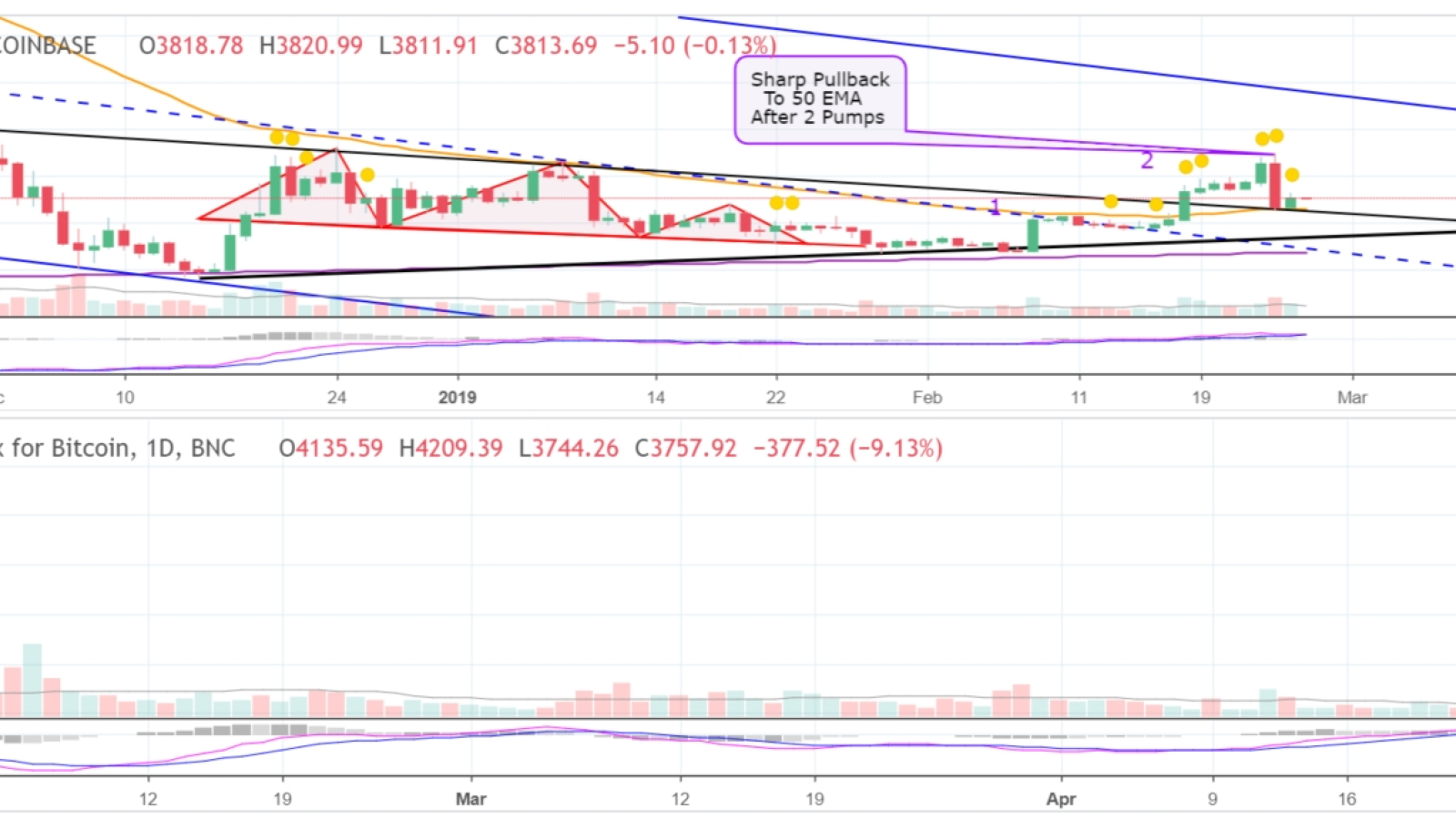 A top-rated TradingView expert, MagicPoopCannon has come up with an interesting idea: Bitcoin follows the 2015 bottoming fractal pattern. Recently, the BTC price fell to 50 EMA, which is reminiscent of the situation that took place four years ago.
What does the pattern look like? It's an inverted 'head and shoulders' scheme.
"As you can see, on the 2015 chart (on the bottom,) toward the end of the triangle (in black) and after the descending head and shoulders pattern (in red) price had two pumps to the upside, it hit the top of the downtrend channel, and then fell sharply to the 50 EMA, exactly as it just did yesterday. Now that I have noticed that, perhaps we won't see the rally to the top of the channel (in blue) that I have been expecting."
Turns out, even if the BTC price goes below 50 EMA, it will still remind traders of the 2015 bottoming fractal, which means bullish movement. Perhaps, we will see two pumps, and the price will continue falling below 50 EMA. Either way, MagicPoopCannon expects bullish results.
Disclaimer: The opinion expressed here is not investment advice – it is provided for informational purposes only. It does not necessarily reflect the opinion of U.Today. Every investment and all trading involves risk, so you should always perform your own research prior to making decisions. We do not recommend investing money you cannot afford to lose.