Dog-themed cryptocurrency Shiba Inu (SHIB) has printed a surprising signal on its price charts, having formed a bearish crossover, or "death cross," on its four-hour chart.
Shiba Inu was among the gainers on the market, while several crypto assets traded in the red, which was surprising.
A death cross is a chart pattern that occurs when a short-term moving average crosses below a longer-term moving average. In the case of the Shiba Inu price, its four-hour moving average (MA) 50 has crossed the MA 200, confirming a bearish crossover.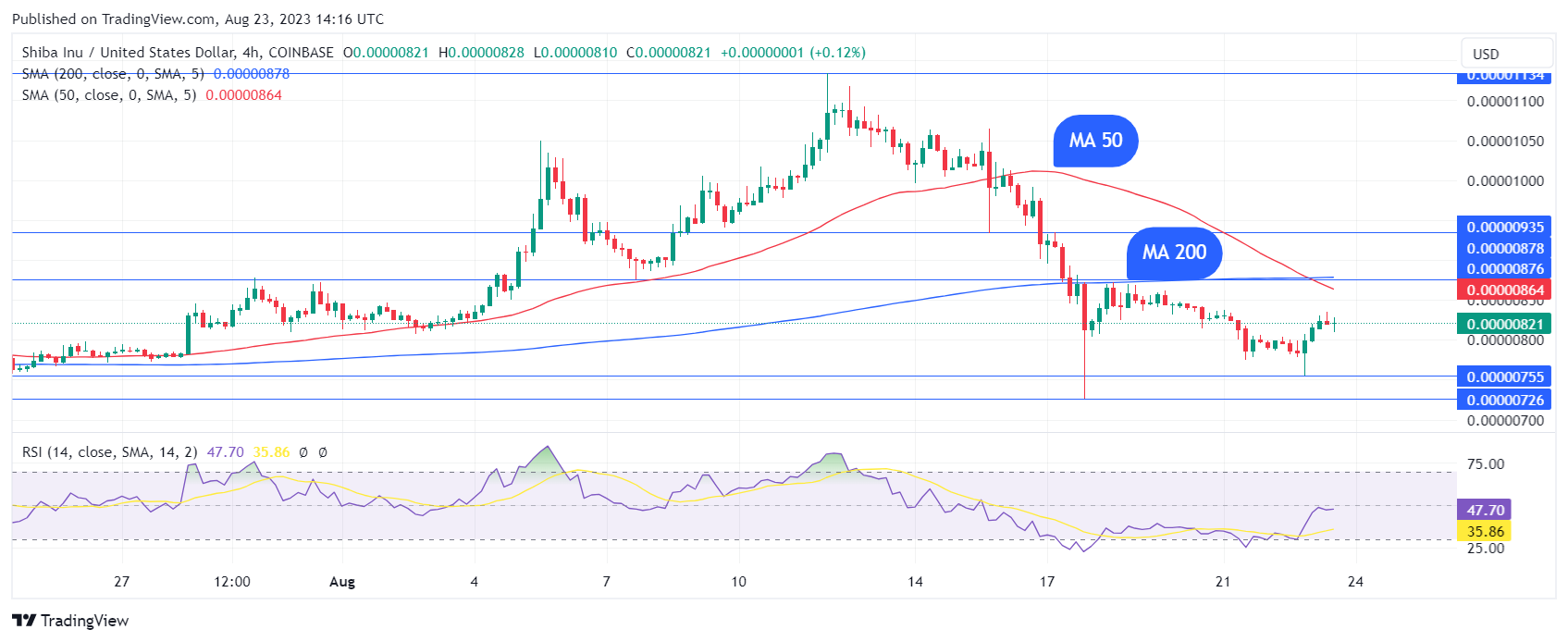 In theory, an implication of this might be a further sell-off, but several instances prove otherwise.
Many market analysts regard the "death cross" formed by the moving averages as a lagging indicator that might trap short sellers on the wrong side. This is because the cryptocurrency might already have been over sold, or the majority of the selling had already taken place before the crossover occurred.
Shiba Inu saw a significant sell-off after Shibarium encountered issues following its Aug. 16 launch. Layer 2 solution Shibarium encountered an unexpectedly massive influx shortly after its launch, causing it to pause.
What's next as Shibarium plans to relaunch?
SHIB saw a sharp drop to lows of $0.00000726 on Aug. 17 after Shibarium-related concerns surfaced. The sell-off was further exacerbated by a market downturn in the same week.
On Aug. 22, Shiba Inu began a comeback after a few days of battling to regain its footing. The recovery continued as of the time of publication, with SHIB up 4% over the previous 24 hours to $0.00000822.
The first sign of strength would be a break above the daily moving averages of 50 and 200 at $0.0000084 and $0.0000096, respectively.
Per the most recent update shared by Shiba Inu Lead Shytoshi Kusama, Shibarium is now enhanced and optimized and almost ready to reopen to the public.
Shibarium remains in testing, although it is producing blocks. Additional Shibarium validators are also expected to go live as testing wraps up.