Shiba Inu (SHIB), the crypto industry's second largest meme coin, opened the week with a massive bearish twist that showed a deep correlation with industry giants, Bitcoin (BTC) and Ethereum (ETH). At the time of writing, the meme coin is priced at $0.0000103, down by 1.45% over the past 24 hours and by more than 11% for the week.
While we can agree that this is a bad entry to the week, one of its key on-chain statistics, the burn rate, is experiencing a parabolic run at the moment. The burn rate has now surged by 1,076% as more than 10.5 million SHIB tokens have now been sent to dead wallets.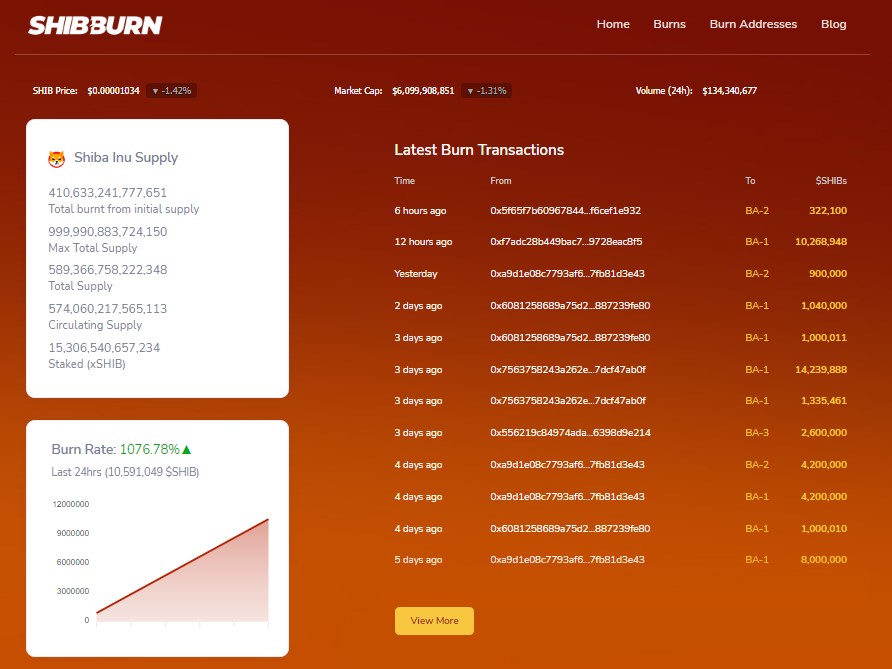 The Shiba Inu burn rate is a ready go-to metric to observe and judge a healthy network outlook, with and with its positive turn, we can deduce that there is a bullish fundamental behind the SHIB token. The higher burn rate compared to the previous day is an indication that Shiba Inu experienced more transactions overnight, which is not necessarily a bad one for the network.
The growth of Shiba Inu as the week evolves, however, now hinges on whether or not the transactions are tilted toward SHIB accumulation.
Shiba Inu and general market trend
As often observed, Shiba Inu's burn rate always precedes a parabolic run in price, judging from rising investor optimism. However, the meme coin now has a major correlation with Bitcoin such that there will be a unique suppression of its efforts to grow and beat its current bearish momentum.
While there is a growing expectation from the burn rate to trigger a price run, a swift turn in the broader market outlook can further help fast-track the return to positive trading days for the SHIB digital currency.
The coin is currently experiencing a dominant sell-off and a price shift is largely the way forward from this point on, seeing it has crested at a major support level.