The SHIB army has finally managed to increase SHIB burns despite the fact that the Shiba Inu price remains in the red and shows a deep fall on a weekly basis.
According to data shared on the Shibburn website recently, the burn rate has jumped by nearly 1,000% after several consecutive days of hanging below the zero level deep in the red zone.
SHIB burn rate up 945%
Over the period of the last 24 hours, the Shiba Inu community has shown significant progress in reducing the circulating supply of their favorite meme coins. The SHIB burn rate has increased by 945.5% as a total of 7,825,621 SHIB were burned after merely 748,502 coins were destroyed on the previous day.
The total weekly count of burned SHIB has now closely approached 300,000,000 meme coins. This is also down significantly from the figures demonstrated a few weeks ago when the Shiba Inu community burned between one and two billion SHIB every seven days.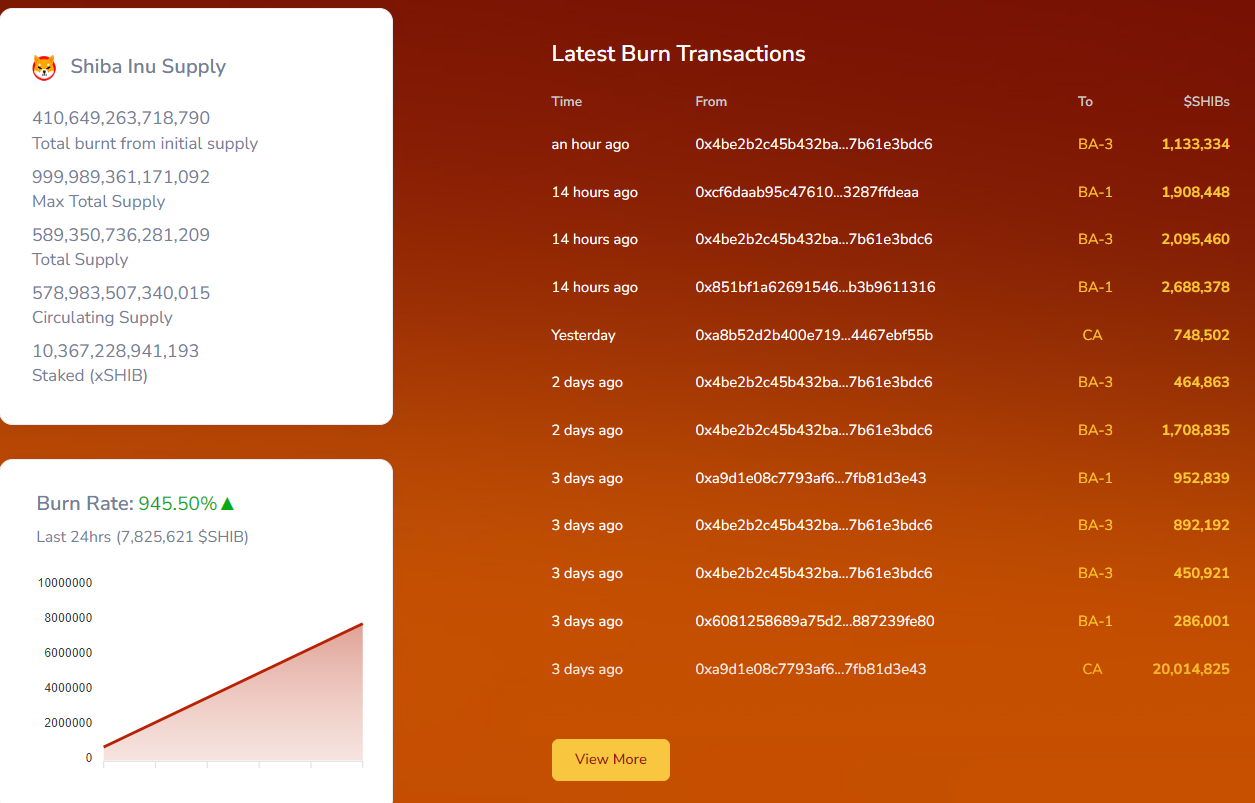 SHIB price performance
The Shiba Inu price remains in the red zone after the 30% crash that occurred over the weekend on the back of the news about the SEC filing charges against crypto exchanges Coinbase and Binance.
After managing to recover to the $0.00000693 level, the meme coin dropped another 6.72% on Wednesday, March 14, and by now it is trading at $0.00000657 after a marginal 1.86% rise.
Shytoshi Kusama stirs up SHIB community
On Wednesday, the pseudonymous leader of Shiba Inu, Shytoshi Kusama, created a buzz among the SHIB army, posting a tweet that can easily be called mysterious. It was a short video featuring the Shiba Inu logo with a slogan, which is the same as Kusama's tweet: "Something physical is coming."
This tweet came along with a tweet by Shiba Inu team member @LucieSHIB about "something physical" about SHIB coming up. Her tweet had a picture attached to it with a piece of fabric on which "Shiba" was written.
Even though this tweet by Shytoshi Kusama does not appear to promise anything in particular, it matched the strategy of being mysterious chosen by the anonymous lead developer of SHIB for his image and for promoting Shiba Inu and the Layer 2 protocol, Shibarium.
Now, the SHIB army is making guesses as to what this new message from Kusama may mean and what "physical" thing is coming.