The SHIB army keeps gathering Shiba Inu coins and sending them to dead-end wallets, attempting to reduce the circulating supply of this canine cryptocurrency, which was initially based on memes but now has ambitiously grown into something bigger than just that.
Per Shibburn tracker, over the last 24 hours, a substantial amount of Shiba Inu has been burned, pushing the burn rate figure into the green zone.
SHIB burn rate jumps 151%
Shibburn has stated that over the span of the last 24 hours, a total of 86,928,845 Shiba Inu meme coins has been sent to "inferno" wallets. This took 17 transactions, where the two largest ones carried 17,286,998 SHIB and 12,834,567 SHIB.
The goal of token burns is to make the supply of the SHIB token in circulation shrink to the degree that the token becomes scarce and its price goes to the moon. However, despite the fact that half a quadrillion SHIB (50% of the total supply, approximately) has been burned already, it has not had any particular impact on the meme coin's price so far.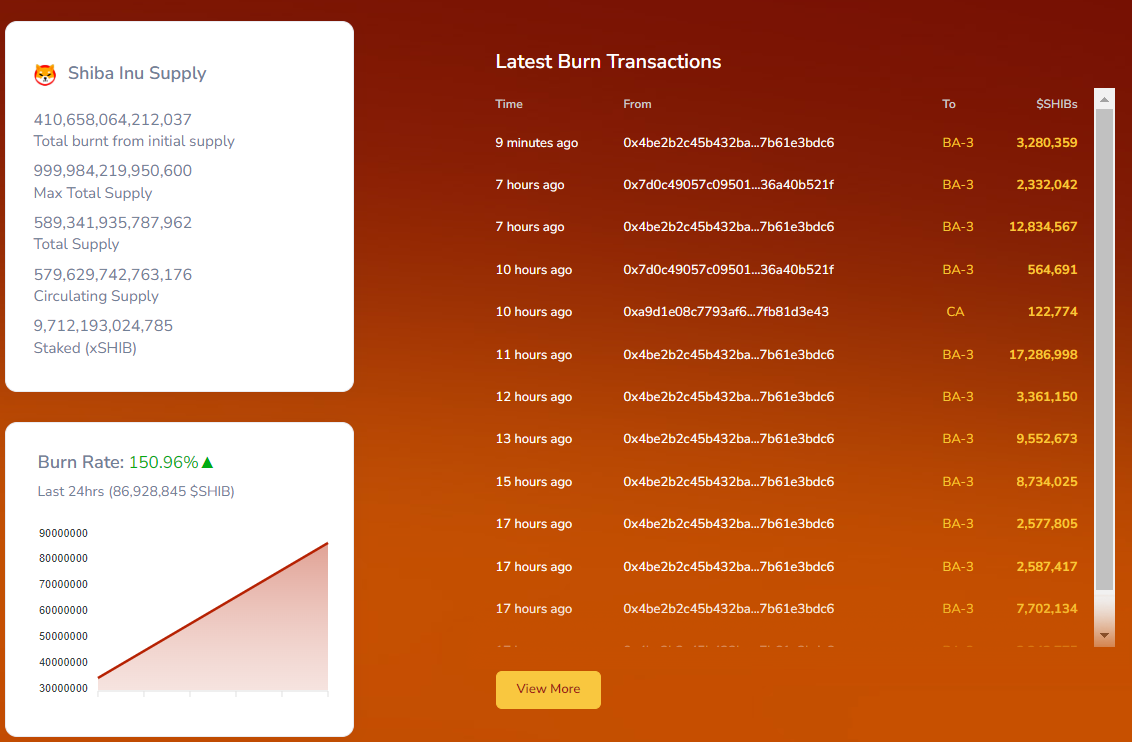 Tremendous SHIB burns promised by the SHIB team
In an X post yesterday, the official marketing expert of the Shiba Inu team, Lucie, shared an extract from the "SHIB paper," which stated that the launch of the Layer 2 solution Shibarium would guarantee a decrease in the circulating supply of SHIB; however, it cannot ensure that the price will increase.
The SHIB community looked forward to the launch of Shibarium for more than a year, expecting, among other things, that tremendous SHIB burns will begin. Each transaction on Shibarium will ensure a certain amount of Shiba Inu will get burned, as part of the gas fee paid in BONE will be converted into this meme coin and later on moved to unspendable wallets. Trillions of SHIB are expected to be burnt weekly when Shibarium operations are in full swing.
Relaunched Shibarium expands rapidly in these metrics
The Shibarium mainnet, which was relaunched on Monday this week, continues to show rapid growth as more and more users are joining it. Over the past 24 hours, the number of connected wallets rose to 431,972 from 300,000 on Wednesday.
The total transaction count has also eyed a significant boost, rising to 599,508 from roughly 520,000. The number of blocks created on Shibarium has increased to 384,504, having added around 14,500 overnight.