According to data shared by the Shibburn explorer, the SHIB community continues to successfully burn millions of these meme coins, transferring them to unspendable wallets.
This time, the SHIB army has managed to get rid of almost 350 million Shiba Inu meme coins that have been locked out of circulation. More than half of that amount was burned in a single transfer.
SHIB army burns 350 million coins, 233 million burned in single move
Over the last 24 hours, the community has successfully removed a total of 349,012,147 SHIB, taking 19 transfers to achieve that result. Burns took place almost every hour, often two or three SHIB chunks were burned hourly.
The largest transaction here helped burn more than half of the total amount — 233,632,193 Shiba Inu, around 14 hours ago.
The goal of these burns is to remove as many SHIB from circulation as possible in order to reduce the supply that is circulating in the market. This is supposed to make SHIB a scarce asset and, in theory, push its price up.
The so-called dead wallets are in reality unspendable ones, meaning that tokens transferred there cannot be withdrawn or used for spending in any way.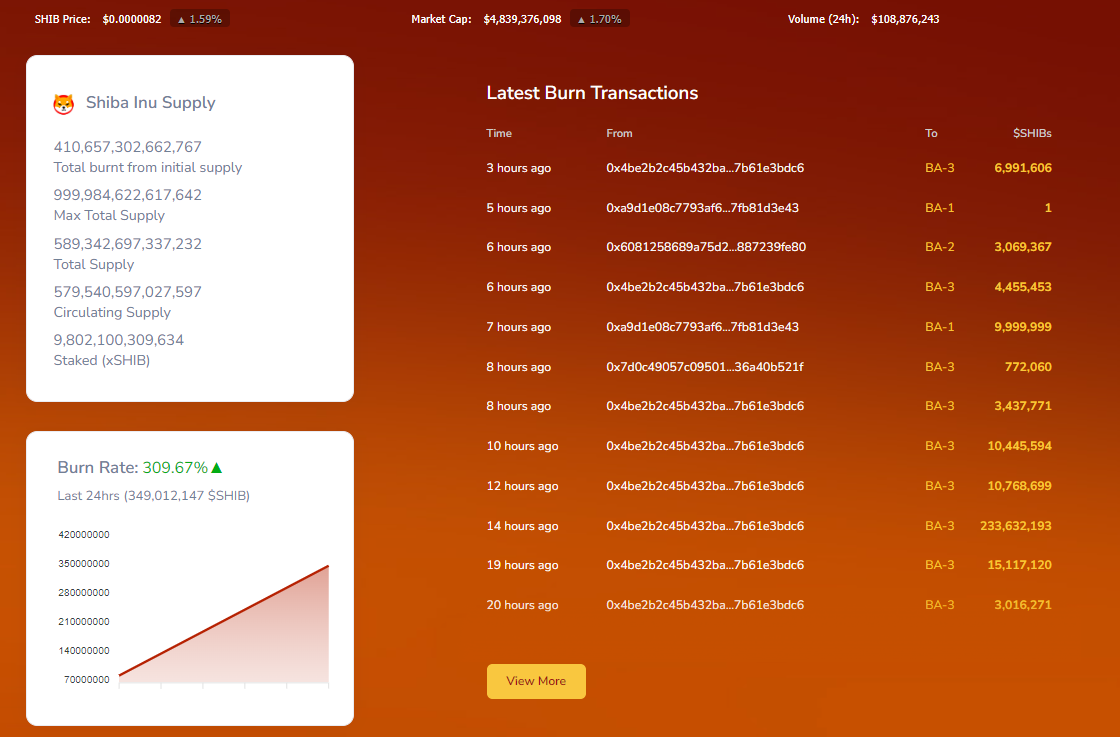 As the launch of the Shibarium Layer-2 blockchain is drawing near, the community is rubbing their hands eagerly as the start of operations on the Shibarium mainnet would mean constant contributions to SHIB burns — part of the gas fee for every transaction would be set aside by the developers and converted into SHIB to be burned later on.
So far, Shibarium has been integrated by the DEXTools app, allowing its users to trade crypto on Shibarium directly.
SHIB rises in past three days
Over the past three days, since Aug. 23, the second-largest meme coin by market capitalization value has staged a small recovery of 5.11%. Within the last 24 hours, SHIB has risen by nearly 3%, gradually recovering after the recent major price fall.
At the time of this writing, SHIB is changing hands at $0.00000821 on the Binance exchange.