As the week draws to an end, the SHIB army has transferred another substantial lump of Shiba Inu meme coins to dead-end wallets. Even though the burn rate is in the red zone, the amount of meme coins that has been removed is close to 100 million.
In the meantime, the launch of the much-expected Layer 2 blockchain Shibarium has failed, but lead developer Shytoshi Kusama assures the community that these are just temporary and solvable issues. The crash of Shibarium caused a price crash of SHIB as the price shed all the gains it came across in August and went down to the $0.000008 level again. The crash of the Bitcoin price well below the $27,000 level has also pushed the SHIB price down, no doubt about that.
Nearly 100 million SHIB sent to be burned
Shibburn account on the X app has reported that within the past 24 hours, a total amount of 97,037,885 SHIB has been transacted to "inferno" wallets, where they will be permanently locked and thus moved out of circulation. Thus, the overall burn rate is down 70.58%, per Shibburn.
The two biggest transfers since yesterday have so far been 21,228,414 SHIB and 17,627,505 SHIB.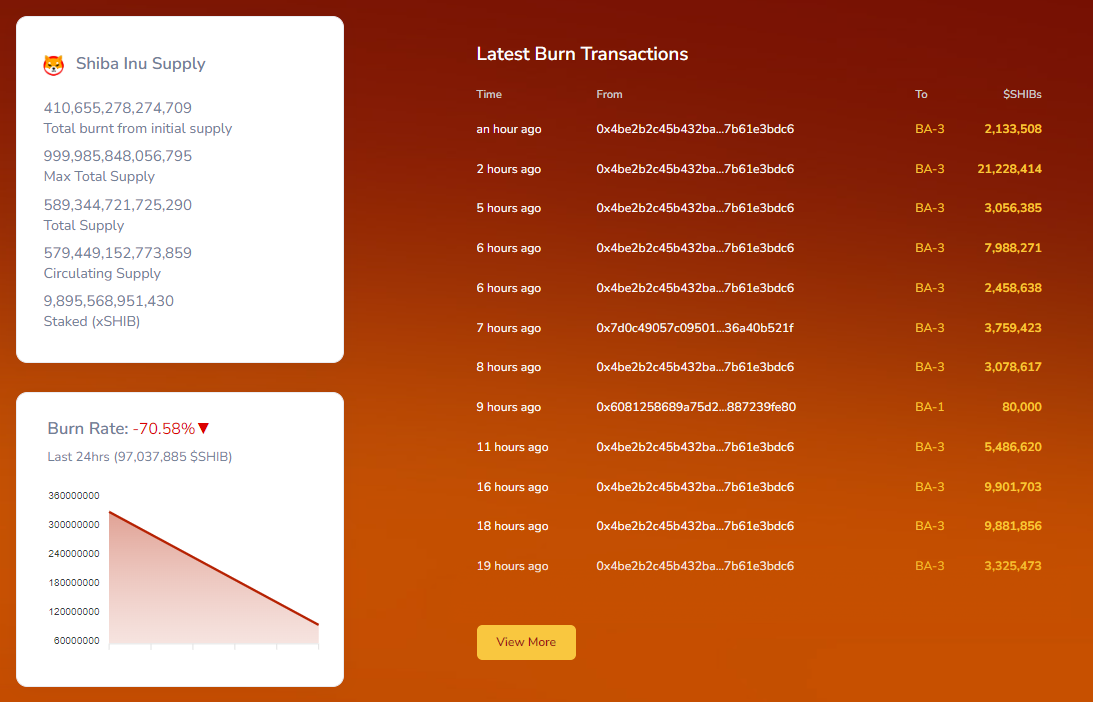 Within the past seven days, the community has destroyed 2,369,625,213 Shiba Inu meme coins.
Massive influx of Shibarium users
In a recently published blog post, top SHIB developer Kaal Dhairya clarified what happened to Shibarium in the very first stage of its launch when the newly released blockchain faced massive congestion.
Dharya said that Shibarium faced a very much unexpected influx of users ("unexpected even by our standards"). Now, the SHIB dev team will get down to conducting scaling operations. Shibarium faced millions of "compute units" within just moments after the launch yesterday. As the team began to look into the matter and investigate, they came across "thousands upon thousands of contract creation and normal transactions in one block."
This was the point when Shibarium failed to operate further, going into a sort of "safe mode." All the funds on Shibarium are safu, the developer stated.