The meme coin sensation is far from over as new tokens keep making their way into the community on a daily basis. One of the latest additions to the mix is Shanghai Inu (SHANG), a meme coin that has soared as high as 250% in the early hours of today, pegging its price around $0.0000000009344.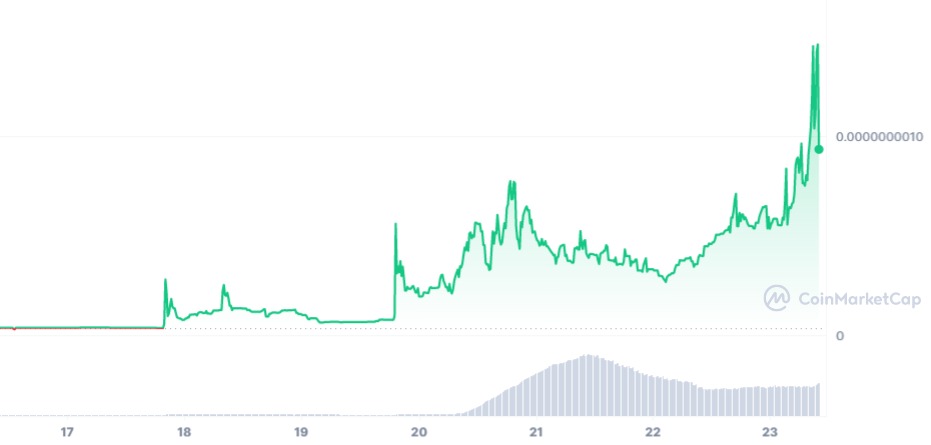 The massive upsurge in price shows that SHANG is currently visible on most tracking charts as the top performing meme coin, outstripping the growth of more established rivals, including Dogecoin (DOGE), Shiba Inu (SHIB) and the relatively new PEPE.
For Shanghai Inu, the focus of its massive price growth is different, and rather than showing off, attaining stability amid a very pronounced volatility period remains the primary need.
As one of the digital currencies looking to dethrone the duo of DOGE and SHIB, Shanghai Inu is exploring a whole new brand theme to register its uniqueness. It is created as a futuristic cyborg hybrid dog who wants the broader Web 3.0 community to become part of a unique meme token project designed to impress with its awesome utilities like Liquid ETH staking, AI implementation, P2E Gaming and many other things.
Skeptical angle
These promises detailing its core focus is nothing new for new meme coin projects in the industry. With an average of five meme coins being launched on a daily basis, the chance that the current observable growth is artificially inflated are high and, as such, casts doubt on the legitimacy of the project.
In reality, most successful meme coins started out with this same level of skepticism until they all got to prove themselves by strictly following their established growth roadmap. Shanghai Inu has been making the push to become recognized by most tracking platforms, including Etherscan and CoinMarketCap.
More traders are beginning to place SHANG on their watchlist, and with the volatility, caution is advocated when trading the token.