According to a popular blockchain tracker that traces large transfers of digital currencies, Whale Alert, over the span of the last 24 hours, Ripple Labs giant has conducted a scheduled programmed release of one billion XRP from its escrow addresses — a regular thing to do on the first day of a new month.
Ripple releases another billion XRP
The San Francisco-based blockchain company this time unlocked the XRP in four transactions; two chunks carried 400 million XRP each and two stashes carried 200 million XRP together. All in all, that adds up to a billion tokens.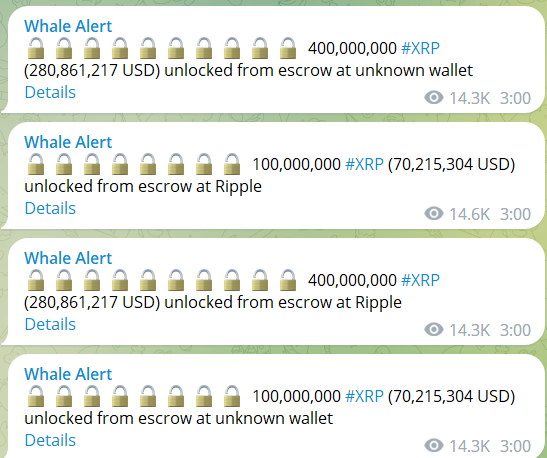 As a rule, around 800 million XRP gets returned to escrow and locked until the next month arrives, with about 200 million XRP being injected into the circulating supply.
Ripple's recent court ruling dented
In the meantime, the advantage gained by Ripple in its long-standing court battle against the SEC recently now seems in question.
As reported by U.Today, U.S. District Judge Jed Rakoff, who is in charge of the legal case of the American securities regulator the SEC against Terraform Labs, has dismissed the approach approved by U.S. District Judge Analisa Torres in the case of Ripple against the SEC.
Torres drew a line between sales of XRP conducted by Ripple to financial institutions and those made by the company to retail investors. The former were qualified as securities and the latter as nonsecurity sales.
In the case of Terraform Labs and its creator Do Kwon, regarding sales of the LUNA token to various type of investors, the judge seems to be of a different view as to the status of the tokens sold by the emitter. This decision now gives a major blow to the legal position of Ripple. A former SEC official has stated that this ruling may harm Ripple and give the regulator a better position should it decide to appeal against Ripple.