PEPE coin (PEPE) is seeing another impressive start to the week, with its price jumping by 18% in the past 24 hours amid a broader market recovery. At the time of writing, PEPE appears to be the dominant winner among the top three meme coins, and its price is pegged at $0.000001817. For the week, PEPE has also maintained a relatively positive growth stance while its peers are on a losing streak.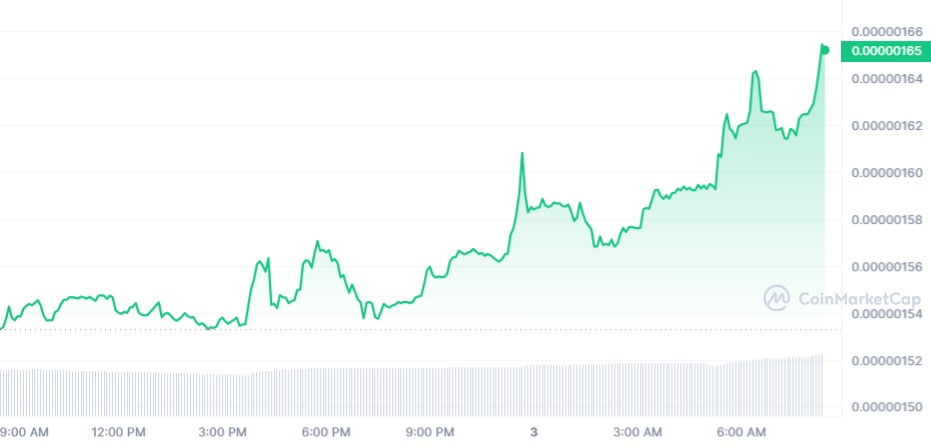 By comparison, PEPE has proven to be more amenable to a new influx of capital that can drive massive growth rallies. With its relatively lower market capitalization, which is pegged at around $644 million, PEPE has a higher propensity for uptrends compared to the duo of Shiba Inu (SHIB) and Dogecoin (DOGE).
New expectations for PEPE
While PEPE has a very long way to go, there are a number of potential milestones we can watch out for this week. One is the potential breach of the $0.000002 price level, a feat that can only be achieved if the current price rally is sustained.
When PEPE made its debut, it recorded the kind of growth that is peculiar to highly hyped Layer 1 blockchain networks. This is because it swiftly joined the top 100 cryptocurrencies by market cap and is thus in 68th place at the moment. Another crucial event to watch out for this week is the steady climb up the ranking ladder, with its expected growth trend.
For PEPE, reclaiming its all time high of $0.000004354 might be somewhat difficult in the short term, but these little wins cannot be ruled out.
Winning meme coin war
By a number of standards, PEPE appears to be winning the meme coin dominance war as it has proven more attractive for new money across the board. Some market analysts believe it is only a matter of time before it flips SHIB.